In 2008 John had the idea of putting on a motorcycle display at The Southport flower show, to provide the weary husbands with something interesting to see, as well as landscaped garden and flowers, although in some cases it was actually the wives that were more interested in our motorcycles!
The Southport Flower show is the Northern equivalent to the Chelsea Flower Show and is one of the towns most prestigious events of the year attracting over 80,000 visitors over four days. In 2010 John had a word with the local section of the VMCC about his idea and the section thought it would be a good show to be involved in, so he began to make enquiries through people he knew who are involved with the show. After a year or so John was invited to a meeting with the show's, then Chief Executive David Jackson, he had the first of many meetings with David and the plans started to come together, it was up to us to put on the best display we could.
John wanted to exploit the local Brockhouse corgi/Indian connection, so we had the beginnings of our 2012 display with two corgi's and three Indian Braves, then VMCC members Motorcycles, and what a display of British Motorcycles we had. The show was a great success, with some well known faces like the actors better known as Roy Cropper and Mary Taylor from Coronation Street, whom like a lot of the visitors to our display were overwhelmed and the memories that came flooding back.  The Chief Executive David Jackson was so impressed with our display he has asked us to return in 2013, so the challenge was on for a bigger and better display, this time we had a full 12 months to put a display together so John had a meeting with the new Chief Executive Ray Roukin and it was decided we should have more undercover space for the bikes as well as a larger area so we had to fill the space.
This year we could accommodate 36 bikes under cover and 4 bikes under Union Jack gazeboes. As the theme for the 2013 show was Pride it was decided our theme would be The Pride of Britain and what could be better than 40 British Motorcycles, so we started to ask VMCC members about bringing Bikes and it soon became apparent we would fill the display with superb Motorcycles including the VMCC's own 1922 Brough Superior SS80 under one of the Union Jack gazebos. Also under other gazeboes we had a 1929 Sunbeam Model 90, a Norton Watsonian 596 sidecar outfit and a Rumble B.S.A outfit so the outside was sorted. Then we had 9 triumphs from 1915 to 1964, a 1968 Triton, 4 Norton's from 1947 to 1968, 5 Velocette's from 1931 to 1966, 7 B.S.A from 1953 to 1960, 2 A.J.S's  1952 and 1957, 2 Vincent's 1949 and 1952, a 1924 Panther, a 1939 Excelsior Auto Cycle, 2 Indian Braves and 2 Brockhouse Corgi's and 1 1969 Triumph TR6 P Saint x Police Bike. Michael also spent a great deal of time making a large floral "VMCC" display, the overall effect of this, the gazebo's, the individual stands and the tremendous range of classic motorcycles on display was fantastic.
Bikes started to arrive fr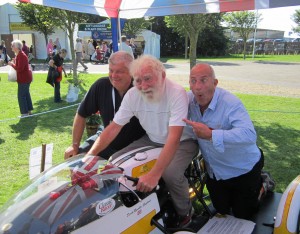 om 7.00am on the Wednesday right through till 8.00 am Thursday so it was another early start, the show opens from 10am till 6.00pm over the four days and as we were right by one of the entrance gates we had a constant stream of visitors with some VIP guests including Sir Roddy Llewellyn and his wife who spent 20 minutes with us admiring our display also Professor David Bellamy and his wife spent over half an hour talking to us, others included Eric Knowles and Paul Crone off the T V.  We also had quite a lot of media coverage this year with interviews with two local radio stations and two news web sites and we were inundated with admirers for the four days.
The Southport Flower Shows are very successful events and more importantly they helped to promote the VMCC to another audience who shared some great stories and memories with us. One of these stories came from the surprise visit from the owner of the Brockhouse Group Ltd who built the Brockhouse Corgi and the Indian Brave in Southport and that's a story that John may write another time.
J M N