The Leece Museum, Peel, Isle of Man
On our visit to the IOM for the 2016 Manx GP, whilst walking along the East Quay on a really sunny day, we stumbled over the Leece museum that had a new TT and MGP exhibition of motorcycles within. It was getting somewhat late in the afternoon, but after we saw the sign advertising the motorcycle exhibition, we just couldn't resist going in, what's more entry was free!
Although it was rapidly approaching their closing time of 4pm, Roy Baker was on hand to provide us with some very interesting background information and despite it being an extremely hot day and Roy being within earshot of the beckoning call of a pint with his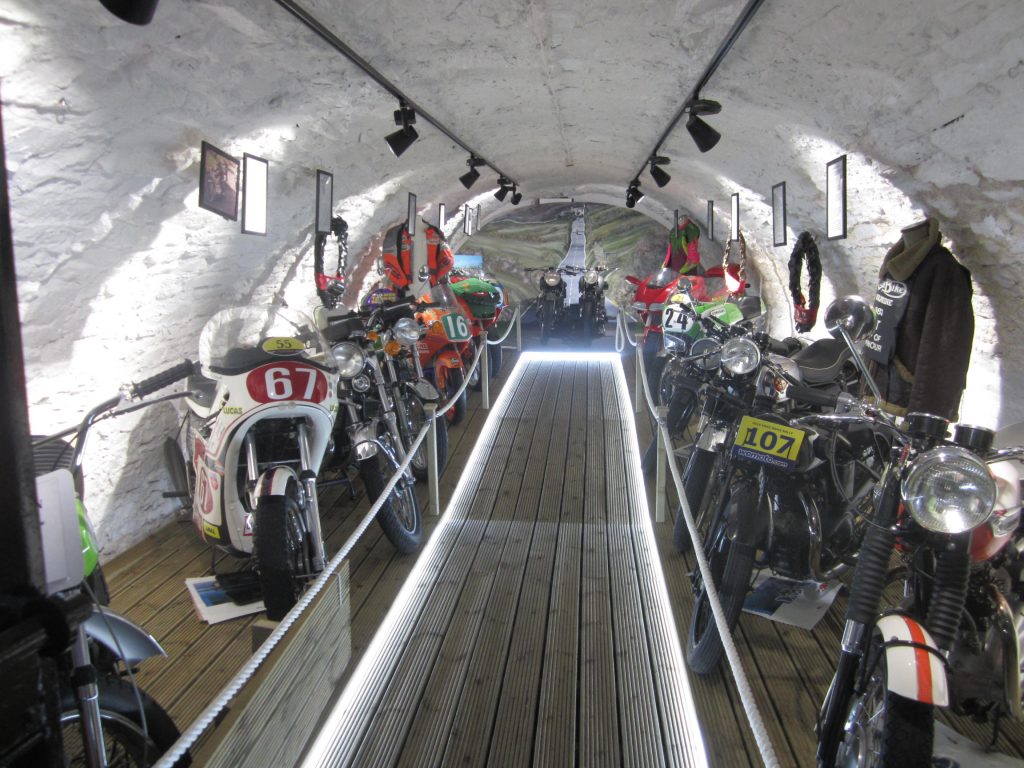 name on it (from the Peveril pub, next door to the museum), he very kindly hung back and gave us enough time to have a good look around.
The museum was established in 1984 by Eddie Leece (a retired Headmaster of Peel Cloth workers School), and Frank Quayle (a former Town Commissioner). It is believed that Frank served as the Museum's Curator for its first 15 years.
The Leece museum is devoted to objects, photographs and documents specifically related to the lovely old fishing town of Peel that sits on the west coast of the Island surrounded by a sandy bay, harbour and breakwater all dominated by its picturesque ancient defence, that of Peel Castle.
I first visited the island with my young family and stayed in Peel in the hot summer of 1976 and we had a fantastic time on the Island. One of the things that stands out in my own mind, was the shock at seeing car windows left open with possessions (and even keys inside) and likewise front doors, such was the honesty on the Island, no doubt helped, in those days, by the threat of the Birch!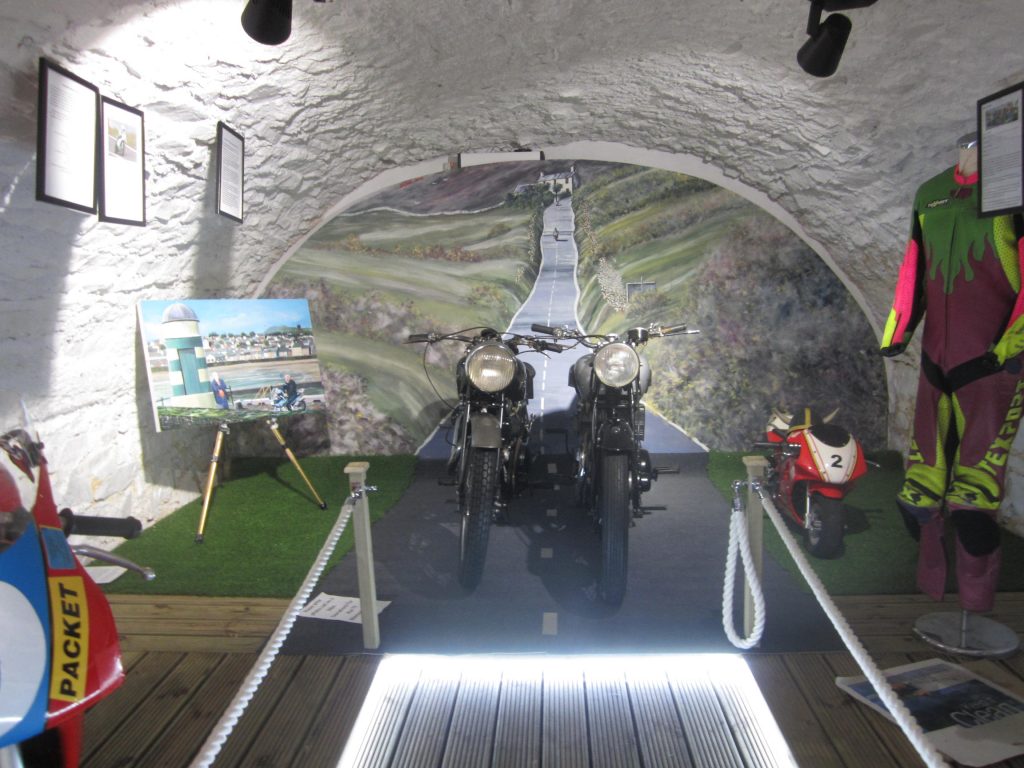 Obviously Peel seems a lot busier now, especially at race times, and I doubt whether you will see a vehicle left unlocked or with the keys in, nevertheless Peel, like the rest of the Islands resorts is extremely popular with everyone, as the Isle of Man has always been a lovely place with lovely people.
Peel has so much to offer, a lovely beach, harbour, castle, fishing, seafood, ice cream and pubs and lots to see and do for everyone.
Anyway it seems that the permanent exhibition of TT & Manx GP winning race machines, vintage and off-road bikes in the Leece Museum was only created in 2015 all set within quite an interesting setting, that of Peels old Court House.
As you go inside the museum straight ahead of you is a long arched tunnel-like room, this was evidently a prison cell called the "black hole" where all wrong doers were incarcerated in days gone by, many of whom were awaiting deportation to the Colonies, for even the simplest of offences.
A variety of race bikes(which may change from time to time) included a Triumph Slippery Sam when we visited. They were displayed in two rows one on either side of a lit boarded roadway, with two other bikes positioned at the far end, facing you.
These two bikes are set against an absolutely brilliant background on the end wall, giving the impression that the bikes were coming towards you on their way down the Snaefell Mountain Course from Kate's Cottage heading down to the famous Creg-ny-Baa (Manx for Rock of the Cow) pub.
What an absolutely brilliant idea, giving a tremendous effect to the display, top marks to whoever was involved in that display, and one that is really worthwhile seeing.
Upstairs there are many more exhibits of items and historic artifacts from Peel, and……. more race bikes!
We believe that the displays may change from time to time, especially where bikes are on loan to the museum.
Whilst we visited there was a display of three Barnes Racing bikes upstairs, consisting of a Honda RS250 Grand Prix, a Yamaha R6 and a Honda RS125 Grand Prix.
Our visit to the Leece Museum was an unexpected bonus and one that we would recommend that you take time out to go and see. It's free to enter, but donations are always welcomed, so why not go along and give them your support?
The Leece Museum is open Tuesday to Saturday 10am – 4pm
You can read more about the Leece Museum at:- www.peelonline.net
Contact:-
The Old Court House,
East Quay,
Peel, Isle of Man,
IM5 1AR
Tel. 01624 845366
Email. leecemuseum@manx.net
Michael W George (& John Abram)