Endurance Legends at Donington (6th-7th May 2017)

This is NOT one to be missed, so book your place for the UK's only classic 4hr endurance race!
In fact it's such a unique event in the classic biking calendar you need to get it in your diary now and make sure you're trackside to see everything that's going on – all building up to the unique spectacle of Classic Endurance Racing on the Sunday afternoon!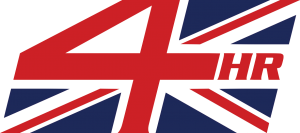 After the huge success of the inaugural Endurance Legends in October 2015 the 4hr race is making its return to the Donington track along with all the other action both on track, in the paddock and a new separate live arena on the Melbourne Loop. Here's a rundown of the sort of thing you'll be able to find over this amazing weekend: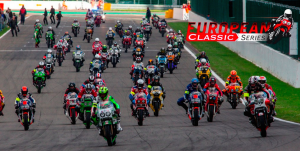 On the National Circuit:
UK's only 4hr classic endurance race including Suzuki entering a 'works'  team with a celebrity rider lineup; Jamie Whitham, Steve Parrish and Michael Neeves.
The 4hr race will also host the inaugural round of the European Classic Series – first time in the UK for ECS.
A Pit walk for all spectators prior to the 4hr race.
High profile support races from ICGP (now an FIM Cup event) and Lansdowne Classic Series.
Classic bike track sessions (four groups of 60 bikes) mixed throughout Saturday's practice & qualifying, and also on Sunday ahead of the 4hr race.
Classic race bike parades on both days.
Suzuki TL Anniversary parade.
No noise limit
The Melbourne Loop will run separate schedule throughout weekend including:

VMCC 'try-a-bike'  where you can experience riding a host of different classics.
Racing sidecar ferry rides – be a passenger in an F1 or F2 racing sidecar.
The "Rolling Bike Show"  – all the classic club display bikes parading on the loop.
On the Paddock there will be:
Celebrity Interviews & autograph sessions.
Suzuki "Hall of Fame"  in the Paddock Suite.
Suzuki TL Anniversary display and "ride-in".
VJMC sponsored Club & Concours Show, featuring club displays.
VMCC marquee & display, a host of Classic Bike Clubs displays & amazing Classic Race Bike Displays.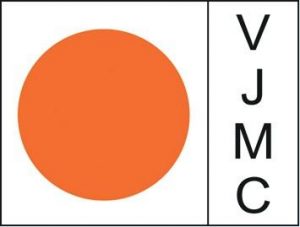 A Trade village and a DJ & Live band from Saturday afternoon and into the night.
So, you can see why we are really looking forward to this fabulous event and to meeting up with Darin, Karen, Rob and the Endurance Legends team once again (see our "2016 Festival of Motorcycling"  article in our "Events and Shows"  section) and our friends from CRMC (Classic Racing Motorcycle Club) www.crmc.co.uk along with a host of celebrities and motorcycle enthusiasts.
Both the VMCC (Vintage Motor Cycle Club) www.vmcc.net , British Historic Racing www.britishhistoricracingclub.co.uk and the VJMC (Vintage Japanese Motorcycle Club) www.vjmc.com will be supporting the event, as well a host of like-minded Bike Clubs and plenty of Traders to satisfy all of your needs for parts and accessories.

In addition all of thes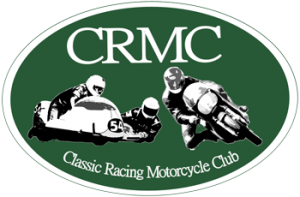 e famous names and organisations, our friends from Eriks www.eriks.co.uk will also be supporting Endurance Legends and we will be looking forward seeing Geoff, Dave and Charlie once again at their ever popular Corporate Event which will be held over, what promises to be a truly fabulous weekend at Donington.
There will be something for everyone at Donington, so make sure you book your place well in advance.
So, as you see, this weekend is certainly NOT one to be missed !
If you want to know more, buy tickets or see about taking part in the few remaining track day sessions for pre-1995 bikes – then here's where to click for every bit of information about the event:
Tickets can be bought at:
www.endurancelegends.co.uk/webshop/spectator-tickets
Spectator info is available from:
www.endurancelegends.co.uk/spectators
The last few track sessions may  still be available from :
www.endurancelegends.co.uk/webshop/trackday-sessions

Highly recommended, a fabulous weekend (see Schedule Below)
Hope to see you all there!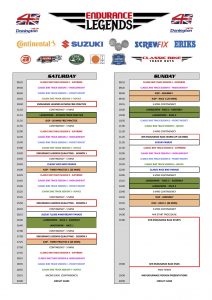 Michael W George (& John Abram)