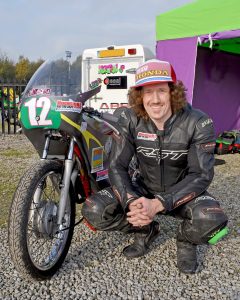 Motorbike racer Ben Heaton is hoping to live out his dream by racing in the Isle of Man very soon and he has begun with successfully testing his (and, of course, his bikes) abilities at Wigan's well-known "Three Sisters Race Track", https://www.threesisterscircuit.co.uk
He also rides club championship races at several circuits around the country, including the famous home of the Grand National at Aintree, www.aintreemrc.co.uk
Like all racers it is a constant struggle to keep incoming funds matching his outgoings (a bit like us and our website) and as such has set up a "gofund me" page https://uk.gofundme.com/nevereverlift and the mighty "Dozen Club" .
Here is a personal message from Ben, with colloquial dialect used within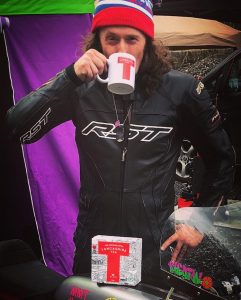 its introduction and greeting!
"Oreeeeeet!!!
Welcome to the mighty Dozen Club!
Lancashire lad from 'Sunny Wigin' by the sea' racing anything anywhere we can, it's all I live, breathe and exist for. Pushing hard to get us all the way to the Manx GP, The Southern 100, and The Classic TT. Also competing at short circuit rounds.
But it doesn't stop there, motorcycle racing brings us all together, I enjoy the community spirit of the paddock that we all share together. We are building up to provide a welcoming set up in the paddock for members to relax and really get involved, closer to the real racing experience.
To be a part of proper racing by joining The Dozen Club, we are kindly asking for donations from just £12!
Once joined we will post you a Thank you letter, News sheet, a signed photo, Heaton Stickers and a Lancashire Tea bag, so we can celebrate our collaboration with a good old brew!
You will also be awarded a FREE Brew and snacks are provided at every race meeting you come to! If anyone has any questions at all, please contact us at any time. Thank you also much again".
Ben recently contacted us and we offered him the opportunity to submit his own story to us, and rather than edit it, we have decided to reproduce it in Bens own words to give you a flavour of what it is like to be in the world of a hard working, family man and motorcycle racer. Below is a copy of Ben's email, (photos we added).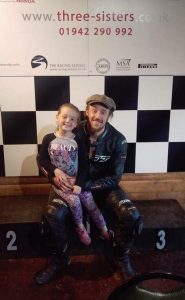 "Oreeeeet" John,
Hope you are well. As requested, we have wrote in brief a little about us, our experiences, our goals and our way of life. I started racing at the age of 19, on the day of my first ever race, I have never even ridden on a track, let alone race! I was approached by a local owner of a joinery firm who sponsored me to race, after he saw me racing every bike I could on my favourite local road over Belmont. I bought an ex BSB Super Sport Suzuki GSX-R 600 then set out to get on track and race properly on track.
On my first ever race, at Three Sisters in Wigan, I started 24th on the grid and within just 6 laps, finished with an impressive 7th. The rest was history, as I went from strength to strength, podium to podium.
A year or so later, with my sights on making the transition to Road Racing, I suffered a serious road motorcycle accident at work in Manchester, 1st March 2008. My injuries put me off work, finding funds to race was difficult as it is. I was then made redundant in the recession, this put racing backwards, I was heart broken.
Fast forward a good few years on, I got back on my feet, building custom motorcycles, managing workshops and then went on to be a World Championship Motorcycle Race Technician.
Whilst working in the World championships, I learnt a lot that I applied to my own racing. I also made met and made some fantastic friends, one of which was my late best pal, Malachi Mitchell Thomas.
I saved up my pennies and bought my Yamaha YZF-R6 Super Stock bike (This will be at Aintree on the test day). I picked up where I left off, back in the saddle racing to a good national standard. Racing originally with the number 101, as it looked the same whether it was the right way up or upside down!
But with a beautiful young family in this modern age, money was becoming tight. So rather than put racing on hold, which I vowed I would never do again, we seeked a different direction, classic racing. We built and developed a bike from a chassis sat in the back garden at my parents house. It was actually my mothers first ever road bike!
Being a proud Wigan lad, I've always loved George Formby, we carry his picture on our bikes and helmet! Our favourite film is 'No Limit', where George, a working class lad, from Wigan, just like me, went on to beat the big boys with nothing but passion and support by his loved ones. With this and the influence of the mighty Honda Domination in the 60s, we completed our 1968 Honda RC195, build in me little workshop in Lancashire.
We went on to dominate the North West Classic Championships, winning Championships, Titles and holding lap records, on a underpowered machine that we should not of had a chance on! With our approachable and welcoming family racing team, we have gathered many supporters and friends.
I still kept close with my old housemate and friend Malachi. On the Aintree Test day 2016, we packed up together to get on with a days testing on our own machines. I blew my teams Ducati up earlier on in the day, leaving me to catch up with me pal Mal. My good wife Chloe got on with Mal as I did, we had a reet good day!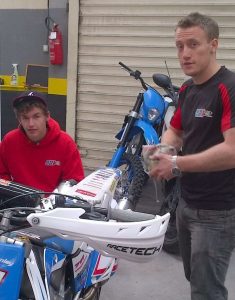 Mal had made plans with us to drive my to be wife Chloe to our wedding later that year, but it was never to be…
On the following Saturday, we was racing at Aintree and Mal was over at The Northwest 200.  
The day had an odd start, On the morning, I went to sign on with my number 101 as usual, I was told I would have to be number 12 on the day. I Argued but took the instruction and set to change the numbers on the bikes.
The morning led to me blowing the Ducati up again, dropping a valve, so we decided to run the back up Honda.
Just before the second race, Chloe's phone rang, I saw her face turn white, her knees tremble and her eyes water, I knew this was sad news. She passed me the phone delicately, my friend Stuart, a strong and manly man, sobbing me the news that My mate, my pal, my Mal had passed away racing over at The Northwest. My
heart broke. With a heavy heart, we went out to race, with a marker pen I wrote 'For Malachi' on our bike, we race in his honour.
Later that night, I receive the news that I was not the only rider to be instructed to race with the Number 12, Mal raced his final Race carrying the Number 12. We then decided to keep the Number 12, in his name, his legacy, his memory. Number 12 isn't just a number to us, its kept us going, given us our following.
Our Racing support Club, 'The Dozen Club' is a club in which members donate £12 for an Annual membership.
We have raced an array of fantastic machines, from road based production
racers, to exotic classics to high tech Grand Prix Machines. We set our sights on Racing over at The Isle of Man TT Classic races, Races over Europe and to New Zealand. Racing has given us everything, our family, our close friends, our lifestyle and the best environment to bring up our beautiful young daughters.
Thank you for taking the time to read this John, if there is anything you would like us to ask or require any extra information, please feel free to contact me.
Best Regards, Ben Heaton
I found Ben's email to us quite humbling, a real down to earth account of the dedication, the struggle and the persistence to overcome all that is thrown at you in life in order to follow your passion, be it motorcycle racing or any other sport or pastime.
Like all pursuits it brings with it both joy and sorrow and this is graphically highlighted by the loss of Ben's good friend Mal at the North West 200 in May 2016 at the tender age of just 20 years old. The only saving grace (if you consider there to be one) was that Mal was doing what he loved and like all racers he knew the risks.
It is a strange co-incidence that both Ben and Mal ended up racing with the #12 number and that this is no longer just a number to Ben, but that it has gone on to really mean something, to keep Mal's memory alive and it has also spawned the creation of the mighty "Dozen Club".
We read so much about the world famous motorcycle racers and often their autobiographies reach our bookshelves, most of which are written by their ghost writers and not the bike racers themselves. Perhaps this short but down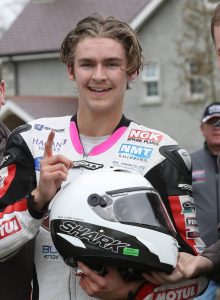 to earth article will provide its readers with a greater understanding of what it is like to be a hard working man with a passion for motorcycle racing.
For Mal, in Ben's own words:-
"We miss him dearly, not a day goes by we don't smile and think of the good times. Talking about him keeps him around, we're proud of him. He will be up there living the dream".
If you would like to sponsor Ben, honour Malachi or join the mighty "Dozen Club" you will find all the necessary contact details below.
           In memory of
   Malachi Mitchell-Thomas
23rd Sept'1995 to 14th May 2016
Additional Sponsorship is always welcome as people like Ben couldn't do what they do without our help.
If you are a business, or an individual and you would like to sponsor Ben, even if it is in a small way (as they say "every little helps") he will be eternally grateful, his contact details are as follows:-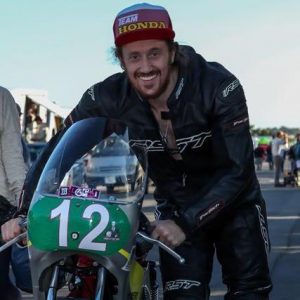 Contact Details:-
Email:     teamheaton101@gmail.com      
Tel.          07470 069688
Web:       www.facebook.com/nevereverlift
You can also help fund Ben through his "Go Fund Me"  account at https://uk.gofundme.com/nevereverlift or through his "Paypal"  link at https://www.paypal.me/nevereverlift
Good luck Ben, ride safe.
J M N