The Isle of Man, a great place to visit and Ride
Although I have never personally been during TT week, in late August of each and every year John and I travel over to the Isle of Man for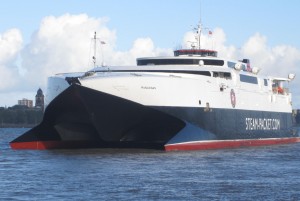 the Manx GP week. The camaraderie usually starts at the dock, waiting for the crossing, for many of us that will be at the Pier Head in Liverpool, (but for some also from Heysham). Bike and riders board the Steam Packet Company's high-speed catamaran ferry, the "Mannanan" for the trip over to the IOM. If this is new to you and sounds a bit daunting don't worry, the bikes are well secured and there are plenty of friendly bikers around to help and advise you. The Mannanan is a comfortable way to travel and in less than 3 hours you will find yourself and your bike in Douglas and on your way to your chosen accommodation.
Although we are dotted around the island in various types of accommodation, we often meet up with friends to watch the races from various vantage points, we inevitably bump into each other at museums, events and bike club meetings around the island and often in the hotels in Douglas for a couple of well deserved pints and a nice meal.
The week is really what you make of it, anything goes, you may want to watch each and every race and each and every practice, or you may prefer to just watch the main races and tour the island whilst the roads are somewhat quieter.
You may wish to ride in a group, just ride with a friend, or explore some of the more remote parts of the island on your own. There are no set rules and we are just there to enjoy ourselves, visit the Calf in the South or Point of Ayre in the north from where on a clear day you can see Ireland, Scotland and England. There are, of course lots of great roads to ride, beautiful places to visit and lovely countryside in between.
If you take the opportunity to circumnavigate the 37.73 miles of the actual course yourself, riding through villages, open countryside and mountains, take some time to stop and think when you watch a race, just how skilled the riders are. Because many of the riders that flash past you will actually be back in view again, in around an unbelievable 20 minutes, at average speeds in excess of 120 mph. After you have ridden the course yourself I am sure that you will agree that these riders skills and speeds are absolutely mind-blowing!
There are many interesting museums to visit, Murray's, the Manx museum in Douglas, the Aircraft Museum by Ronaldsway, Tony East's A.R.E museum at Kirk Michael and the Transport Museums at Jurby, some of which we hope to cover in separate articles.
You can join friends at Club meetings;VMCC parades, Norton owners, Triumph owners, Italian owners etc. and you can wander around the race paddock, mingling with the stars and viewing their fabulous machines. In 2013 we were fortunate enough to see a very rare John Britten V1000 machine (photo right). There is really just so much to do, take a ride up to see the Great Laxey Wheel and/or join thousands of like-minded motorcycle owners at the Jurby Festival, the list is endless.
We thoroughly enjoy going back to visit our extremely hospitable island friends (who now are just like family) year after year and having a whole week to ride around this beautiful island. In 2015 John and I also took advantage of an invitation from Tony East (of the ARE Museum in Kirkmichael) to travel over and join their VMCC Isle of Man Section for one of their track days at Jurby, which was absolutely fabulous and afforded us the opportunity to ride around the island at a much quieter time of year. You can read about this in our article "Outside Race Weeks".
We will write more of the wonders of the IOM, the hospitality extended to us, and features of the many places to visit in other separate articles.In the meantime, for those of you who have not experienced riding in the IOM before, we can highly recommend it.
J M N