On 22nd July 2016 we held our second live outside broadcast with BBC Radio Lancashire at the British Commercial Vehicle Museum in Leyland. This is a really great museum ,it is
run by volunteers and is located on part of the site of that produced many famous Leyland vehicles.
Details of the wide variety of interesting vehicles on display within the museum can be found in our previous article, this museum is well worth a visit and refreshments and food are available from their own café.
This year's attendance differed somewhat from the event that we held at the museum last year, in so much as last year a lot of our visitors arrived early and spent most of the day with us. This time we had a far more transient flow of bikers, a lot of whom arrived, stayed for a couple of hours and then left, several stating that they were on their way to another event, (at this busy time of year) or had been on their way back from one and so were happy to benefit from visiting more than one event in the day.
To a degree this generated a lot more interest as we had the opportunity of seeing many different faces and many different motorcycles during the course of the day. This also provided us with the opportunity of talking to a great variety of visitors, a lot of whom, we found, had been listening to the BBC's live broadcast and then had then decided on the spur of the moment to get their bikes out and come and join in all the fun.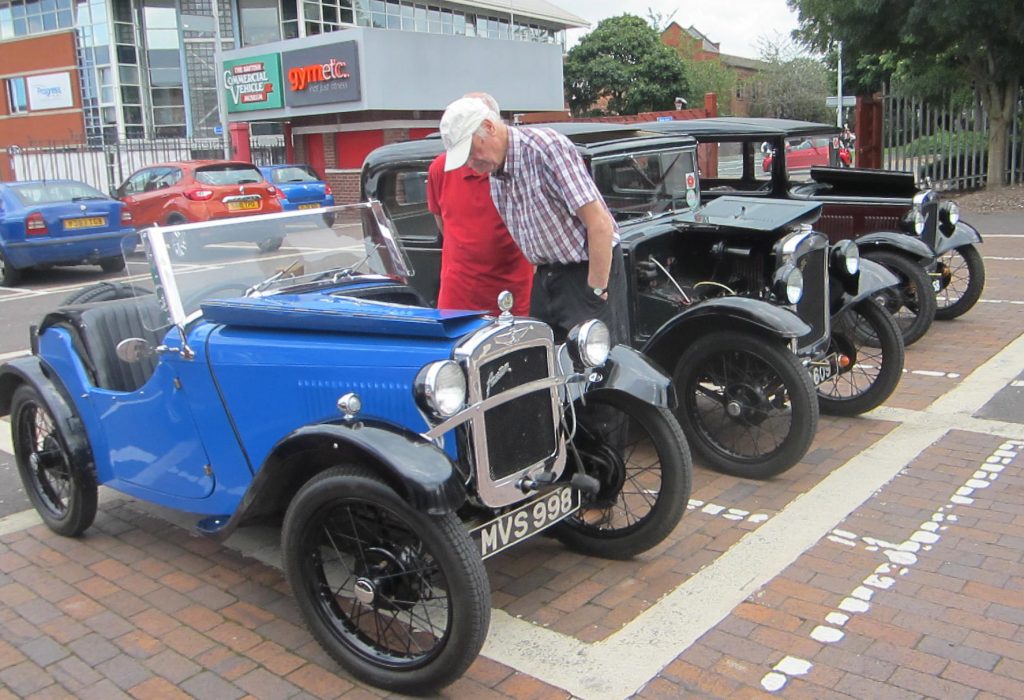 All in all we probably had as many, if not more, motorcycles and riders visiting us during the course of the day this year than we did last year, much to the delight of the museums owners. Also, despite a not so good weather forecast, the weather was kind to us and even sunny at times.
As well as many bikers,a group of car enthusiasts brought along some really great vintage Austin cars to put on display, we even had a coach load of visitors who arrived as well.
Our good friend John Young (of Iron Butt fame) once again supported our event, riding all the way up from Stafford to spend a couple of hours with us. Gilly was delighted to be able to interview him again live on radio. It seems the week before John had nipped over on his bike to Russia (as one does) simply to have a ride and check out the border crossings for his future planned world trip!
We were chatting to John about his Triumph Explorer and asking him how many miles it had covered since he bought it. It seems that this hard working machine has now clocked up well in excess of 40,000 miles in just a little over 12 months!
Keep your eyes peeled; there will no doubt be more to tell of John Young's adventures on our website in the future.
Gilly and Gary orchestrated their live afternoon BBC Radio Lancashire show from their satellite van and in between the music they conducted live interviews with many of our bikers throughout the day. This afforded many of our visitors the opportunity to be "on air" with John Gilmores afternoon broadcast, with the added opportunity for them and their friends to listen to this later on from within the BBC Radio Lancashire website.
A fantastic time was had by all and for the grand finale at the end of the programme we cracked up John Abram's B.S.A "John Cooper" triple. The unique rasping sound coming from the open mega exhaust of this machine, (which well and truly exceeded 110db on producer Gary's sound meter), much to the to delight and applause of all the visitors, ended Gilly's afternoon show in real style.
A young lad visiting with his mum and dad beamed from ear to ear and clapped, whilst a passing wagon driver, in a queue of traffic outside the museum wound down his passenger window to listen to the unique triple sound, smiling all over his face he leaned towards the window, gave us the "thumbs up" closely followed by a couple of long blasts of his wagons, very loud, air horns, obviously in appreciation of the display!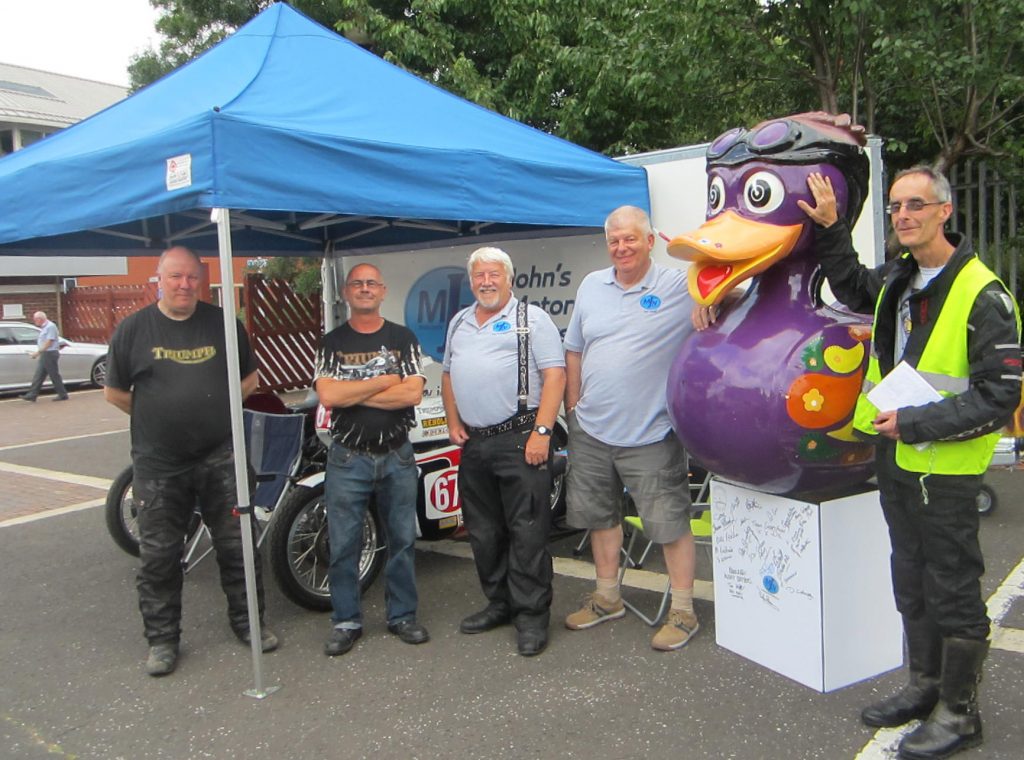 This year another famous celebrity – Gilly Duck, joined us all!
This giant purple duck is well travelled around many events in Lancashire with his uncle John; he has collected many signatures on his travels and if you want to check him out, he even has his own Twitter account at
https://twitter.com/gillys_duck.
As you can imagine the atmosphere was electric!
So much so, that it looks like it will become an annual event!
If you want the chance to be on radio and to enjoy a really great show, why not head down to the Stafford County Showground on the weekend of 15th/16th October 2016 to the 23rd Carol Nash Classic Motorcycle Mechanics Show?
John's Motorcycle News will be there along with Gilly and Gary and some special guest stars for another very interesting live outside broadcast.
Why not check out the British Commercial Vehicle Museum in Leyland and/or keep an eye on our calendar of events and come along to join us next year?
British Commercial Vehicle Museum, Leyland – highly recommended to all, contact details are:-
King Street, Leyland, Lancashire, PR25 2LE Tel. 01772 451011
Email: enquiries@britishcommercialvehiclemuseum.com
Website: http://www.britishcommercialvehiclemuseum.com
Michael W George (& John Abram)