At last, we arrived at the event that we have been looking forward to all year!  The UK's ONLY classic 4hr endurance race!
In fact it's such a unique event in the classic biking calendar you need to get it in your diary now (5th & 6th May 2018 – to be confirmed). As usual for any event there have been so many people that have worked so hard for so long to put it all together and it all builds up to the unique spectacle of Classic Endurance Racing on the Sunday afternoon!
John and I arrived to set up camp on the Friday afternoon at ERIKS campsite, thanks to our superb host, Geoff Cox. It was good to see Geoff, Dave and the rest of the lads once again (but a special significant mention must be given to Julie, who showed us her 40th birthday present photos, with a strategically placed crash helmet), we can say no more than – nice one Julie!
Friday saw not a cloud in the sky, but very strong winds followed by a very chilly night. We headed out over the track early morning and contrary to the weather forecasts Saturday morning was very overcast with a lot of drizzle! Nevertheless this didn't seem to put off the riders and as the day progressed the drizzle petered out and just left us with a somewhat cloudy but relatively dry day.
For those of you who have not been to Donington before (me included), it's right on the flight path for East Midlands Airport, so when the planes were coming in to land they were coming straight at us and looked as if they would touch down on the campsite. It's the closest that I have ever been to the undercarriage of the massive jets that swept over us, landing a short distance away and the noise was rather incredible!
We believe that we had just missed the landing of one of the largest planes in the world – an Antonov-255, this huge plane has six engines a wingspan the size of a football pitch and can weigh up to 600 tonnes when full. I wouldn't fancy doing a tyre change on this beast, the landing gear consists of four rows of seven wheels! Not sure on this one, but we were told by one of the lads that it transports huge Rolls Royce engines made in Derby?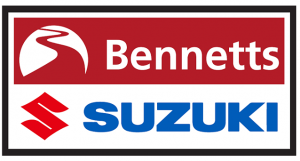 Geoff very kindly lent his Honda VFR to a friend (who shall remain nameless) to get in some track time, but unfortunately he dropped and barrel rolled it at Redgate corner and sadly it looks like it will be a write off. The good news is that the only thing that was hurt in this incident appeared to be his friend's pride!
Bennetts Insurance was the official sponsor of this wonderful weekend and they hosted the "Bennetts Live Arena" situated on the legendary Melbourne Loop. We had a chat with Sofie and Sarah from Bennetts and left them with an open invitation for Bennetts to get "on board" with John's Motorcycle News.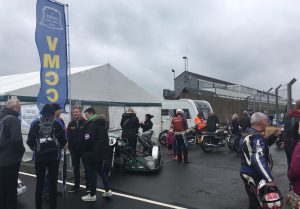 There was lots of excitement around Bennetts Live Arena and here the VMCC (Vintage Motor Cycle Club) were offering "Try-a-Classic" test rides on a range of motorcycles spanning from the early 1920s to the 1970s. The area was admirably manned and supervised by a lot of hard working VMCC & BHR Club members, Ian Botham and Gerry Daine to name just two.
The lucky participants could receive tuition and familiarisation of their chosen machine, followed by a 15-minute track session. A second large VMCC marquee a short distance away served to promote the Club with applications to join and raffle tickets readily available and the Club also had some very tasty motorcycles on display, including a couple of restored beauties brought up by the Club's President, Rod Hann.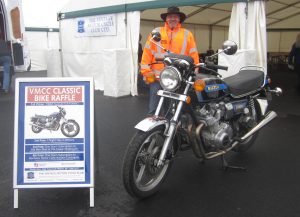 Outside this marquee the Suzuki theme extended to the VMCC's lovely raffle bike on display for all to see. It is a 1982 Suzuki GS1000 that you can buy raffle tickets for and that someone WILL win for their £1 per ticket.The draw will take place on Friday 30th June, so there is still time to buy your ticket and there are 2nd, 3rd and 4th prizes to be won as well. For a small fee visitors could also leave their helmets in the safety of the VMCC marquee, which was also serving as a "Helmet Park".
Often mistakenly seen as a Club just for older members (like us) and older vintage motorcycles, the VMCC's current raffle bike serves to remind everyone that the Club welcomes all with an interest in older motorcycles and machines over 25 years old, thereby encompassing a multitude of machines manufactured a long time after the sad demise of British motorcycle industry. For more information and to join, check out the VMCC section of our website and/or why not visit www.vmcc.net
BHR (British Historic Racing) and Slow Phil of Side Car Radio www.sidecarradio.co.uk were active within Bennetts live area and they were providing a rare opportunity for visitors to experience being a passenger in a racing sidecar in the Side Car Taxi feature. One-on-one tuition was be followed by a fantastic 15 minute ride around the Melbourne loop.
John did suggest I had a go, but I was far too busy at the time……honest!
PLEASE READ THIS:- On a more serious note I would like to take a moment out to give a special mention to the plight of 13 month old Riley Clay whose parents, grandparents and friends, including Slow Phil are desperately trying to raise funds to get this little chap to a special hospital in Boston, USA, in this "last chance saloon" attempt to battle a rare and hard to treat cancer. Volunteers were giving out leaflets and collecting money from the public and we were pleased to make a donation ourselves as we have done for many worthwhile causes.
Knowing of our past fund raising and Charity work Slow Phil asked for our help and so I couldn't possibly say no. I offered to help boost the fund raising and spent a lot of time with a collecting bucket myself going around the paddock, where I was very well received by all. I've said it before, but once again I do have to re-state that bikers are one of the most generous communities around when it comes to worthwhile causes like this.
I met up with several well-known faces, including Trevor Nation & John Cooper, (who was on his way home after a very enjoyable afternoon). I also met up with Charlie Williams and Mike Farrall and family who also very kindly donated towards Riley's fund (despite looking very sorrowfully at their Rudge's flywheel appearing through a gaping hole where the top of a crankcase should be!). We were told that in a later search of the site where the engine gave up the ghost that Charlie had found and retrieved one of the Rudge's pushrods.
It is really sad to see when things like that happen, but I'm sure the lads will sort it out and have the engine up and running in the near future. Anyway, good luck with the rebuild lads.
Whilst on the subject good causes and of Rudge's – please don't forget to keep an eye out for this Rudge flyer and check out Charlie and Zach's "Long way Up 2017" Charity Ride, they are riding two Rudges the 1,000 miles from Lands End to John O'Groats on 14th – 18th June to raise funds for "Classrooms in the Clouds" and "The TT Riders Association".
We have offered to publish their itinerary if they let us know, so that people might have the opportunity to join them on the way and help raise additional funds. You will find more details within our "Flyers" section and "Calendar of Events".
We know that there are many such requests out there for charitable help, but if little Riley was your son or grandson you would truly understand the importance of us asking for your help.
If you are reading this and would like to help, please call Slow Phil on 07730 784975 and/or visit www.gofundme.com/riley-treatment-support-2utsrhg and lets all give the little fella every possible chance of a good fulfilling life.
When speaking to Geoff Cox (our very generous hosts at ERIKS) about Riley's plight he immediately offered me the opportunity to speak to his guests in Goddards hospitality suite on the Sunday in order to raise further funds, for which he has the sincere thanks of all concerned, (details below). Hopefully, Slow Phil will let us know the total amount raised in my collection bucket by our efforts and we shall update this article with the sums raised as soon as we know it.
Our sincere best wishes go to little Riley, his folks and family.
There was plenty to do on the Saturday and the whole site was packed with bikers and visitors, affording us the opportunity to catch up with plenty of celebrities who mingled in with the crowds.
Speaking of celebrities – our good friend, John Young (of Iron Butt Rally fame) was at Donington with his trusty Triumph (John can be seen here demonstrating his weight loss techniques) on which he intends to ride around the world, stopping specially in Japan to pose with his Triumph directly outside the Honda factory and "wave" to them, in his own particular fashion (we will leave that interpretation to your own imagination)!
Darin, Caren & Rob were kept extremely busy throughout and the organisers office had a constant influx of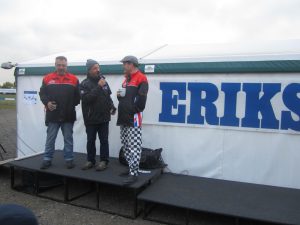 visitors, they did however, manage to get over to ERIKS where Geoff thanked them publically for their superb organisation and their hard work.
Early Saturday evening turned out to be somewhat colder than the Friday, but it did warm up later on, despite the chill everyone had a good time. Our friend Talan (World Champion Paraplegic Racer) gave everyone at ERIKS camp a truly inspiring talk about his amazing achievements on two wheels and on ski's www.paralympianspeaker.com and we chatted to him thereafter (over a pint and Hog Roast bap, or two!) about the good work he is doing with "The Bike Experience", www.tbex.co.uk
Geoff had kindly brought along some prizes and he ran a raffle, which we all bought, tickets for and in total ERIKS guests raised £670 for Talan's charity. As usual all of ERIKS guests were treated to a wonderful Hog Roast in the company of many well-known faces and (despite the cold) everyone had a really great time.
Sunday turned out to be a much better day the sun crept through the clouds on occasions, but it remained dry and the track provided for good racing throughout the day, improving as the day progressed. It
was great to see Talan out on the track and being interviewed by the MC on his return and during a trip around the paddock we bumped into a surprise visitor to the event and had a brief chat with, everyone's favourite, Guy Martin, who disappeared later on, we are not sure, but rumour had it that he had bike trouble and left early.
Talan went out on the track again, but had an "off"  through no fault of his own, we believe the throttle stuck? Luckily, there were no serious injuries.
During our lunch in Gerrards Hospitality Suite Geoff very kindly introduced me to his guests and allowed me to address them about our efforts to raise funds for little Riley Clay (as mentioned earlier) and as usual, ever generous, ERIKS guests put their hands in their pockets and further increased the weight of an already heavy collection bucket.
Shortly after I traveled down to the VMCC/Bennetts live arena and handed the collection bucket over to Slow Phil, who has promised to count its contents when they got home and let me know exactly how much I had collected. As soon as we have confirmation of this figure I will update this article. Update – Unfortunately, we didn't actually receive an exact figure, but in a text to me late on 9th May, Slow Phil said that of the six collection buckets ours was by far the most productive and that he thought the amount in it was around the £240 mark, but the good news was that Phil rang me on 11th May to apologise and confirm that the actual amount I had collected was £470  and that the £240 figure was just the amount in coins, so our sincere thanks go to everyone who contributed.
I got back to Gerrards just in time to meet the "Guest of Honour" and main guest in ERIKS hospitality suite, "Fast Freddie" Spencer. Frederick Burdette Spencer, to give him his full title, is an American former World Champion motorcycle racer, regarded as one of the greatest motorcycle racers of the early 1980's, going on to win three AMA (American Motorcyclists Association) Superbike Championships in the 1990's.
Originally from Louisiana Freddie now lives in Las Vegas, Nevada. Fast Freddie's schedule meant that he didn't arrive until Sunday, however he spent quite a lot of time with us before heading off to carry out his other duties for Endurance Legends. From the time that we spent with him, he struck us as a really nice bloke.
The main event of the weekend (the 4hr Endurance Race) started in the late afternoon and Gerrards provided a super vantage point to view the start and finish line and elevated portions of the track.
As you can see the stands were packed and the track lined with spectators for the run to jump on their bikes and head off around the circuit. It really is difficult to imagine just how hard these machines work as they are pushed to their limits hammering around the 2.5-mile circuit in times of just over one minute. To do this alone is a real achievement, but to continue to do this over 4 Hours, really is a test of endurance!
The race threw up a few surprises, including a very early "off"  for Jamie Whitham, riding a GSX1100 Suzuki Katana in the #7 Team Classic Suzuki team which put an end to his teammates, Steve (Stavros) Parrish and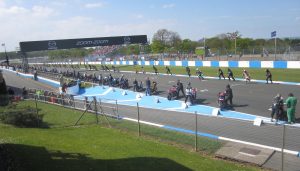 Michael Reeves having a ride, they must all be absolutely gutted, we feel for you lads, we really do.
We did see Jamie, Stavros and Michelle very briefly earlier on in the Suzuki display area and were hoping to catch up with them personally later on, but with all of our busy schedules this just never happened.
Endurance Legends had a superb live timing system, courtesy of Sports Timing Services, which allowed visitors to watch live results from this, the UK's only Classic Endurance Race, from wherever they were in the world, showing everyone's position on the track and their current lap time!
Wow – how impressive is that!
In first place the #1 NEATE RACING Team's 1979 Honda Harris Magnum had an incredible win after 175 laps, with a best lap time of 1:15.126. In second the #44 TEAM TAURUS and in third the #12 TEAM SCERT and although only completing 68 Laps the fastest lap time came from #59 ALF'S ENDURANCE at 1:14.899.
For a list of full results for Endurance Legends, Lansdown and ICGP race please visit www.apex-timing.com/goracing/results.php?path=/sportstimingsystems/2017/060517
Due to distances traveled and family commitments we made our apologies to Darin as we were not able to stay for the later evening presentations, (which we believe were also part of Freddie's duties), but no doubt all went well for the final celebrations.
Congratulations to ALL the teams, their team members, families, their mechanics and their supporters for what is indeed an incredible achievement and our congratulations to Darin, Caren and Rob and all of the team and organisers at Donington, indeed to everyone, Clubs, traders and visitors alike who turned up and helped in any way make this an absolutely superb weekend.
All we can say is if you missed it this year, don't miss it next year!
There will be something for everyone at Donington's Endurance Legends, so make sure you book your 2018 place well in advance.
We hope to see you all there in 2018.
Michael W George (& John Abram)