The Jurby Transport Museum & Isle of Man's Peel P50's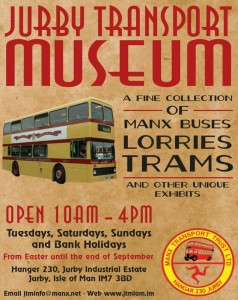 The Jurby Transport Museum is housed in a WW2 aircraft hanger located on the former Jurby Airfield and it really is a worthwhile place to visit.Things are always changing, as it is a working operation where volunteers are constantly in the process of restoring old and interesting vehicles to bring them back to their former glory.
Inside you will see all manner of vehicles, spanning many decades, there are lots of old Leyland buses, trucks, a Post Office delivery bike and an engine and carriage that used to run along Ramsey Pier, all of which are of predominantly Manx relevance, including the Islands oldest bus.
In particular relevance to the islands history are the quaint little Peel P50microcars, which we believe may still carry the Guinness Book of Records title of
"The Worlds Smallest Production Car of all time".
The parent Company Peel Engineering primarily made fibreglass boats, motorcycle fairings and a few other micro car variations. They have, however, become best known for their cute little P50, a 3-wheeled, 4.5hp(100mpg) single seated micro car (with no reverse gear) manufactured from 1962 to 1965 by Peel, as the only known production car manufacturer on the Isle of Man.
Designed originally as a city car, less than 100 of them were made, so now originals are extremely rare. They measure only 54" long and 41" wide and were advertised and marketed as, capable of seating "one adult and a shopping bag"! Although we think it would have to be a rather small adult. The P50's only door is on the left side, and its essential equipment included a windscreen wiper and one "cyclop" headlight!
One of the years that John and I visited the Jurby Transport Museum we were fortunate enough to see, not one, but two examples (see photo) of this, rather unique, super little micro car, but neither of us tried to get into them!
Although you may find some of the vehicles in the museum in rather a dilapidated state we really find that quite interesting because it is work in progress and these vehicles are obviously awaiting restoration by the dedicated team of volunteers. So next time that you visit you can see the results of these volunteers dedicated efforts and their hard work.
You will, however, also be able to see many exhibits that are fully operative and are run at several vintage vehicle events that take place throughout the year on the island, including the Isle of Man Transport Festival.
One of the more unusual exhibits that we came across during one of our visits was, unbelievably a space capsule!
Volunteers, members of the Manx Transport Trust, run the museum and they always make you very welcome, there is a small café area where you can take time out to rest, have a cuppa and a snack.
The museum is usually open from Easter to the end of October on Sat, Sun, Tues & Bank Holidays from 10.00hrs to 16.00hrs, other times by appointment only.Admission is free, but donations are always welcome.
Contact details:
Email: jtminfo@manx.net,
Web: www.jtmiom.im
A great place to visit and your donations will help preserve this lovely museum, which is a very important part of the Islands history.John and I support and visit this museum every time that we travel over and would highly recommend that you visit it too.
NEWSFLASH: On Saturday 12th March 2016 a 1964 Red,Peel P50, Reg. "ARX 37B" (originally costing £199) sold at RM Sotherby's, Ameli Island Auction, Florida after contested bidding for $176,000, approx. £122,500!
Michael W George (& John Abram)