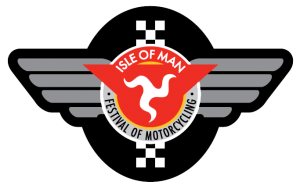 2017 Festival of Motorcycling (Classic TT & Manx GP, Isle of Man, )
Better known by most bikers as just "The Manx",  the Isle of Man's Festival of Motorcycling incorporates both the introduced Classic TT and the Manx Grand Prix and is held towards the end of August.
We have been traveling over for the Manx for many years now and 2017 was no exception. We left early and dodged the black clouds and heavy rain, leaving a grey and cloudy Liverpool behind us.
The signs were good, mild weather was forecast for the Isle of Man (fingers crossed) and we were off to a good start with another relatively calm crossing on the Steam Packet's "Manannan"  heading over to Douglas.
The good work that the Steam Packet Company do for Charity deserve a mention, as they always make collections on race week journeys to and from the Isle of Man, which are well supported by the generosity of the traveling pubic and the many motorcyclists on their boats. During the 2017 "TT" these collections supported the Rob Vine Fund (IOM Registered Charity No. 954) www.robvinefund.im and for
the Classic TT and Manx GP the monies are intended for the Manx Grand Prix Supporters Club www.manxgrandprix.org/MGP/Supporters-Club to help purchase medical equipment and support helicopter services.
To date, thanks to the generosity of their travellers, they have raised more than £255,000 since they started collecting in the mid 1990's and the 2017 TT weeks alone raised a record £19,465.
As usual we stayed in Douglas with our good friends Trudi and John and it was like home from home and we couldn't really believe that it was one year ago since we were last here.
On our first day we headed off down to the paddock to meet our all of the team from DB Racing, who we sponsor. They had
set up camp with Nick Weston and were busy fettling Dan's Race bike for the evenings practice.
We had a visit from Bruce Anstey, wearing his rather cool dog lovers shoes and his young Pug dog, that he had named "George" . Nick also has Pugs and they all seemed to get on rather well. Bruce would also be out on the mountain course later to set another amazing lap time; we really don't know how these lads do it!
Alex George and Linda stopped to have a chat with us outside the Bennetts office and Linda took this photo of the 3 Musketeers, or was it the three wise Monkeys? Nice to see them again, Alex had just divested himself of all the official regalia after carrying out his duties as President of the TT Riders Association at a presentation lunch.
We met many other friends and on our way back to the bikes we stopped to have a chat with John Chapman who was overseeing his mechanics who were busy preparing his MV's for Ian Lougher and Ivan Lintin to ride.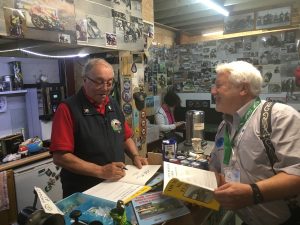 Dan Beighton had a great ride and lapped the course in practice at a very respectable time, Bruce lapped the course at a time that mere mortals could only dream of!
Friday started with an early morning meeting at Steam Packet Holidays at the Douglas Terminal. We discussed interesting ideas for John's Motorcycle News to liaise and promote short mid week breaks for motorcyclists to discover the island in 2018. More of these arrangements will hopefully be published in the next couple of months.
Then we headed on down to see Peter Murray at his museum at Santon. We have had a tremendous amount of visitors to a lot of the articles that we published on Isle of Man attractions over the last year or so, Murrays Museum being one of them. Peter was absolutely delighted with the result, we received a tremendous reception from him and not only did he sign the copies of his book that we brought over with us, but he also furnished us with some newer editions, which he
also personally signed for us. Business was booming and he had made some brilliant changes to the museums layouts that have also greatly improved things.
John took the opportunity to record some Facebook Live at the museum and, like everyone else, we had a brilliant time through Peter's hospitality, enjoying tea, coffee and biscuits.
One of the things that Peter had very kindly done was to provide space for the Joey Dunlop Foundation, manned during our visit by Barry and Penny, and we were delighted when they enthusiastically accepted our invitation for the Foundation to join us on our website.
We have already supported the Foundation through third parties in the past and it was our absolute pleasure to welcome them, personally, as "Friends of John's Motorcycle News" pledging to give them our own support and any publicity that we can through the website.
The Foundation had a raffle bike on display, a 1,000cc, 2016 Honda CBR Fireblade, which was rather a special bike, as Honda only made 50 of these TT Specials. It was ridden by Manxman, Richard Milky Quayle. The bike has only ever reputedly covered 2 laps of the TT course (about 75 miles) and is valued at about £18,000.
Some lucky person WILL win this for a £2 ticket, to be drawn in January 2018. I did buy raffle tickets and contributed to the collection box, so it looks like I might have to clear out some space in my garage!
We promised Barry that we would catch up with them at the Stafford Show in October, (when they are providing a Honda RC45 bike for Aaron Slight and hope to have 10 Honda RC 45's at the show) and that we would visit the Foundation later on in the day. The Stafford Bike Show is another one of Mortons famous shows, not to be missed, again details can be found on our website.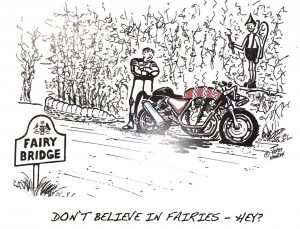 All in all we had a brilliant time at Murrays museum (see our article in "Places to Visit" ) and we are absolutely delighted that the place was booming with visitors, obviously so was Peter too ! Anyway, off we rode, a short way down the road to baptise our lucky Silver Fairies in the brook flowing under the famous Fairy Bridge, for continued good luck.
Now, as anyone who has visited the Isle of Man will know, it is always wise to be nice to the fairies and never to ignore them as you ride over Fairy Bridge.
If you visit Peter's museum he will always offer you a Silver Fairy for your loved one, or that special girl in your life, whether a wife, partner, daughter, granddaughter or niece.
See what can happen when you don't believe in Fairies?
For many years lots of bikers have stopped at this little bridge (that is adorned with all sorts of trinkets, notes and little mementos) to say hello to the Fairies for good luck. Fairy Bridge is only a short distance from Murray's
museum, heading towards Ronaldsway Airport and there is a narrow layby just by it, wide enough for a bike, or two, to stop.
Another place that we always visit and support by means of donations is the "Manx Aviation & Military Museum", ably manned by volunteers and looked after by Ivor Ramsden (again see our "Places to Visit"  section). Terry Jackson gave us a brief, but very interesting talk about the wartime role of the Isle of Man and the number of planes crashes that occurred on and around the island, illustrated on a large profile map of the island.
On our way back to Douglas, as promised, we stopped by to visit Gill at the Joey Dunlop Foundation building. There is pedestrian and wheelchair access from the main road, from which the Foundation is highly visible, but for any type of
vehicle, bike or car access is not very obvious. Their driveway can only be located via the access road, (used when the TT course is in operation and the course roads are closed to the public).
The Foundation owns and operates Braddan Bridge House, a suite of holiday apartments for disabled visitors to the Isle of Man, with all the facilities that they may need at affordable prices. The Foundation was created in the year 2000 in memory of Joey, (who was awarded the MBE for his Charity work).
For further Information please call the Charity Trustees on 01624 677741 and/or visit www.joeydunlopfoundation.com
One of the things that we learned was that contrary to some belief – the Foundation does not cater solely for those
people with motorcycle related injuries, but it welcomes anyone who is disabled. They do marvelous work and are manned by many volunteers and so although we have personally made donations previously to the Foundation and we welcomed their acceptance of our invitation to join our "Friends of John's Motorcycle News".
We visited the paddock once again, meeting many people we knew including our good friend Graeme Hardy (aka George Formby), only to find that he had been one of the victims of the cessation of the .fslife.co.uk email addresses by its owners, Orange, and he had been forced to scrap thousands of leaflets that displayed his email address.
For more information, please see our "Shuttleworth Snap" article within our "News and Interest" section.
Graeme's new email address is graemehardy8616@gmail.com or visit www.georgeformbymotorbike.com
On Saturday we rode over to Jurby, (after being overtaken by several foreign bikers, with the amazing ability to see around blind corners!). Preparations were well under way for the Festival of Jurby the following day, Gary Corlett and Tony East were busy as usual with all of the rest of the crew mucking in to accommodate the ever-increasing Health and Safety requirements. Fingers crossed for
an excellent and busy Festival.
We then took the opportunity of visiting Denis and Darren at the Isle of Man Motor Museum (again see our "Places to Visit" ) www.isleofmanmotormuseum.com at a quiet time (race day).
The lads have been hard at work since we visited them last year, the Joey Dunlop exhibition had been returned and they had created a reproduction of an early 1900's workshop, complete with original overhead belt driven machines, they had loads more very unique cars and bikes (we bet you have never seen a French 5 wheeled, gull winged, Mini Comtesse )?
Amongst loads of new exhibits there were lots of unusual vehicles, including a replica Peel P50 (complete with Disc brakes) and a yellow customised Mini belonging to Ben Duke (Geoff Dukes grandson) on display, complete with a Yamaha R1 engine.
Loads more going on here, with Guy Martins "Wall of Death"  bike (see our article "Guy's Wall of Death"  in our "News and Interest"  section) and three of Joey's bikes already gracing a new wall rack display for 2018 that will add another 100 bikes to those already on the mezzanine floor.
We were also fortunate enough to be able to meet Chris Proctor alongside the bike that he unfortunately crashed on (at 175mph) on the Bonneville Salt Flats. Chris and Richard Barks (who we later met at Jurby) are innovative engineers currently working on new bikes that they are taking back over to Bonneville in August 2018; we wish them every success and safe riding in their quest for speed.
You can read more about this in our "Places to Visit"  article on the Isle of Man Motor Museum www.isleofmanmotormuseum.com
A quiet ride through country lanes brought us to, once again, to the northernmost point of the Island, at Point of Ayre, where we sat back and relaxed for a while, before heading off for a cuppa and a piece of (home made) cake at the Church Hall in Bride, where the lovely volunteer ladies and the entertaining Reverend Brian once again made us very welcome, (despite it being just on their closing time). With roads still closed we fueled up in Ramsey and traveled down the scenic coast road, through Laxey to Douglas and on to Castletown for an evening nosebag.
Sunday proved to be a rather lazy morning for all and a late morning ride out to Jurby for the "Festival of Jurby" .
The amount of motorcycles parked here was truly unbelievable with even the surrounding overflow and museum car parks bursting at the seams, which must have meant a record attendance for the event.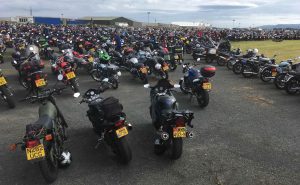 The bikes were parked in row upon row and the place was so full that I only just squeezed into the top end by the entrance gates, whilst others arrived after us were turned away to the overflow bike parking.
There were plenty of famous names from the bike-racing world and it was good to see John McGuinness looking so well (considering that his leg had an external frame supporting it whilst he is healing from his accident).
As usual he was in great demand for interviews and was busy signing copies of his book for a never-ending queue of fans. Darren had brought over some exhibits from the Isle of Man Motor Museum, including a Willeys multi-wheeled jeep, a Steam Motorcycle and a Vincent sidecar outfit.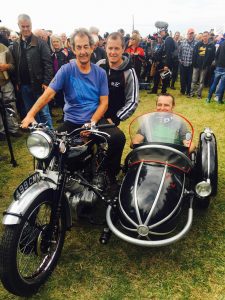 The Isle of Man's Motor Museum's Vincent and chair outfit got a brief airing with Steve Parrish at the helm, Steve Plater in the chair and John McGuinness riding pillion. It was a pity I missed this, but Darren very kindly provided the photograph for us.
Loads of famous names were out on the Jurby track having fun and entertaining all of the spectators. I had a good chat with Linda and Alex (George) who took out a Heron Suzuki for a blast around the Jurby track and a bit of fettling thereafter.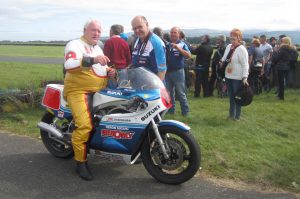 The weather was kind to us and it was quite a warm afternoon.
Departing before any mass exodus I rode down the coast road to Peel, only to find the Leece Museum closed, as I found out later that Bob had gone to Jurby, no matter there is a great "chippy" is just next door.
A super, very full, and somewhat tiring day.
Monday was a Race Day so, although rather dubious about the weather (with clouds covering the mountain) we decided to have a pedestrian day and head off to the paddock, so Trudi very kindly gave us a lift down to the start line. Everything was humming and everybody was putting the final touches to their race bikes. The Mistral Race team were looking good and Ian was all set for his bikes to go, as were Dan and his crew from DB Racing.
Then the inevitable happened, the clouds turned to rain and with poor visibility on the mountain the Race Officials had little option than to cancel todays racing. We milled around the paddock and I went to have a chat with Charlie Williams and Malc Wheeler before grabbing some light refreshments and walking back in the rain.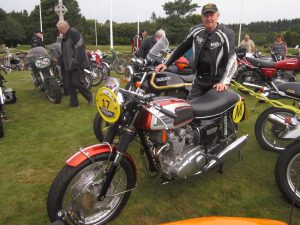 With Mondays races postponed until Tuesday the inevitable road closure did cause some disruption to plans. John went to the paddock and I rode off to St Johns (just before for the roads closed) to the VMCC meeting, which was in full swing when I arrived. The green was chock a block with Classic bikes everywhere and the official runs were well under way.
Known as the VMCC Tynwald Regularity Run, entrants sign on at Tynwald Green, St Johns for three laps of the original St. John's TT Course and display their machines on Tynwald Green, see www.jurbyfestival.com .
I bumped into Brian and Carol who had brought over their lovely Ducati and a Triumph Rocket 3 Triple, that Brian had only just recently finished and what a beautiful job he had made of this award winning and truly stunning machine.
There were quite frankly just too many nice machines to name them all, but one that does stand out from the crowd and that many of you will have seen at shows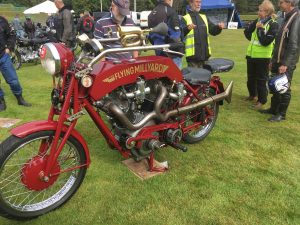 and on TV, was "The Flying Millyard"  a real piece of engineering.
There has been so much written about this creation of Allen Millyard's available on the Internet, that I won't repeat it, suffice to say that this 5,000 cc behemoth, built from a variety of different parts, from aircraft to cars and motorcycles is truly amazing.
Allen produced a detachable kickstart, hidden away behind the engine and with the lightest of kicks this machine started beautifully and sounded lovely, as the huge pistons thumped up and down to a slow tickover.
Once mounted I was surprised to see Allen engage a "reverse gear"  back up and then gently plod away off the green and down the road, truly unbelievable.
With most people watching the race and roads closed, it was the perfect opportunity to take the long straight run down through Foxdale to the south of the island,
thereafter heading back to share a cuppa with Peter at a much quieter Murrays museum, before heading back to the paddock to catch up with the racing, in particular with Dan Beighton of DB Racing, whom we sponsor and hold in great esteem.
It is really difficult to describe the difference between being an ordinary spectator with no true personal links to the riders and crew and being actively involved (albeit by observation rather than by hands on participation) in the Race Team.
The intricate preparation involved in all aspects of the bike and the trust and faith placed in each team member for their respective roles is hard to describe. The personal responsibility that each person shoulders, even as close friends and sponsors is again something that can take you by surprise once the big day comes. Emotions run high both before,
during and, especially, after the race, when sheer joy can turn grown men to tears of happiness.
Everything was set to go for the MGP Newcomers race with a 6.15pm start, however an incident at Bradden resulted in a recall of riders for a delayed restart. As you can imagine it took quite some time to regroup and because it was running late with failing light the race was rescheduled for three laps and off they went again.
Dan was sporting the No.1 plate and had some very respectable lap times, ending up back home and safe, finishing the course in 14th Position out of the 36 entrants, (only 21 of whom finished the course) and we were all absolutely delighted and pleased that he had a trouble free race.
The team had to work flat out into the night to prepare the bike for the following mornings race, the Junior Manx Grand Prix. The weather was kind and conditions good, however the race was almost immediately red flagged, due to an early incident at Union Mills and thus delayed for a couple of hours whilst repairs were carried out to remove debris and rectify a downed lamppost. The
rider involved was taken by ambulance to Nobles hospital, but fortunately his injuries were not life threatening.
For his second race (MGP Junior) Dan was sporting a No.77 and his grid place was near to the back of a rather large starting grid of 80 riders, of which only 66 finished the course! Although finishing towards the latter end of the race, Dan and everyone else in his team were more than happy for him to complete the course with no incidents.
It really was a brilliant achievement and Dan said afterwards that it was most certainly "the ride of his life" !
The celebrations were rounded off with a party evening and a group on stage in (a much colder than last year) VIP marquee. There were many awards being handed out to competitors from all over the world and the usual tradition of the race winners being carried in aloft on the wooden winners chair to the cheers of all within the marquee.
Dan took this opportunity to thank us all, his guests around the table (his sponsors, his team, his supporters and of course his wife Janine), Nick and his family, Sally and her friend Linda, Jim, Darren, myself and John.
I must also give a mention to the third member of Dan's pit crew, Adrian (aka Yoda – a really great guy with a brilliant sense of humour) Adrian and his family unfortunately had to travel back early and missed the evening celebrations.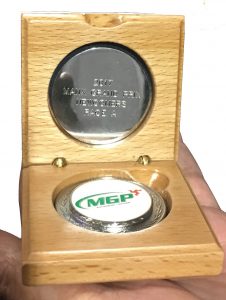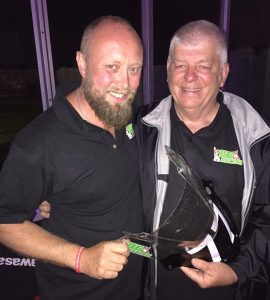 During his table speech Dan confirmed that there were some special "thank you surprises"  en-route that he had arranged for the team, in addition to which he particularly wanted, a rather reluctant, Darren to accept his MGP Medal, which was really thoughtful of him.
Dan also made a special presentation of his signed "living the dream"  race screen, fresh off his race bike and still sporting his race No.77 to John Abram for his invaluable sponsorship support, something that I know will mean a
lot to John and that he will be proud to display it, to show it off and to treasure it for many years to come.
The perfect finish to a perfect week for everyone.
Our only regret was that due to our busy schedule and road closures we never got to visit Tony's A.R.E Museum in Kirkmichael and the Leece Museum in Peel, but, judging by the amount of visitors that our articles about the museums in our "Places to Visit"  section have had, no doubt many of you have or will visit these great museums whilst on the Island.
Other than that (and Dans missing bib), the perfect end to the perfect day and to a fabulous week (as usual) on the Isle of Man, highly recommended to all.
DANS MISSING ORANGE BIB
Please take a good look at the Orange Bib that Dan is wearing in this photo, it is quite distinctive, being covered with lots of sponsors logos, including our own and "Sally Nunn Racing", "Pipe Werx", "Amphibian Scaffolding" and so on.
Dan had left it on his bike and when he came back it was missing and hasn't been seen since.
Whether it disappeared by accident or not, it would really be appreciated if, anyone who knows of its whereabouts would kindly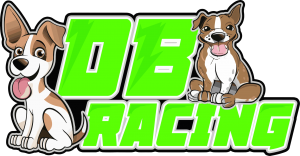 contact us so that we can arrange for this "one-off"  orange bib to be returned to its rightful owner – Dan Beighton
The only thing left to do now was to remember to leave space in the top box and travel down to Devereau's in Castle Street, (just off the promenade in Douglas) to fulfill family orders to bring back loads of delicious Manx Kippers that I had ordered!
We rode off down to the Douglas Sea Terminal for a pleasant journey back to Liverpool over a calm sea and good weather on the Steam Packet Company's ship "Mannanan" !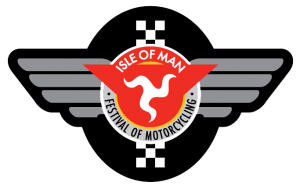 What more could we ask for? Can't wait for next year.
For the actual results of the races, please visit :-
http://www.manxgrandprix.org/MGP-Results
Michael W George (& John Abram)