Stafford International Motor Cycle Show April 2016

The 36th Carole Nash International Classic Motorcycle Show held over the weekend of Sat 23rd& Sun 24th April2016 was once again a huge success with visitor numbers up on previous years and traders more than happy with their increased sales.
There really was just so much going on that it is difficult to know where to start. Everyone involved had gone out of their way to make the show a tremendous success,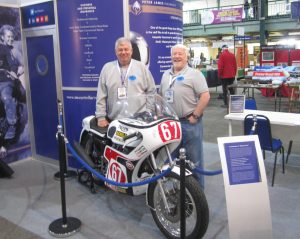 and for us this particular show was extra special because after six months of hard work we had finally managed to get our website to go "Live" on the Friday morning! The reception that we received was tremendous and the support that we have had from everyone concerned, absolutely unbelievable!
If we listed all of the clubs, traders, celebrities, organisations and individuals that wished us well and supported us it would run into several pages. Suffice to say our thanks go to all of those kind people and especially the main organisers, Mortons Classic Bike Shows and Bonhams. We were also asked if we would display a bike each on two Insurance Companies stands, so John's "Slippery Sam" appeared on Peter James Insurance stand in the main hall and my own 1957 AJS, 16MS graced RH's Specialist Insurance display stand on the balcony.
For those not familiar with these premier shows, our previous article about the Stafford Bike Shows provides details of what goes on and what there is to experience at the show, however there is always something different, new and exciting to see and do at Stafford.
Visitors seeking a real adrenalin boost could find a huge motorcycle simulator in the showground, which would provide them with the opportunity to experience what is really like to be Michael Dunlop, riding around the TT course, reaching unbelievable speeds and making split second decisions (no doubt terrifying most riders).
As usual the Wall of Death was also set up within the showground. This year it had an extra special significance, especially for those of us who cheered on as Guy Martin broke the Wall of Death World Speed Record recently, first of all on an Indian motorcycle and then immediately after on his purpose built British triple.
John and I were delighted to see Guy's record winning machine, (in the flesh), on display for all to see outside Les Whiston's campervan in the paddock area (you can read more on this in our articles about "Rob North Triples" and "Guy Martins Wall of Death").
We were also fortunate enough to be able to spend some time with Guys dad, Ian Martin (a very knowledgeable biker, engineer and ex-TT racer himself) and to be privileged to hear his personal recollection of events surrounding Guys serious accident at the Ulster GP in August 2015, which really brought it home as to how much stress the families of these famous racers go through during such a time. Fortunately, it wasn't as serious as it could have been and in his usual style it didn't take long for Guy to get back on his feet to become the tremendously, vibrant, down to earth TV personality that many know him to be.
Not far away from Guy Martins bike, visitors could venture over to the race paddock to see, close up, the many race bikes, experience the smell of hot engines and hear the sounds of some powerful bikes being put through their paces throughout their rev ranges and especially hear, the unique sound of the triples, all thanks to the efforts of Joe Johnson and his many friends who had brought their triples along to the show. Not to forget, of course, our John who had also brought his John Cooper triple to the show, as well as his Slippery Sam.
Our good friend Graeme Hardy was on hand to entertain everyone with his George Formby "No Limit" tribute, (if you haven't seen this you really have missed a treat). More of Graeme and his antics can be found within our dedicated article called the "Shuttleworth Snap"in the News and Interest section of our website.
Excitement was also generated, as usual, by the events from within Bonhams showrooms during the auctions of motorcycles, motorcycle parts and memorabilia, the highlight of which really had to be the sale of the recently discovered "Broughs of Bodmin Moor" collection of the late Frank Vague.Of particular interest was a rather unusual 1932 Brough Superior 800cc Model BS4 (lot number 296). One of only seven surviving machines out of the ten originally produced and one of only three that retained their original Austin engines.
This strange looking machine has a shaft drive to the twin rear wheels, which having wheel centres set at only 7.5" apart, meant that the machine still qualified as a motorcycle as far as the taxation authorities were concerned.More suited to a sidecar application, I dread to think what it was like riding it around sharp corners as a motorcycle.
Anyway, this rather unique motorcycle fetched a World Record sum of £331,900 for a British motorcycle. The 2015 restored 1938 Brough Superior 982cc SS100 standing behind it in the photo (Lot 311) fetched a mere £219,900.
A relative newcomer to the classic motorcycle scene and to such bike auctions, our friend, Garry, (a programme producer from BBC Radio Lancashire who came down on the Saturday to record interviews for their radio programme) had earlier been viewing Lot 302 (a Brough Superior 982cc SS80 De Luxe Project of parts) and had commented that it just looked fit for scrap. We did let him know that when bidding started his scrap sold for £27,600 not sure if Garry has even got over the shock yet!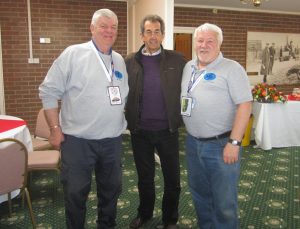 The bottom line is that in Garry we have a convert, he was so impressed that he agreed to go one stage further and bring down the BBC Radio Lancashire satellite van for the Stafford Bike show to be held on 15th-16th October 2016.
Bonhams overall auction total reached £3.5 million, with the Bodmin collection contributing £752,635 towards this. Bonhams do a great job and we heard tell of a widow who was hardly expecting anything for the collection of rusty motorcycle parts (that her husband had died leaving her to dispose of), who was pleasantly shocked to learn of the tremendous prices achieved by Bonhams on her behalf at auction.
Special guest star Steve Parrish kept everyone well entertained with his usual banter and good humour and Steve Plater also joined him on the Sunday afternoon in the presentation of many awards.
James Hewing (from the National Motorcycle Museum) was also on hand as Steve Plater drew the three winning tickets from a huge bucket on the podium to announce the winners (in reverse order) of the three main raffle prizes. The star prize was a beautiful 1959 'tangerine dream" T120 650cc Triumph Bonneville, restored in the museums own workshops (details can be found on the museums website (www.nationalmotorcyclemuseum.co.uk) sadly, despite buying many tickets neither we, nor anyone we knew, were winners.
Amongst other well deserving people receiving awards our good friend Colin Seeley was honoured and spoke very passionately about his Charity fund raising for people less fortunate than ourselves. An area that we are always keen to promote and help in any way that we can (see our Charity Work section).
FORTHCOMING SHOW DIARY DATES – Rock 'N" Ride (A New Bike Festival at Santa Pod, Nr Northampton) 21-22nd May 2016 and The Carol Nash Classic Motorcycle Mechanics Show on 15-16th October 2016.
Further information on shows can be found at www.classicbikeshows.com
and on other Mortons publications at www.mortonsmediagroup.com
To book tickets please call the Ticket Hotline on 01507 529529
Michael W George (& John Abram)