Stafford County Showground's International Motorcycle Shows


Twice a year, as we have done for many years now, John and I head down to the Stafford County Showground for the April and October shows organised by Classic Bike Shows, part of Morton's Media Group.
The first show of 2016 is the 36th Carole Nash International Classic Motorcycle Show on Sat 23rd& Sun 24th April with special guest star Steve Parrish, a restoration theatre with Jerry Thurston and a big surprise planned for the Carole Nash stand. On many an occasion we have taken bikes from our own stables for display, sometimes on private clubs stands, sometimes on Vintage Club stands
and/or Insurance Companies whom are friends of ours and also as Private entries within the concours arena.
For those who have not experienced Stafford before, we would highly recommend it. There is so much to see and do with hundreds of Traders selling their wares, with classic bikes for sale, new and second hand bike parts, spares and accessories and tailor made parts from specialists.
There are always plenty of electrical parts, classic oils, chains cut to your own lengths, control cables made to measure, replica rubber knee grips, footrests, switches, bulbs, the manufacture of period number plates, the list goes on and on! Then there are the specialist companies available to offer their services and advice on carburettors, tanks sealants, coach paint specialists, vapour blasting, indeed everything that you may need to bring your project back to life.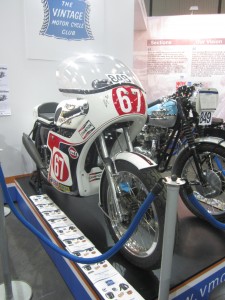 Whether you wander around the acres of grounds filled with a multitude of traders, the main hall, the balcony or the side halls, there will be something there for every bike enthusiast, including the riders speeding around the "Wall of Death" that provide shows throughout the weekend.
The Classic Racer GP paddock is another favourite place to be to not only see some of the wonderful bikes on display, but to also experience the smells and sounds of these race machines which are fired up twice a day, often with famous celebrities providing the commentaries.
Bike Clubs of every marque display fantastic machines that look far better than the day that they left the factory, the superb paintwork and the brilliant reflections in the chrome work from the bikes on display can literally dazzle, and your imagination runs wild.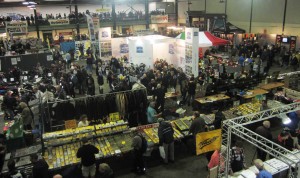 There are plenty of specialists, Insurers on hand to advise and quote, with special deals that often include discounts, breakdown cover and other benefits, or you might care to buy raffle tickets for a chance to win a superb classic machine for just a few pounds.
Then there is also the excitement of the auction, so perhaps you may care to register with Bonhams Auctioneers and consider grabbing a bargain at auction.
So, whatever you do, remember to make a diary date to visit Stafford, and indeed any of the other venues organised by our friends at Classic Bike Shows.
Further information on shows can be found at

www.classicbikeshows.com
and on other Mortons publications at
www.mortonsmediagroup.com
To book tickets please call the Ticket Hotline on
01507 529529
Michael W George (& John Abram)