Distinguished Gentleman's Ride, 25th Sept' 2016
As we are always keen to support Charities and good causes we thought that we would bring to your attention an annual and International ride out, with a difference (and a chance for you to dress up and have fun)!
The Distinguished Gentleman's Ride (DGR) is an international charity event for classic and vintage styled motorcycles that raises awareness and funds for the Movember Foundation's men's health programs.The DGR are supported by Triumph Motorcycles and Zenith Watches.
On Sunday September 25th 2016, more than 50,000 dapper riders in over 500 cities across 90 countries will unite for the world's largest motorcycling charity event upon their classic & vintage styled motorcycles.
In the North West our friends at one of the main Triumph dealers,Philip Youles Motorcycles have supported this event for several years and Philip has been kind enough to send us his own blog for publication on John's Motorcycle News (along with a couple of photos), which are reproduced below.
Philip wrote:-
"Just thought it a good time to write a little blog about the DGR (Distinguished Gentleman Ride).
The Distinguished Gentleman's Ride was founded in Sydney, Australia by Mark Hawwa. It was inspired by a photo of Mad Men's Don Draper astride a classic bike and wearing his finest suit. Mark decided a themed ride would be a great way to combat the often-negative stereotype of men on motorcycles, whilst connecting niche motorcycle communities together. That first ride, in 2012 brought together over 2,500 riders across 64 cities. The success of the event encouraged the Mark to consider how it could be used to support a worthy cause.
• In 2013, over 11,000 participants in 145 cities around the world raised over $277k (US) for prostate cancer research.
• In 2014, over 20,000 participants in 257 cities in 58 countries raised over $1.5M (US) for prostate cancer research.
• In 2015, over 37,000 participants in 410 cities in 79 countries raised over $2.3M (US) for prostate cancer research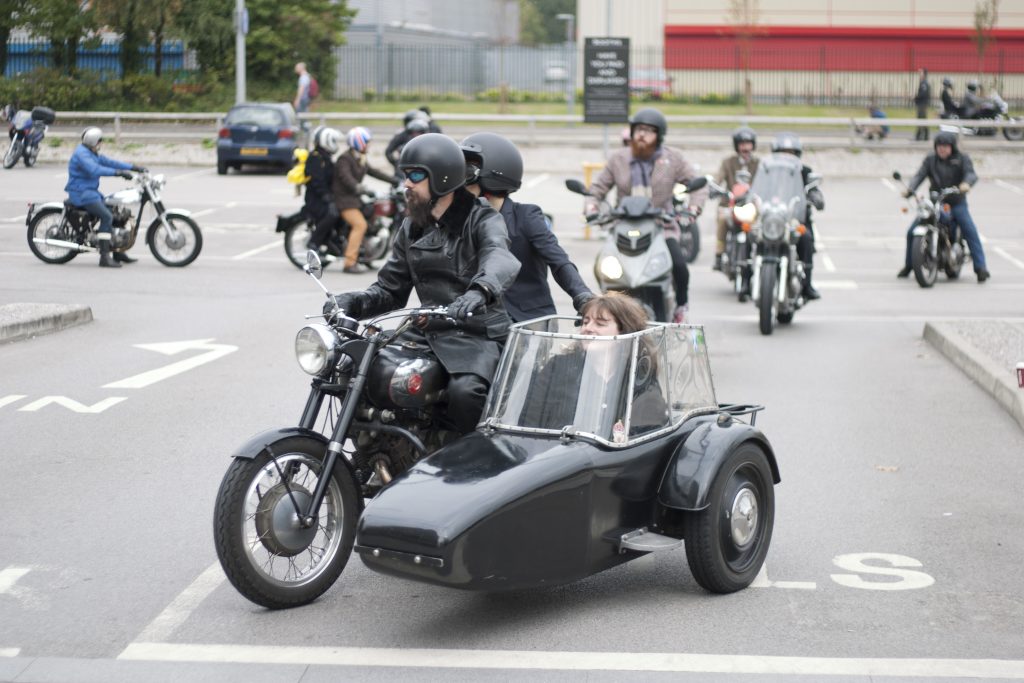 I have organised the Manchester ride since 2013 and its now becoming established as one of the top rides in the UK. Only London being bigger. In 2015 we were the twenty-fifth in terms of fund raising in the world. Right from the outset the power of social media has driven the ride to become a must attend event.
As owner of Youles Motorcycles I have tried to keep the business/commercial side of my life separate from the DGR. With the intention right from the start that I am organising this because I want to. Dressing up is something we all love doing there is almost a child's party theme to being dressed up in your finery and the fact that you can be almost outrageous really makes the day spectacular. Even if you just register for the ride and take part in the day's event you are contributing to the cause. The male ego seems to stop us from going to the doctors and getting our prostate checked.
Mental health is an issue that we all to often don't fully appreciate. Luckily my life is full and I would consider myself as happy and contented, so suicide seems incomprehensible. But having spoken to people whose close relations have committed suicide they must have been really desperate. It certainly leaves a scar that is always there.
What we really want is for you to raise a few quid but we don't mind you just turning up. The main point being please register online and tick the disclaimer. The organisers are particular about the types of machine that register for the event and I do get the idea of this. They are trying to project a theme. Anyway it's an excuse to have more than one machine in the stable. You could while the afternoon away just looking at the different machinery that finish from old classics, modern classics Bobbers and choppers to steel bodied scooters. The atmosphere is magical we have been blessed with good weather for the last two years so fingers crossed. This year my sixteen-year-old Joe will be on the ride on his Honda Dax 50. Jasmine my daughter will be on the pillion of a friend and Louise my wife will be my pillion. Family day out, so why not log on register and get involved.
Philip Youles"
Our sincere thanks to Philip and his team. Philip Youles Motorcycles are main Triumph dealers, located in Blackburn and Manchester; they are members of our "Trusted Traders" and also "Friends of John's Motorcycle News".

Philip Youles Motorcyclescan be visited at:-
Web :www.youlesmotorcycles.com
Youles Motorcycles Blackburn
Pendle Street, Copy Nook,
Blackburn,  BB1 1NG
Tel. 01254 277135
Email: Blackburn@youlesmotorcycles.com
Youles Motorcycles Manchester
186 Bury New Road
Manchester, M8 8DU
Tel. 0161 708 2620
Email: Manchester@youlesmotorcycles.com
For further details and registration of the Distinguished Gentleman's Ride, please visit
www.gentlemansride.com  or  www.facebook.com/Gentlemansride


Our continued good health is very important, all too often macho males shy away from Doctors and fail to have important health checks that could save their lives and let them live to ride another day!
So for the sake of a little embarrassment, if you have any suspicions, get yourselves checked out, so that you can live long and ride your bikes for many more enjoyable miles.
If you can, please support this event, overdress for the occasion, raise a few bob for a very worthwhile cause and have a really enjoyable ride out, meeting some great people and having a lot of fun on the way.
Gentlemen, may we wish you all well, good health and safe,enjoyable riding.
Michael W George (& John Abram)