Sponsoring a Race Bike (why not give it a try?)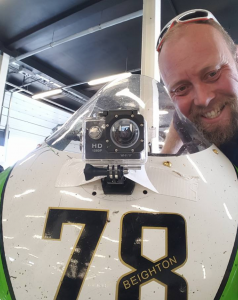 All famous racers started somewhere and if not born with a silver spoon in their mouths, then the road to fame (and sometimes fortune) can be extremely difficult, or nigh on impossible!
Many could never achieve their dreams or ambitions without the backup and help from true friends and family, advice from fellow racers and sponsorship from those people around who had faith in them and genuinely wanted to help them reach their goals.
Back in 2016 we met this really great couple that were helping our good friend, a truly incredible disabled rider and very talented dynamic speaker, Talan, in fund raising. To learn more about Talan's fantastic achievements see "The Bike Experience" in "Charity Work" or visit www.paralympianspeaker.com  & www.tbex.co.uk.
Anyway, we kept in touch and got to know Dan and Janine Beighton (not forgetting, Spud & Dave!) over the months to follow and having spent quality time with them over in the Isle of Man (through their successes and their mishaps during the 2016 Manx GP and Classic TT) we were pleased to be able to help by sponsoring them. You can read more about DB Racing in our other articles within our "News and Interest"  section.
We are really pleased to say that Dan and his team have become good friends and we are delighted to publish this brief and informative insight and update into DB Racing.
Dan Beighton is DB Racing and as of 2017 DB was entering their 4th year in the sport. The previous year (2016) was a pretty special year for both Dan and Janine (in more ways than one) as it was their first trip to the Manx GP, with Dan sporting the traditional orange bib and riding as a "Newcomer"  on his old faithful, green, Kawasaki ZX7R (affectionately known as "The "Flying Lettuce" ).
Dan gradually built up some really excellent lap times to find himself running in 11th place, but despite his careful planning, pre-visits and instructional courses to learn what is undoubtedly, one of the most demanding road race tracks in the world, his 2016 season ended somewhat abruptly with him having an "off"  on the mountain during the Saturday evening practice.
This mishap got him a nice ride in a helicopter (something he had always wanted – but NOT with a broken back!) to Nobles hospital, in Douglas. Understandably, deeply disappointed, but thankfully in good spirits and not to be put off, we found him very positive when we visited him in Nobles and, unbelievably (with Janine's support), he was already on the road to recovery and starting to plan the 2017 Manx campaign from his hospital bed, with, as he said – "his every intention of returning back to the Rock" !
After being discharged from Nobles, during his recovery time back at Camp Beighton, his paddock neighbour, John McGuinness, came over to see how he was and the conversation developed into a very helpful analysis of Dan's ride and his "off"  on the mountain. The paddock camaraderie in bike racing can never be underestimated, nor the extremely valuable help and advice freely given from seasoned riders like John. With a laugh and a joke, Dan, (ever the comedian) told us all that he had quite simply just "run out of talent"!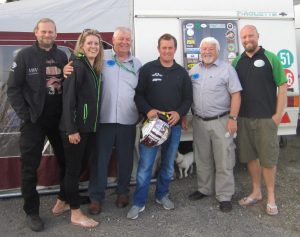 Thankfully the "Flying Lettuce"  was not badly damaged and so, at the end of the season Dan and the "Flying Lettuce"  parted company when he sold it to an up and coming rider, Ben Roswell who was competing in the Bemsee Championship (the British Motorcycle Racing Club, a.k.a BMCRC or Bemsee, see www.bemsee.net ).
The sale of the "Flying Lettuce"  enabled Dan to buy a replacement race bike, this time he chose a 2009 Kawasaki ZX6R, obviously also in green and in need of a name, so this time they affectionately nicknamed it "The Rocket Salad"!
Dan carried on his work as an instructor at Bemsee and he taught at the Rookie School at the beginning of February 2017. This provided him with the first outing on his new ZX6R, a.k.a "The Rocket Salad",  which gave both Dan and the bike some really valuable track time.
As a result of these runs, the bike has been back to another of DB Racing's sponsors and friend of Dan's, Steve of Steve Jordan Motorcycles www.stevejordanmotorcycles.co.uk to have new springs fitted – front and rear. The conclusion – Dan has obviously had too many mince pies (Janine's words, not ours, honestly)!
Dan's 6R was to be packed up at the beginning of March to once again visit Cartagena in Spain, for some winter testing. Dan planned to be out there with a number of other riders, including the very talented Zak Corderoy. Zak is both the Superteens and RRV450 Champion at Thundersport and is moving up to the Thundersport 600 Elite Championship. The DB team reckons Zak is definitely one to watch out for in the future.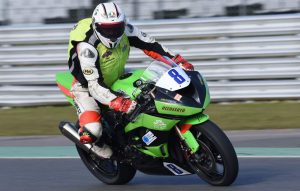 The weekend of 22nd & 23rd April 2017 is always a very busy weekend with lots going on (see our "Calendar of Events"), and as usual we will be at Stafford so regrettably we won't be able to see Dan at Oliver's Mount where DB Racing will be competing in the Spring Cup.
Following this Dan is planning on competing at Snetterton 300 and Brands GP with Bemsee before heading back out to the Manx GP at the end of August. We are really looking forward to spending quality time with Dan, Janine and their Race Team at the 2017 Manx and cheering him on for successful and safe completions of the mountain course. Always busy, when not working hard for his own plumbing business, Dan will be out instructing for Bemsee at the venues of Cadwell Park, Silverstone, Snetterton 300 and Brands GP.
However, DB's main focus for 2017 is to compete in the Junior and Senior Manx GP. Dan is hoping this year he will get through practice week and get a race under his belt, without any hiccups, and improve on last year's (pretty darn good) timings. Dan has already been out in 2017 to the island, along with fellow rider Kevin Miller, getting some laps in and they planned to make another visit in April.
Of course the team are always ready to admit that none of this would be possible without the great support of their sponsors and their crew, who are as follows:-
DB Racing Sponsors – (and there's always room for more!)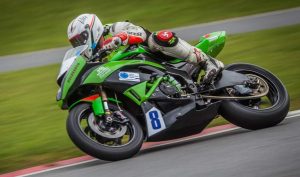 John's Motorcycle News    www.johnsmotorcyclenews.co.uk
Steve Jordon Motorcycles www.stevejordanmotorcycles.co.uk
Bikers Discount Store         www.bikersdiscountstore.co.uk
Healtech                               www.healtech.co.uk
Accossato                             www.accossato.co.uk
Property Protected             www.propertyprotected.co.uk
Plus all those people who kindly contributed through the "Go Fund Me" account and private sponsors who like to remain anonymous – they know who they are, thanks to you all!
The DB Racing Crew
Darren Marshall – Chief Mechanic

Jim Davies – Technical
WE57 – Support vehicles (30ft RS Racecruiser) www.facebook.com/NWRacingextreme
Adrian Pendrill, aka "Yoda" – Mentor extraordinaire
Dan would like to say a massive thanks to ALL, plus a special mention for Darren Cooper, who has given continued support, encouragement and advice.
Of course we couldn't possibly end without mentioning the support that John Gilmore (Gilly) and producer Garry Scott from BBC Radio Lancashire have given in "Air Time"  to follow Dan's career and his adventures on air, and the fact that "Gilly Duck"  will be accompanying Dan and "The Rocket Salad" wherever it may take him.
BBC Radio Lancashire's "Gilly Duck"  is no doubt soon destined to become even more famous as "The Fastest Duck around the Mountain Course"?
Keep a look out for our own Logo's, that of BBC Radio Lancashire and "Gilly Duck", as well as all of the other sponsors details, kindly displayed on "The Rocket Salad",  but do keep a look out for Dan and DB Racing in the months and years to come.
We all wish him a successful racing future, but most of all we wish him safe rides throughout his career.
Email: dbeighton@btinternet.com       Tel. 07961 592230

Web: www.facebook.com/DB-Racing-307835386038736
Good luck Dan.
Michael W George (& John Abram)