The Isle of Man Steam Railway & Port Erin Railway Museum
An absolute must for anyone interested in steam railways, John and I always make time to visit the Steam museum at Port Erin and/or travel back in time to experience the sounds and smells of steam locomotives by having a ride on this superb Victorian Railway.
Our sincere thanks go to all the people concerned in restoring, maintaining and running this beautiful railway in order to allow its visitors to effectively "step back in time" on this longest narrow gauge steam line in Britain, that still uses its original locomotives and carriages.
It takes me back to the (pre- Dr Beeching) good old days of steam transport. My grandfather was an engine driver and I grew up with a love of these machines, each having their own individual personalities and characteristics. Childhood memories remind me that nothing tastes as good as a "fireman's" fried egg butty, chunks of thick white bread with eggs cooked on the shovel extended into the firebox (often accompanied by small crunchy black particles) washed down with sweet tea, made from boiler water from the steam outlet, and drunk from a cracked enamel mug, I digress, such is my love of steam, what would health & safety say nowadays?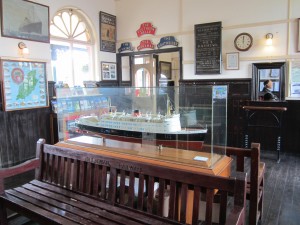 The IOM Steam Railway is a 3 foot narrow gauge line that can transport you some fifteen and a half miles through various destinations, (including Castletown), traveling through some of the loveliest countryside in the IOM, it runs from Douglas to Port Erin in the south and like a lot of surviving steam railways the existing line was part of an original line of a much larger network, which used to run to Peel, in the west, Ramsey, in the north and also served the small mining village of Foxdale.
The railways platforms and surroundings are superb, the stations permeate history taking their passengers on a journey back in time and at the end of the line in Port Erin you can take the opportunity to wander around the steam railway museum, which we would highly recommend.
So if you are planning a bike run out, why not make time to visit the museum, better still park up, sit back and ride in the wonderfully restored carriages, pulled by one of these marvellous engines.
The Isle of Man is one of the few places in the world where you can travel for most of the year on steam and electric railways that are over a century old, in 2015 the Steam railway had over 100,00 passengers, the Manx Electric Railway, over 72,000 and the Snaefell Mountain Railway over 52,000.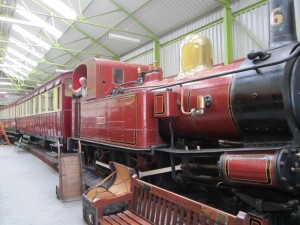 John and I never tire of these attractions, (boys and their toys), so why not become a part of one of the biggest and best train sets ever when visiting the Isle of Man, these railways are pristine and a credit to all involved.
Further details of the Steam Railway, Manx Electric & Snaefell Mountain Railway can be found at www.visitisleofman.com and also at www.gov.im
All of the Isle of Man Railways are highly recommended, there is a nominal entry charge to Port Erin Steam Museum (Tel. 01624 836855), but additional donations will, no doubt, always be welcome.
Michael W George (& John Abram)