Until talking to our Friends at ERIKS and TIMKEN in 2017, we had no idea just how widespread and serious the problem of counterfeit/fake bearings has actually become.
Most of us were probably aware that cheap bearings are available on the Internet and that, basically, you get what you pay for.
However, what we were not aware of was the extent to which branded counterfeit bearings are being sold – as the real thing!
The counterfeiters have cleverly copied not only the bearings themselves, but also the branded packaging that they are sold in! So it becomes very difficult for Joe public to tell the
difference and most people are always looking for a bargain and cheaper prices.
Consider the consequences of fitting "branded"  bargain priced bearings in your engine rebuild and one failing causing catastrophic damage to your valued classic engine. Worst still the fitting of "branded"  counterfeit bearings into your wheel bearings could result in serious accident, leading to injuries and deaths. Yet, you could do this quite unknowingly, thinking that you had fitted a reputable brand.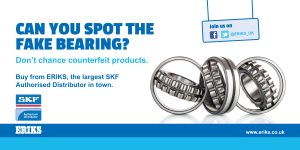 We were really quite shocked at what we heard from our friends at ERIKS and TIMKEN and so decided to inform our visitors as to what we had found out.
The number one message is by far:-
ALWAYS buy from a reputable authorised dealer!
In February 2017a haul of counterfeit SKF bearings were seized in a West Yorkshire raid. SKF participated in the raid against a company trading SKF counterfeit bearings.
The raid was led by members of the West Yorkshire Trading Standards authority alongside staff from SKF's Brand Protection Team, resulting in the seizure of counterfeit bearings which otherwise could have been sold on to unsuspecting industrial customers and end-users. Several thousands of bearings, of more than 170 different types and sizes were seized, with an estimated total weight of 1.5 tons. A wide range of products was seized, including items used in automotive applications as well as industrial machinery.
These bearings would have otherwise been sold on as the genuine article and may have resulted in catastrophic failure of the machines that they were fitted to, causing great further expense, to say nothing of the possibility serious injury and in the worst-case scenario of possible fatalities.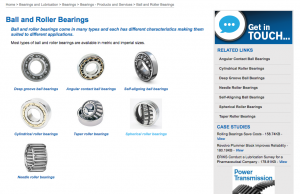 Bearings come in a variety of shapes and sizes to suite different applications, for a detailed explanation of these please visit www.eriks.co.uk/Ball-and-Roller-Bearings/4229 where you can highlight each type of bearing and their most suitable application.
This may help you understand why in certain classic machines modifications have been made to the original specification to replace phosphor bronze bushes with needle roller bearings and where roller bearings have replaced ball bearings and why tapered roller bearings are adjustable and most suitable as wheel bearings. ERIKS have expertise that dates back to the early 1960's with a name that will be familiar to many of you, that of WYKO, who developed an excellent reputation in the field of bearings. Wyko grew and acquire many companies and by 2006 was firmly established as a leading supplier of industrial products and was bought out by Dutch the company ERIKS, being rebranded as ERIKS UK in 2008.
Here are a few of the most well-known names in bearing manufacture (that many engineers will be familiar with), both past and present.
TIMKEN (Global manufacturer, USA based) www.timken.com
Henry Timken, a successful carriage builder in St. Louis for many years, made his first drawing of the tapered roller bearing in the late 1800's. It resulted from his search for the bearing that would best withstand the rugged service in carriage and wagon wheels. Henry and R. Heinzelman took out a patent on June 28, 1898 for a tapered roller bearing mounted in the wheel hub of horse-drawn vehicles.
The rest is history, we have all heard of "Timken Tapered Roller Bearings". No other tapered roller bearing can match the Timken bearing for quality and precision and continued research at Timken assures bearing users that the No.1 bearing for value will always be the Timken tapered roller bearing.
SKF (Svenska Kullager Fabriken) www.skf.com/uk
Translated as "Swedish Ballbearing Factory"  this is the Company that invented the self-aligning ball bearing 100 years ago and they have never looked back since, they are a well known leading bearing and seal manufacturing company founded and still in Gotherburg, Sweden
SKF are one of the most recognised bearing manufacturers/suppliers in the UK market.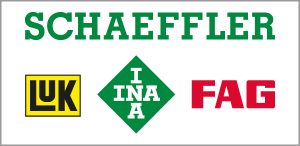 FAG (Fischer's Automatische Gusstahlkugelfabrik) www.fag.de
Translated as "Fischer's Automatic Steel Ball Factory". Started in 1883 after Friedrich Fischer designed a ball-grinding machine in Schweinfurt, Germany that, for the first time, made it possible to produce absolutely round steel balls by grinding. It is now part of the Schaeffler Group (including LuK & INA) and is a global automotive and industrial supplier of bearings.
HOFFMAN (Hoffman Bearings UK) www.hoffmannbearings.co.uk
The United Kingdom's first ball bearing factory was established at New Street and Rectory Lane in Chelmsford in 1898 by cousins Geoffrey and Charles Barrett and bankrolled by American ball bearing machine manufacturer Ernst Gustav Hoffmann from whom the Company took its name The firm became Ransome Hoffmann and Pollard (R.H.P.) after the amalgamation with the Ransome and Marles Bearing
Company together with the Pollard Ball and Roller Bearing Company in 1969.
RHP (Ransome Hoffman & Pollard) was formed in 1969 as a result of the amalgamation of three of the UK's leading bearing manufacturers. RHP has gone onto field various bearing types in a multitude of applications. Recent history has NSK as the owners of RHP, but RHP is still strongly identified as a core brand by customers throughout the world.
NSK (Nippon Seiko Kabushiki-Gaisha) www.nskeurope.com
This is a Japanese Precision Company based in Tokyo, Japan. In 1990, NSK bought UPI inclusive of RHP (above), Neuweg and WIB and became NSK-RHP. In 2001, the name was changed again to NSK to realign its global image. NSK's automotive bearing product range is possibly one of the largest in the world. Found in virtually every major car manufacturing assembly, NSK's bearings are built into many automotive applications.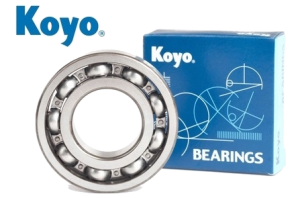 KOYO (Koyo Seiko) www.koyo.eu
Koyo was founded in 1921 and became one of the worlds leading manufacturers of bearings and automotive steering systems. In Jan 2006 a merger between Koyo Seiko Co. Ltd., and Toyoda Machine Works Ltd created JTEKT Corporation. It's Head Office is in Osaka, Japan, see
There are literally thousands of different type of bearings on the market, of all shapes and sizes, designed for many different purposes, with many different tolerances and options of enclosures, which is why bearing manufacturers have such large tables of bearings in either book form, or nowadays, online.
The SKF hardback General Catalogue alone is some 50mm (2") thick with 16 stepped sections of product information.
For purposes of simplifying this with regard to bearing identification we will be dealing with the most common bearings that most people are likely to come across and use, that of the 6 series, Deep Groove Ball Bearings.
IMPERIAL BEARING SIZES 
In Motorcycle applications you are likely to come across Imperial sizes for Classic machines and now the more common Metric sizes for emerging Classics and modern bikes.
Most imperial bearing identification is in the form of letters and numbers, whilst metric bearings usually have a Prefix, followed by the bearings designation and then a Suffix.
Imperial sizes and types are often obvious from their designation, for example the main bearing in a Meriden Triumph Bonneville is an RMS9, which can be identified as a Rigid Medium Series ball bearing with a bore of 9 x 1/8" which is 9/8" or 1.1/8".
It's equivalent is an MJ 1.1/8, which again can be identified as a Medium Journal Ball Bearing with a bore, as stated of 1.1/8".
Most imperial bearings show their actual bore diameters, with the "R" series being the main exceptions which need to be calculated depending upon their fraction multipliers.
As can be seem from the chart the multipiler for the "R" Small Series is 1/16″, whereas the multiplier for both the "RLS" Rigid Light Series and the "RMS" Rigid Medium Series is 1/8″. For example an R8 has a bore of 1/2″ (8 x 1/16″) and an RMS10 has a bore of 1.25″ (10 x 1/8″).
METRIC BEARING SIZES
Metric bearings are identified by a series of letters and numbers usually set out as a prefix, the basic designation and a suffix, examples of this can be seen from the following tables.
As an example a basic wheel bearing for a Triumph Bonneville, (a metric size) is designated as a 6204, which is of the 6 series (single row deep groove ball type) of a 2 series width with a bore of 20mm (04 x 5). A suffix of for example 2RS would mean that both sides would be fitted with a rubber shield with lubricant within (See Bearing Shields and Seals below).
The following chart expands upon the bearing identification types already mentioned. When it comes to cylindrical roller bearings the main prefix designation is N, a second or third letter is used to identify the number of rows, configuration of flanges etc. For example, a NJ 305 is one of a number of options of roller bearings with a bore of 25mm (05 x 5). Tapered roller bearings (eg Timken) use a 3 prefix, so for example a 3024 is a Timken tapered roller bearing with a bore of 20mm (4 x 5).
BEARING NUMBERS
A bearing number is composed of a basic number and a supplementary code, denoting bearing specifications, including bearing type, boundary dimensions, running accuracy and internal clearance. The figure below shows the general designation system for metric ball and roller bearings in diagram.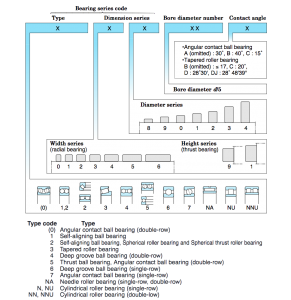 BEARING SHIELDS & SEALS (Closures)
Where the location of a bearing is designed to accept a free flow of lubricant, eg motorcycle engine oil, it will have no shielding restrictions (closures) on either side. Where it can accept lubricant from one side, but needs to seal the other side it can be single shielded and where it is preferable to have the bearings lubricant contained within it, the bearing can be double shielded.
This shielding or closure is usually identified by the bearings suffix identification letters and numbers. There are many types of bearing shields two of the most common shields and codes are shown below and the chart identifies these and others:-
·       Z a non-removable, none contact metal shield, retained in the outer ring by crimping/pressing. Since there is no contact made with the inner ring there is no appreciable impact on torque or speed and operation can be compared to that of an open bearing.
·       ZZ (or 2Z) this is the code or suffix for the above closure when none contact metal shields are fitted to both side of the bearing.
IN SUMMARY
The main thing to bear in mind when purchasing bearings is to ensure they are genuine and not counterfeit, the old saying applies "if a deal seems too good to be true, then it probably is". Our friends at Eriks have provided some additional website addresses that serve to highlight the problems of counterfeit and do provide some useful references, should you wish to read more on this subject, they are as follows:-
The above article also provides the following advice on authentification:-
Distinguishing a counterfeit bearing from an authentic SKF bearing often requires expertise. Customers that suspect they might have been sold counterfeit products should use the SKF Authenticate app for smartphones to take and send photos of suspect products directly to SKF for verification. The app can be downloaded for free from the Apple App Store or Google Play. They can also e-mail pictures of the suspected bearings to genuine@skf.com.
All premium brands are affected by counterfeit products. SKF, along with other bearing manufacturers affected by counterfeiting, are working to fight against this problem and have launched a counterfeit awareness campaign through the umbrella organisation, World Bearing Association (WBA). The campaign aims to make customers aware of the risks and problems with counterfeits. More information can be found at www.stopfakebearings.com

Virtually ANY bearing manufacturer can suffer from the introduction of counterfeit bearings which can sometimes have very expensive and disastrous results to the purchaser. SKF are highlighted within this article, because they are a well-known major producer of quality bearings that have recently successfully foiled some of the counterfeiters of their products.
You can find your local authorised SKF distributor by using the search facility from this link:- http://www.skf.com/group/our-company/find-a-distributor/by-list/index.html
Counterfeiters are very sophisticated nowadays and it is often very difficult for the public to identify fakes against genuine products. We had a spate of copy NGK spark plugs on the market some time ago, that caused no end of problems, but at least these mainly manifested themselves in poor running and non starting rather than catastrophic engine or wheel bearing failure!
Please, do take care when buying any items for your valuable Classic bike or car, avoid the tempting "unbelievable bargains" ,  seek out authorised distributors for genuine products and be safe.
Disclaimer
As with all of our articles we strive to provide a better understanding of the items in question and thus create the articles to the best of our ability with the information that is readily available to us at the time. We can accept no responsibility for any inaccuracies and suggest that if there is something that you are not sure about that you seek further technical advice from the appropriate source.
That said, we hope you enjoy the article and have learned something from it.
Ride safe
J M N