With first hand knowledge of the valuable support provided by Macmillan nursing care, John and I have been supporters of Macmillan Cancer Support for many years now,we have helped and assisted this extremely valuable charity on a personal basis, through organised fund raising and through coffee mornings/afternoons and also through events organised through our local VMCC Section.
In 2014 John organised a raffle to help raise money money for Macmillan a
nd we need to say a special thanks to those people who were kind enough to donate some wonderful prizes to be used in the raffle.
Our sincere thanks and recognition must go to Adam Pope and Lucien Burkardt of Ellerbeck Narrow Boats www.ellerbecknarrowboats.co.uk who donated a wonderful first prize of a full days use of a narrowboat on the Leeds and Liverpool canal, which one of our lucky local VMCC Section members won. We believe that he really did enjoy a great family day out with his children and grandchildren.
A great second prize was kindly donated by a local VMCC member, Jim Kavanah, Club Secretary of the Blundellsands Archers www.blundellsandsarchers.co.uk which, no doubt allowed another lucky winner the opportunity to practice becoming the next Robin Hood of Merseyside.
Third prize, of a nice bottle of Whiskey was donated by Alex Graham, Chairman of the VMCC North West Section, which most probably went down very well with the lucky winner.
Tickets sales were very well supported and we managed to raise the grand total of £840 which John had the pleasure of presenting to a lovely lady, a very well known and dedicated Macmillan fund raiser, Pam Walmsley, whom John has known personally for about 15 years.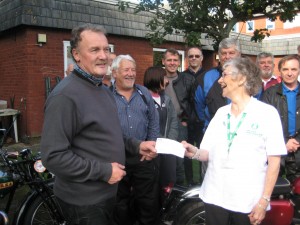 The cheque was presented by John at one of the VMCC local sections Social evenings at the Barons Club in Burscough on 30th June 2014 and thereafter we received a lovely certificate from Macmillan in acknowledgement of the donation.
This was not the first (and probably wont be the last) time that we have had the opportunity to support Macmillan.
In 2011 our local section presented Pam with a cheque for £250 at a bike gathering in support of Macmillan at Eton House, Southport, an event organised by Margaret and Peter Rose, local VMCC members.
A similar gathering of motorcycles and their willing riders arrived to support and to raise funds for Macmillan at West Park, Southport in September 2013 and we also had lots of
enthusiastic bikers turn up at the Orchard Day Centre in Ainsdale in September 2014to once again help this very worthwhile cause.
Once again both of these events were organised by Peter and Margaret Rose, who work extremely hard within the care community and have always given their utmost support to the Macmillan Charity
Should you wish to learn more about Macmillan Cancer Support, a Charity registered in England and Wales (261017), Scotland (SC039907)and the Isle of Man (604) and/or make a donation further details can be found at www.macmillan.org.uk

Michael W George (& John Abram)