The Laverda International Club (ILOC)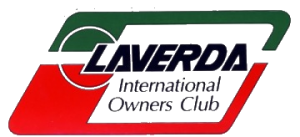 It is true to say that most motorcycle clubs are friendly and welcoming to their members, and very often to their members guests, otherwise they would not thrive and have the following that they like to enjoy.
Although never having owned a Laverda motorcycle myself one of my good friends (another John) has had an 750SF for many years now and it has been my honour to accompany him over many years to many of the Laverda International Rally meetings.
These used to be held at various venues around the country and so over the years we have ridden over to stay at the famous Squires Cafe Bar in West Yorkshire, an east coast Rugby Club (the name of which I can't remember) and as far as Oakhampton down south, camping out and enjoying great weekends with like minded motorcycle enthusiasts.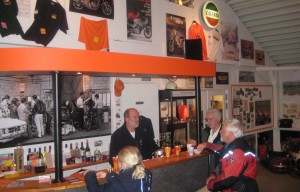 My friend, John and I have even joined Laverda Club members for the famous "Pinkster Rally" in the Netherlands (when we rode over to Germany and down to the Netherlands). Such is the international friendliness of its members, when we contacted him, the owner and founder of the Dutch Laverda Museum, a really nice man called Cor Dees, made us more than welcome for a private viewing of his wonderful collectionin his museum (see photo).
As a guest I have always been made extremely welcome at Laverda Rallies and at Laverda stands at Stafford and other bike shows and have thus met and mingled with Laverda owners from all over the country, gradually getting to put names to faces, and what a nice crew they all are.
The camping idea for most seemed to gradually become less attractive as the years went by (I guess we are all getting older) and for several years now their annual ILOC International Rally meeting has taken place in a very interesting venue, that of the Baskerville Hall Hotel, in Clyro not far from Hay on Wye!
Yes, you've guessed it, the very place reputed to be the birthplace of the Hounds of the Baskervilles.
The weekend usually consists of a couple of organised, but purely optional, rides around the Brecon Beacons, and various circuits around Wales, or you may just wish to have a pint or two and look for a book in Hay on Wye, (famous for it's many book shops).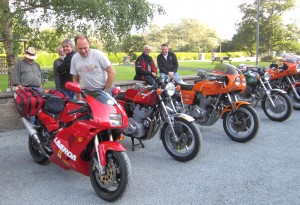 Accommodation at Baskerville Hall is whatever takes your fancy, an en-suite room with a view, for the foolhardy, camping in the grounds or for the adventurous, sharing in a dormitory full of man sized bunk beds, with compulsory snoring and sounds and odours often reminiscent of the campfire scene of "Blazing Saddles"!
The weekend includes a really hearty, self service English (or should I say a Welsh?) cooked breakfast, highly recommended, as many pints (as you care to buy) and a sit down meal in a private room, after which Club Officials bring members up to date with news and events and there is usually a raffle and prize giving and a great time had by all.
If you own or are thinking of buying a Laverda you will not go far wrong by joining this excellent and friendly club. More details can be found at www.iloc.co.uk
Michael W George (& John Abram)