Lakeland Motor Museum, Backbarrow, Cumbria
A building conversion completed in 2010, the museum is located on the site of the former Backbarrow Blue Mill which closed in the 1980's (located just past Newby Bridge on the A590), The mill produced a washing additive to make things whiter, but strangely called "Dolly Blue" and I can often remember riding past there on my B.S.A in the 1960's wondering if only Smurfs were allowed to work in this strange environment where everything around the river banks in this valley seemed to have turned blue!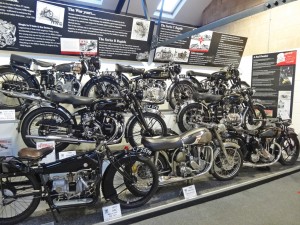 Originally established in the late 1970's I can remember visiting the museum on several occasions when it was at Lord Cavendish's stately home in Cartmel, Holker Hall and being amazed at the collection of memorabilia, the old 1920's garage and the unbelievable size of the wheels and solid tyres on a full sized replica of Donald Campbells "Bluebird".
A far cry from its origins, the museum is a fabulous place to visit for all the family with its unique collection of 30,000 exhibits, including 150 Classic Cars and motorcycles. Star exhibits include an Isle of Man TT Tribute Exhibition, the Campbell Bluebird Exhibition (with full size replica of Bluebird K7).
The museum really has so much, that it has to be seen to be believed. Unveiled in 2014, their fully restored rare collection of Vincent motorcycle's is superb and, adds to more than sixty other bikes already on display.
They also have what is thought to be the Worlds only surviving, fully restored 1940's "Tri-Van" light delivery vehicle, powered by a 2 stroke 168cc engine, sporting a 3 speed gearbox.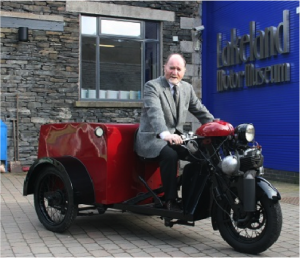 More recently, in Feb 2016, the Director of the museum, Bill Bewley, won best private entry at the 36th Carol Nash Bristol Motorcycle Show with his 1928, 350cc, Sunbeam Model 8 that he had recently acquired from a fellow Cumbrian, Len Hayton, who had owned the bike for more than 40 years. The Sunbeam has now joined more than 60 other motorcycles on display at the museum.
A regular programme of events provides opportunities for motor and motorcycle clubs, societies and individuals to display their vehicles in the museums car park.
Local VMCC sections and other like-minded motorcyclist support the museum and often display their bikes there, so why not make a diary date to travel up to see this wonderful collection and/or ask your own section/club to give them a call and arrange a Club display?
The museum exists to collect, preserve and interpret heritage for the public benefit and to provide thoroughly enjoyable visitor experience via an awakening of memories. We are pleased to promote this excellent museum and to be able to include them within our "Friends of JMN" section.
Highly recommended to all,
contact details are: –
Old Blue Mill, Backbarrow, Newby Bridge Cumbria, LA12 8TA
Tel. 015395 30400
Email: info@lakelandmotormuseum.co.uk
Website: www.lakelandmotormuseum.co.uk
Michael W George (& John Abram)