The Generosity of Motorcyclists – Fundraising at Mallory for Rainbows Hospice
With all of the b
ad news stories that seem to be highlighted nowadays, it is wonderful to be able to deliver some really good news and in doing so, highlight the extreme generosity of motorcyclists and the general public who support bikers.
In September 2014 Colin Seeley (a well respected man,in the motorcycle fraternity), in discussion with Katie Baxter, Head of "Rainbows Hospice Community and Events", Loughborough, agreed to help support "Rainbows Hospice for Children and Young Adults" (see www.rainbows.co.uk) to purchase much needed medical equipment. This was to be done via Colin's own Charity, "The Joan Seeley Pain Relief Memorial Trust" (see www.joanseeleytrust.btck.co.uk) and the proposed target was to raise a staggering £10,000!Colin and his wife, Eva have worked tirelessly to raise money for this worthy cause and indeed for many good causes beforehand. One only has to see their passion, enthusiasm and commitment to be truly moved to help in any way possible.
We are proud to say that through Colin's extremely hard work the Joan Seeley Pain Relief Memorial Trust is now in its thirty-sixth year, during which time it has raised over £150,000 all of which has been spent in the purchase of specialist equipment throughout the UK. Their motto is every single £1 collected is £1 spent on equipment.
Our VMCC display stand played a small part in helping Colin out at the Stafford Motorcycle show in April 2015,by having a collection bucket on the stand and with this small contribution(and the help of many other fund raising events) by the end of April 2015 the Trust had raised a total of £5,751 which enabled them to purchase a Children's Ventilator costing £5,029, which is now in full use at the Hospice.
However, John and I were so moved by Colin's passion and enthusiasm at Stafford, that we decided to commit ourselves, personally, to help his fund raising efforts at the next big event in the motorcycling calendar. This isan excellent annual event organised through our good friends at the Real Motorsport team,the 2015 Mallory Bike Bonanza. Fully supported by the team and many well-known faces a real effort was made at the event to try and raise the remaining sums required.
A Charity Auction led by Steve Parrish raised a couple of thousand pounds and there were some generous individual donations from well know past masters and also from Geoff & Dave Cox of Eriks (www.eriks.co.uk) to whom John and I must really extend our thanks for allowing us to "rattle our buckets and run our own little mini auction" at their well attended corporate event.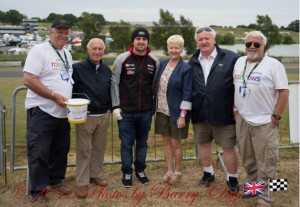 Phil & Marie (www.vintagesigndesigns.co.uk) kindly donated a metal plaque, which Alex George (no relation) signed for us and John and I also had a "Rainbows" "T" shirt signed by many celebrities, both items of which we auctioned at Erik's event, thus raising another couple of hundred pounds.
Group photo right courtesy of Barry Clay
During the rest of the weekend, John, Mark Carroll and I  sold raffle tickets and collected donations in our three charity buckets which added another £1,381.51 making an overall total of an amazing £5,340 collected through donations and auctions at the Bonanza. This meant that Colin and Eva had exceeded their expectations by raising a staggering £11,091, which will enable the Trust to supply the additional equipment needed by Rainbows!
This could never have been achieved without the kindness and generosity of the people who attended the Mallory Bike Bonanza at this "Friendly Circuit" and the people of whom we spoke to during our fund raising efforts were truly some of the nicest, kindest and most generous people we have ever met.
To all of the hard working Real Motorsport Team at Mallory, the many well known Celebrities who lent their support, (including our star guest John McGuinness), to VMCC members, Individual Bike Club members, Traders, Stall Holders, Motorcyclists, Security Staff, Spectators, Visiting Families, and of course,to all of the general public, our sincere thanks for your valuable help and generosity in helping Colin and Eva exceed their target in helping Rainbows Children's Hospice.
For more information about Mallory Park and the Mallory Park Bike Bonanza, click here
Michael W George (& John Abram)
July 2015