Murrays Motorcycle
Museum, Santon, Isle of Man
A sometimes overlooked hidden gem for tourists visiting the Isle of Man, (especially loved by those motorcyclists who know of it), is Murrays Motorcycle Museum!
Located at Santon, the museum can be found on the left hand side of New Castletown Road, just before the famous "Fairy Bridge".  This is the road that runs south from Douglas towards the Island's Ronaldsway airport.
Here you will be always be given a very warm welcome from our good friends Peter Murray (himself) and when there, "Chuff" , where, for a modest fee, you will gain entry to view all manner of motorcycles, from vintage to relatively modern, flat tankers to race machines, a variety of engines (some cut away for display purposes) and an absolutely incredible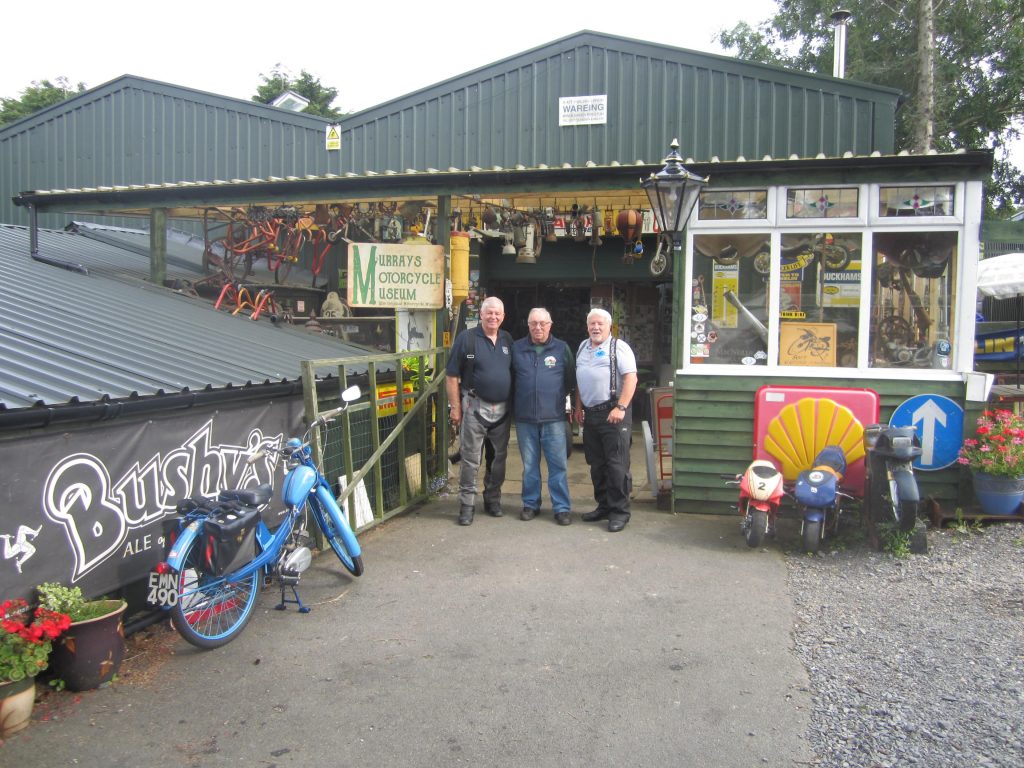 amount of historic motorcycle parts photographs and literature.
Also available is plenty of friendly banter from Peter, as well as complimentary tea, coffee and biscuits! Peter is always on hand with a laugh and a joke and an incredible wealth of knowledge, and for years he has made us all very welcome at his motorcycle museum.
Peter's family moved from Warwickshire to the Isle of Man in 1953, into a property called "Santon Villa" in the village of Santon. This was where Peter's dad, Charlie, started his collection of motorcycles and memorabilia.
After about ten years the collection had outgrown Santon Villa and larger premises were needed so in 1964 (although the family continued living in Santon) Murray's Motorcycles moved to Christian Street in Peel, where it stayed for the next five years.
The next move of location was to make the museum more famous than ever, indeed it became known as "The World Famous Murray's Motorcycle Museum", this was a museum that most bikers will have become very familiar with, as it was located at the Bungalow right on the world famous TT mountain course.
If you are really lucky you might just be able to locate a book published by Peter and Raymond Ainscoe in 2012, called "The Murray's Museum TT Archive",  it is a Limited Edition  as only 500 were printed, but a quick Internet search makes me think that you might have more chance of finding Rocking Horse poo!
The Museum at the Bungalow  really was the motorcyclists Mecca of the Isle of Man, a tremendous tourist attraction with lots of vintage and rare motorcycles and memorabilia on display. However as time went by it became more and more expensive to run and, as the Murray family funded it, with no grants or financial help from the Island, the museum's survival came to rely solely on the proceeds of a donation box at its entrance.
With the lease on the building due to be renewed and a rent increase looming some hard decisions had to be made and so, after some 37 years at the Bungalow, Peter decided that the museum would have to move away from the TT mountain course. In 2006 Peter contacted Steve Griffith, (an avid collector and memorabilia dealer) to help with the sale of some of the museums bikes in order to help fund the museums relocation.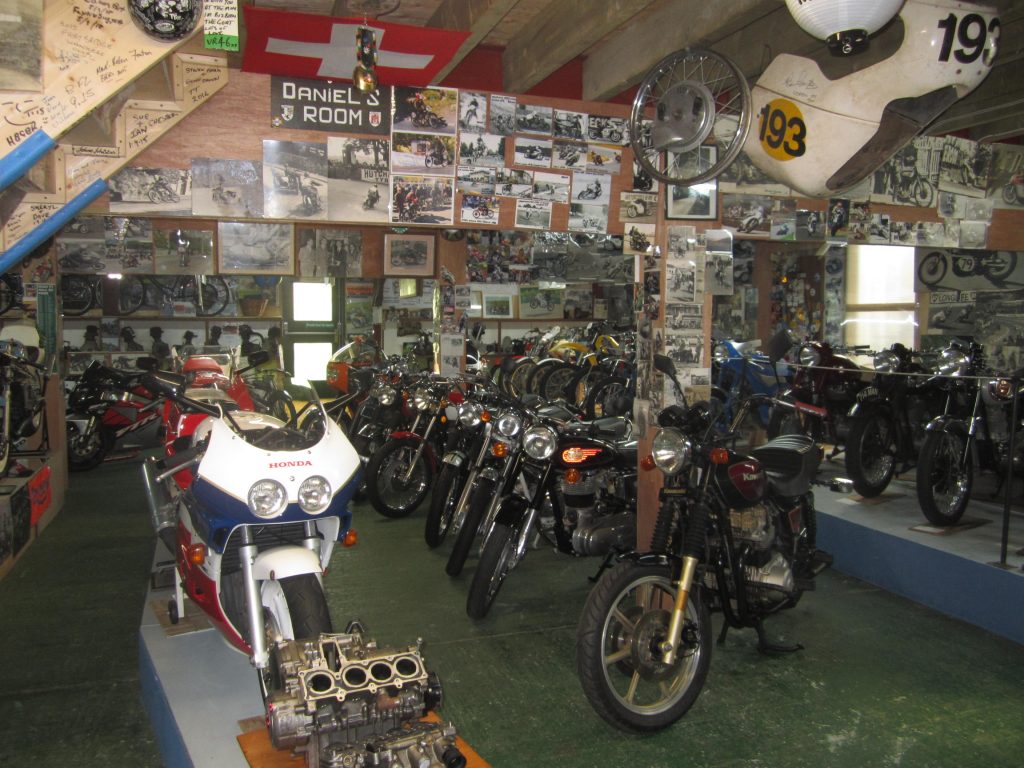 One of the museums most sought after and valuable bikes at that time was a 1961 Honda works 125cc twin racer that actually came to the museum via Mr. Honda in person!
It seems that in the mid 1970's Mr. Honda visited the museum whilst he was in the Isle of Man as part of a world tour. Charlie Murray had asked Mr. Honda (via an interpreter) if it would be possible to have a Honda race motorcycle for the museum and Mr. Honda must have been well impressed, as when he returned to Japan he actually sent the museum the bike as a gift!
Many years later during the planned relocation and sale of some of the motorcycles, Peter contacted Honda about the bike and they actually said that they would like to "buy"  the bike back off the museum, particularly as it had come from Mr. Honda's own private collection. It seems that they were really keen to have it back, (no matter what the cost), so a deal was struck and off it went back to Japan, from whence it came. We did ask Peter if he had any photos of the bike, but unfortunately he said he hadn't.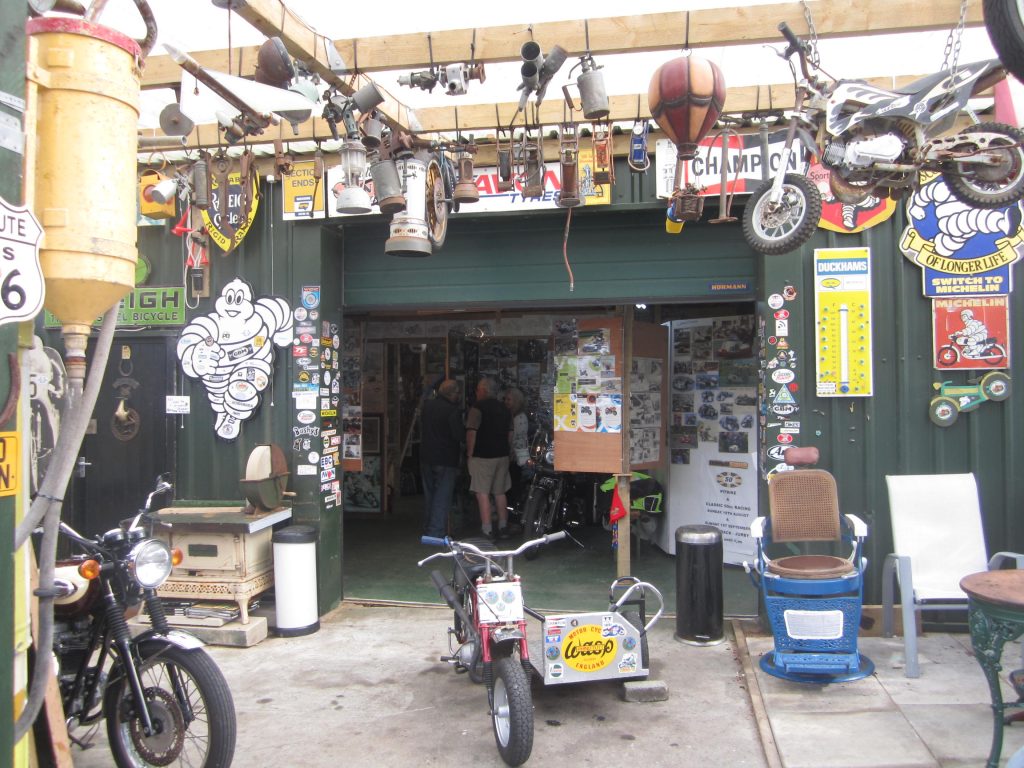 It is thought that this particular motorcycle was probably the race bike that Kunimitsu Takahashi rode when he won the 1961 Ulster Grand Prix, and not the bike that Mike Hailwood rode when he won the 1961 TT, as some people may have thought.
Unfortunately, due to the move many motorcycles had to be sold over a relatively short period of time. Peter then moved the motorcycles he had retained, along with several new race and road bikes back into the place where it all started, by Peter's home at Santon Villa.
The collection had now gone a full circle and the museum was back to where it all began, in Santon. Over the last couple of years the current building has acquired a small roofed extension to the front, which now houses tables and chairs where Peter and his friends (and visitors) can sit and have a chat no matter what the weather. This is where Peter can hold Court  from his slightly elevated pride of place, sitting in his rather unique, blue "Triumph" swiveling barbers chair.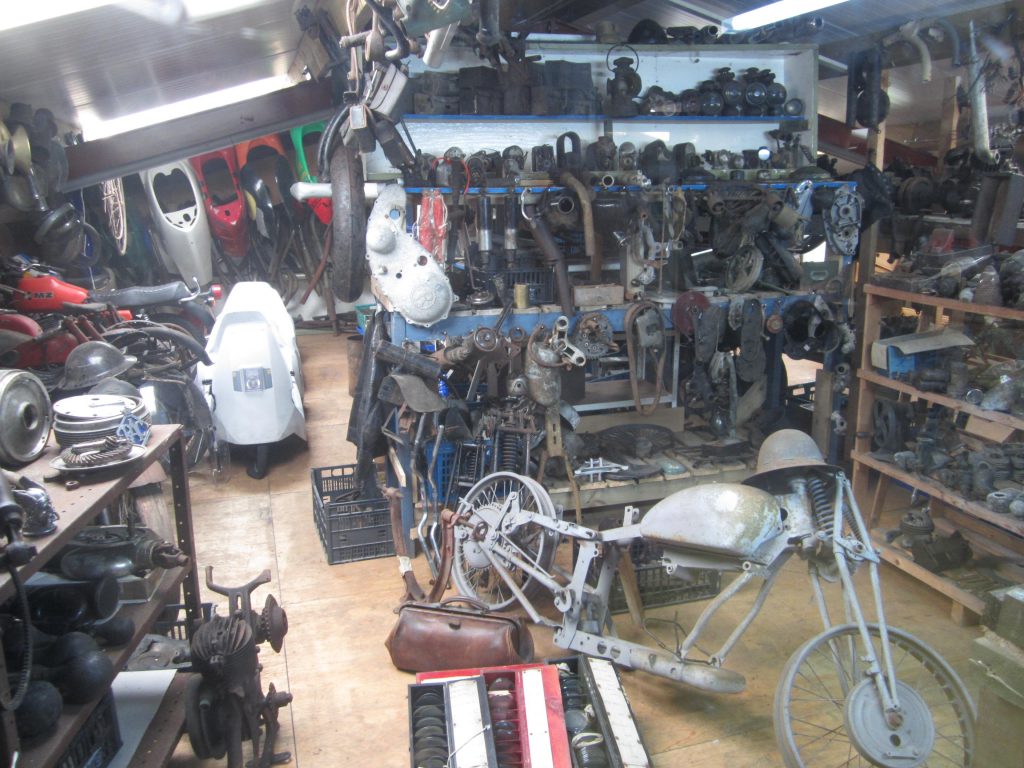 Andy Pearcy (aka "Chuff") and his son, Adam, could often be found helping out at the museum and as Peter is not into computers or keen on the use of modern day electronic communications, any electronic correspondence were sent via Andy.
Incidentally, if you are wondering about the nicknames, whenever things go according to plan Andy is always dead "chuffed", and if you want to know his son, Adam's nickname, well, its"Sid Sn.." and you'll have to ask him or one of the other lads to complete the missing letters and how/why he acquired it?
On our last visit we sat upstairs in the lounge area  and had a chat and a cuppa with Peter and we felt extremely privileged thereafter to be allowed to gain access to his extensive "spares" department,(access of which is not available to the public). Some of it may look like junk, but it is full of most interesting and rare parts, tanks, carbs, acetylene lamps, crankcases, gearboxes, frames etc., as well as stacks of publications, old newspapers and literature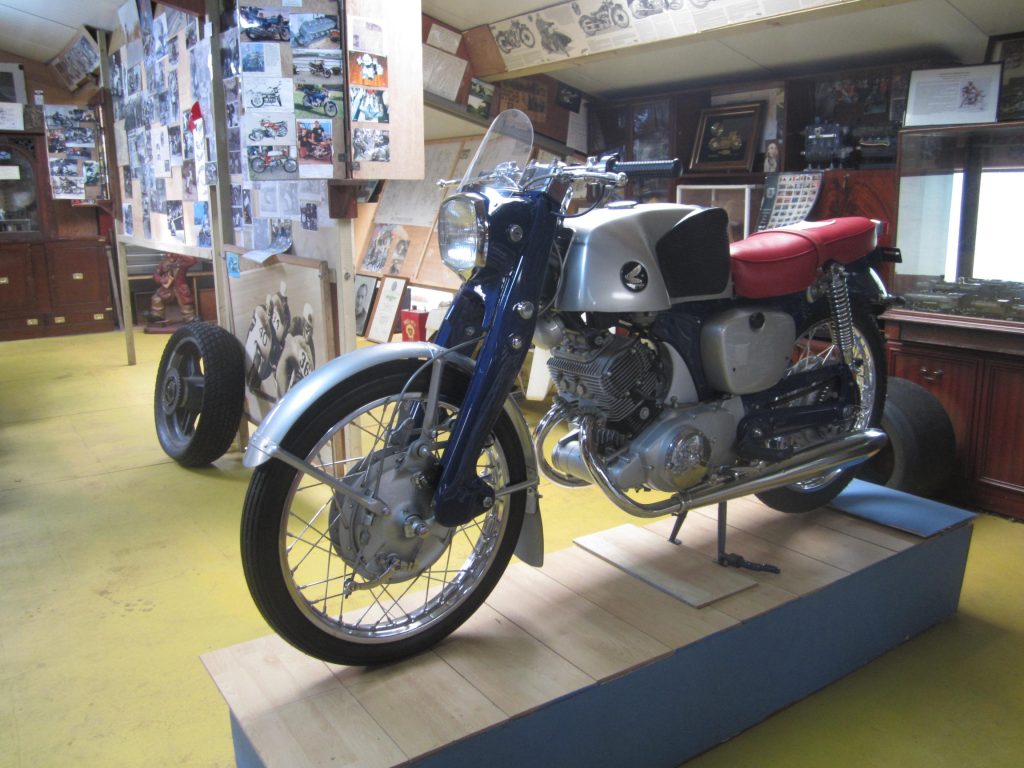 (mostly about the TT) dating back best part of 100 years. It is absolutely incredible and somewhere up there are, no doubt, parts that someone, somewhere would absolutely die for!
Anyway, for those of you who never knew about Murray's Motorcycle Museum and/or those of you who may have thought that the famous Murray's Motorcycle Museum that used to be on the TT Mountain course at the bungalow no longer existed!
We have news for you…………
Murray's Motorcycle Museum is alive and well at Santon and is waiting to welcome you there.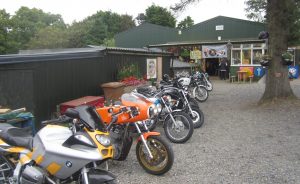 2017 UPDATE to the above Article
With the tremendous popularity of our Isle of Man attraction articles increasing day by day we spoke to Peter well before we traveled over for the 2017 Manx to see how his business was doing and he was absolutely delighted how things had progressed and how visitor numbers had increased.
So when we arrived in August 2017 the popularity of the museum was immediately evident, with the many bikes parked up in the grounds, this was further endorsed by the crowds of people within the museum. Peter had also been busy re-jigging the layout to bring the tea
and coffee facilities downstairs, which much improved things.
He was absolutely delighted to see us, gave us a fantastic welcome and not only did he sign our personal copies of his 2012 Limited Edition Book, "The Murray's Museum TT Archive", that we had brought over with us, BUT he also presented us with signed copies of his new 2017 Limited Edition Book, "The Murrays Motorcycle Collection". 
With regard to the Limited Editions, only 500 copies of the TT Archive book were ever printed and only 300 copies of the Motorcycle Collection book have been printed.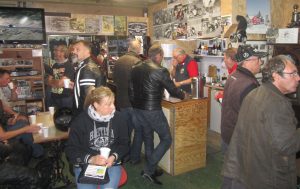 As usual Peter had plenty of stickers on hand and plenty of green lanyards, printed with the slogans "MURRAYS MOTORCYCLE MUSEUM may the luck of the Fairies always ride with you"  and he very kindly gave us one each.
Silver Fairies are always available as well from Murrays Museum, for the ladies in your lives, be they spouses, partners, daughters, granddaughters, nieces etc.
Peter, (as most people on the Island are) is a firm believer in the luck of the Fairies and so we always say hello to them as we pass over Fairy Bridge, just a short ride south from Peters museum.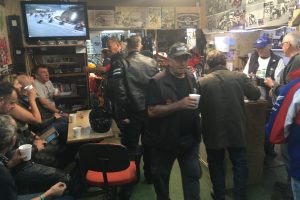 This time, for better luck still, we stopped and "baptised"  our silver fairies in the brook that runs beneath Fairy Bridge.
It was really rewarding to see the vast improvement in visitor numbers and everyone had a great time and enjoyed Peter and Derek's hospitality with plenty of Tea, Coffee and Biscuits for everyone.
We are not really sure if you will be lucky enough to source copies of Peter Murray and Ray Ainscoe's books, but for your information, details are as follows: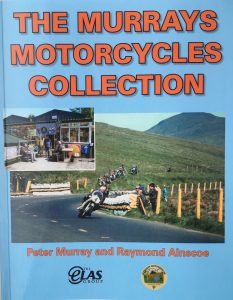 The Murray's Museum TT Archive,  published in 2012 by Ilkley Racing Books is ISBN 978-0-9524802-3-5
The Murrays Motorcycle Collection,  published in 2017 by Ilkley Racing Books, does not appear to have an ISBN number.
Don't be fooled by the back cover of the Murrays Motorcycle Collection book, which appears to show the Museum as still being on the TT course! It is in actual fact a reproduction of a publicity poster for the Museum at Bungalow Corner!
Both books are printed by
Ilkley Racing Books, 3 Medip House Garden, Curly Hill, Ilkley, LS29 0DD
This really is a fabulous little museum, with a fantastic variety of machines and memorabilia and most certainly NOT ONE TO BE MISSED !
Murray's Motorcycle Museum,
Santon Villa, Santon,
Isle of Man,
IM4 1EN
Tel.  01624 823223
Mbl. 07624 478162
J M N