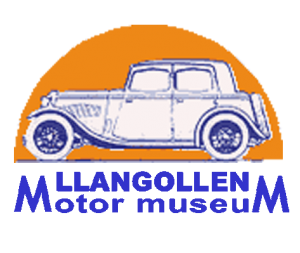 The Llangollen Motor Museum is 1.2 miles from Llangollen on the A452 Horseshoe Pass road, or a very pleasant 1 mile stroll along the canal bank from Llangollen Wharf.
The museum will happily accommodate Car or Bike Clubs and they have a large private field adjacent to the museum, which is available for hire to groups for their meetings, BBQ's picnics and for overnight camping.
This offers the perfect opportunity to not only see what the museum itself has to offer, but to also explore Llangollen and the wonderful surrounding scenery, taking a ride or watching the canal boats and steam trains and taking a step back in time, in this very picturesque setting.
We have had some great meetings here in the past with other VMCC members camping and BBQ'ing and we have always been
made most welcome at this very popular venue by a smashing couple, Ann and Gwilym Owen, who, whenever we visited, always made us feel most welcome.
Sadly the years march on and Gwilym (aka "Gwil" ) passed away at the end of January 2016, age 85, leaving the reins in the hands of his son Geoffrey and daughter in law, Barbara.
The museum sits on the banks of the river Dee in between the river and the nearby Llangollen Canal (technically the Llangollen Branch of the Shropshire Union Canal), a relatively short walk outside the picturesque Welsh town of Llangollen itself that sits on the edge of the Berwyn Mountains.
Llangollen takes its name from a combination of the Welsh "llan"  meaning "a religious settlement"  and Saint Collen, a 6th-century monk who founded a church beside the river.
St Collen is said to have arrived in Llangollen by coracle. There are no other churches in Wales dedicated to St Collen, and it is said that he may have had connections with Colan in Cornwall and with Langolen in Brittany.
It is a few years since we have visited this lovely little museum and so in August 2017 my son and I decided to ride down to take another look inside the museum in order to update our visitors on the museums current exhibits and status. This has been a family run concern for many years and although usually closed midweek the family were kind enough to open up the museum especially for our visit, which was very much appreciated.
Unfortunately Geoffrey and Barbara were unavailable and so Corina and her lovely young daughters, Gracey and Millie, (who were an absolute treat), met us. The girls were delighted to show us around many of the exhibits within the museum, with which they were familiar. In particular they liked the Sinclair C5, the pedal cars and of course the bright shiny red Triumph TR4, affectionately known as "Humphrey".  Gracey also showed us inside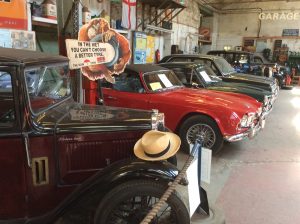 what is believed to be the oldest motor drawn Caravan in Britain complete with its original curtains, lino and many of its original fittings.
Inside the caravan, lying on the camp bed we found an old trombone which Gracey couldn't quite get the hang of playing, however after a bit of tuition, she really got the hang of it and could really blast out one heck of a sound that filled the entire garage.
On that note, I thought that we may have outstayed our welcome and that perhaps it was time for us to retire? But, Corina was very forgiving and we all had lots of fun.
This museum, really takes you back in time, it sports more than 60 vehicles from cars to invalid carriages, an Isetta bubble car, a Sinclair C5 and even pedal cars, which include an Austin J40 pedal car and also an Austin Pathfinder pedal car as well.
We believe that a lot of the cars on display are still on the road and the collection includes a Model "T" Ford, a 1926, 2,300cc Vauxhall Model 14/40 (complete with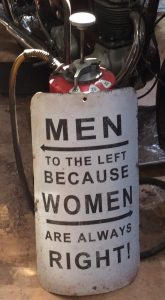 a "Dickey Seat"  ) that sports a Bournemouth registration of "RU 4013" and several other interesting Austin's and Citroens.
The museums star car has been nicknamed "Humphrey"  it is a red 1962, 2,138cc Triumph TR4 and a Winner of many Concours, "73 YKX" most probably originated from Buckinghamshire.
The museum also has lots of the old glassed topped petrol pumps that graced older garage forecourts and many easily recognisable parts from famous manufacturers, as well as a fabulous authentic 1950`s Garage Scene.
You can find a great collection of motorbikes within the museum and a rather good sense of humour, as can be seen from the sign as you walk under the Motor Museum sign to enter the bike area "MEN to the Left, because WOMEN are ALWAYS RIGHT!" ……. No comment!
Most of the motorbikes display the names that bring back memories of the good old "British Bikes", that a lot of us used to ride (and that many still do) for example Norton, Triumph, Ariel, Sunbeam, DOT, Royal Enfield and B.S.A. to name but a few.
The Llangollen Motor Museum also has a rather special New Imperial Motor Cycle on display. New Imperial motorcycles offered very practical every day transport back in 1935.
This particular New Imperial model, sports the registration number "VN 8255"  which would indicate its origin as being first registered in Yorkshire. It is a 250cc single cylinder machine manufactured in 1935 and retailing in that year for the princely sum of £35-15s – (thirty-five pounds and fifteen shillings).
For those of you who never knew pounds, shillings and pence, this barmy system had 20 Shillings to a Pound, 12 Pence to a Shilling (thus 240 Pennies in 1 Pound) and, if we go back before 1956, there were 4 Farthings to 1 Penny! So, 15s (15 Shillings) was equivalent to ¾ of 1 Pound, or 75p in new money AND, yes, there were actually 960 Farthings in 1 pound! Not to mention Florins, Crowns, ½ Crowns etc.
Anyway, this New Imperial motorcycle was way ahead of its time, featuring Unit Construction and Helical Gear Primary Drive, it was built by "Gwil"  and this particular bike spent the year 2000 as the only British Motorcycle in the "Journey Zone"  (sponsored by Fords) within the very controversial Millennium Dome, (the surviving part of which has since been re-branded as the O2 Arena).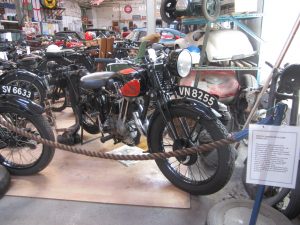 This bike also took part in the 1994, 60th Anniversary Mersey Tunnel celebrations and now it can be seen "in the flesh"  on display in the museum.
The Museum still have parts for many classics, mainly from the 1960`s but with some earlier and some later. They specialise in ignition, brakes and suspension and have over 7,000 plugs mostly of the "Champion"  brand and also a full range of ignition keys of types MRN, FA, FP,FS,ST and TS.
They have a lot of "NOS"   (New Old Stock) parts, far too many to list here, but their shelves are full of original boxes with familiar names, like that of Quinten Hazel, Ferodo, Motocraft, Champion and so on.
So, if you are looking for that something old, currently unavailable and rather important part, to complete your restoration project, then it is always worth enquiring about the Museum's:- New Old Stock of:-
Brakes, Fan Belts, Oil and Air Filters, Fuel Pumps, Water Pumps, Gaskets and Gasket Materials, Ignition parts such as Points, Condensers and Rotor Arms, as well as 6v and 12v Lamps and Bulbs, Suspension Parts including Shock Absorbers and Macpherson Struts and all manner of Wiring and Sundries.
There are rack upon rack of "NOS"   Ignition Keys adorning the top of the stairs and many other parts thereafter.
In fact it's worth contacting them about any obsolete classic parts and we are sure that Geoffrey and Barbara will always be on hand to answer questions and explain how motoring has changed over the years. We are told that Geoffrey is the expert and, having grown up with it he knows pretty much everything that they have in the museum.
Your experience when visiting this lovely museum will be interesting and informative but most of all it demonstrates the charm and character of our motoring past and in itself, it is a charming place, oozing with character.
Not a lot has changed over the years, it has been a family run business for many years and long may it remain so.
The family themselves are lovely and you will always be made most welcome there, Chris and I really enjoyed our visit
and I am sure that you will too, (although, as it was time to leave, I wasn't sure if Gracey and Millie and their pet Lion were about to take a ride across the Horseshoe Pass on my Bonneville).
Llangollen itself is an extremely picturesque place to visit, so leave yourself plenty of time and make sure that you visit everything that is around you.
We headed off to the Chainbridge Hotel, the Horseshoe Falls, the rode up the Horseshoe pass to partake of some refreshments at the famous Ponderosa Café, before heading home via Eastham Ferry, what a fabulous day.
The Museum is open Friday, Saturday, Sunday & Monday from 09.30am to 5.00pm (last entry 4.00pm)
(Closed Tuesday, Wednesday & Thursday). Other times by prior arrangement – please email or phone.
Adults £5.00,   Seniors £4.00   Children, under 16 Free (when accompanied by an adult)
This really is a lovely and rather unusual Motor Museum which we have thoroughly enjoyed visiting ourselves and which we would therefore highly recommended.
Contact Details :-
Llangollen Motor Museum
Pentre Felin
Llangollen,
LL20 8EE
Tel:     01978 860 324

Email: info@llangollenmotormuseum.co.uk
Web: http://llangollenmotormuseum.co.uk/
https://www.facebook.com/llangollenmotormuseum/
Michael W George (& Chris George)