Have a look at some cleaning products from one of our "Trusted Traders"
Bullet Polish,
Carnauba Wax Spray Presentation Boxed set.
A natural Carnauba wax quick detailer spray, ideal for light cleaning, High gloss and protection including 2 high quality microfibre cloths in a beautiful "Soft Touch" gift box.
Product description:
If synthetic spray sealants don't do it for you, why not try our Carnauba Wax spray?
This silicone-free product contains No. 1 Brazilian Carnauba Wax in a cleansing solution. That means it cleans, adds High Gloss and around 7months of gloss, water beading & protection with each coat.
Perfect if 'silicone' is not what you want on your vehicle.

Use our Carnauba Wax Spray on……
*Paintwork
*Leather
*Chrome
*Fibreglass
*Gel Coat
*Carbon Fibre
*Stainless Steel
*Mirrors
*Windscreens
*Glass
*Plexi-Glass
*Plastics
*Vinyls
*Coated Wood                                                   COST £15.99 + P&P

…and so much more
Presentation box kit comprises:- 1 x 5ooml Superb Quality Black trigger spray bottle & 2 Super quality 40cm x 40cm Microfibre Towels.
Clearview Visor Shine & Protector.
5 STAR REVIEW IN MCN 2016
Before the 'official word' here's what you all really want to know- it's tip top stuff, efficiently removes all the crud and leaves the visor and helmet super clean and streak free, super water repellant so rain just beads off. No more shaking your head when riding in rain.
BENEFITS OF CLEARVIEW:
Rain just beads off the visor & helmet as you face forward when riding
Bugs that are stuck on AFTER application will just wipe off with damp cloth.
Clearview will NOT alter or damage the integrity of the helmet or visor
A 125ml Atomizer spray of gently cleansing Carnauba wax solution.
No harmful alcohols or other chemicals to damage your lenses, visors or compromise helmet safety.
USE CLEARVIEW VISOR SHINE SAFELY ON:
Visors & Goggles, outer surfaces
Helmet outer surfaces,
Windscreens,
All eyewear, plastic & glass lenses,
Safe with Anti Reflective coatings, protective coatings, reactolite & transition lenses.
Binoculars,
Scopes,
Scanning beds
Camera lenses
Safe on all monitors & Screens,
Laptops, Android phones,iPads,iPhones,,
HDTV & Plasma screens.
MEDICAL BIT:
Hypo-allergenic, Scent free, no Alchohol, No silicone or PTFE.
A Completely Natural product.
Caution.
Do not use on the INSIDE of crash helmet visors as there is NO Anti Fog agent in this product.
Kit comprises:
125ml Atomizer bottle + 1 x 40cm x 40cm Microfibre cloth + 1 x Small cloth for phones & lenses.
MEDALLION VINTAGE & CLASSIC METAL POLISH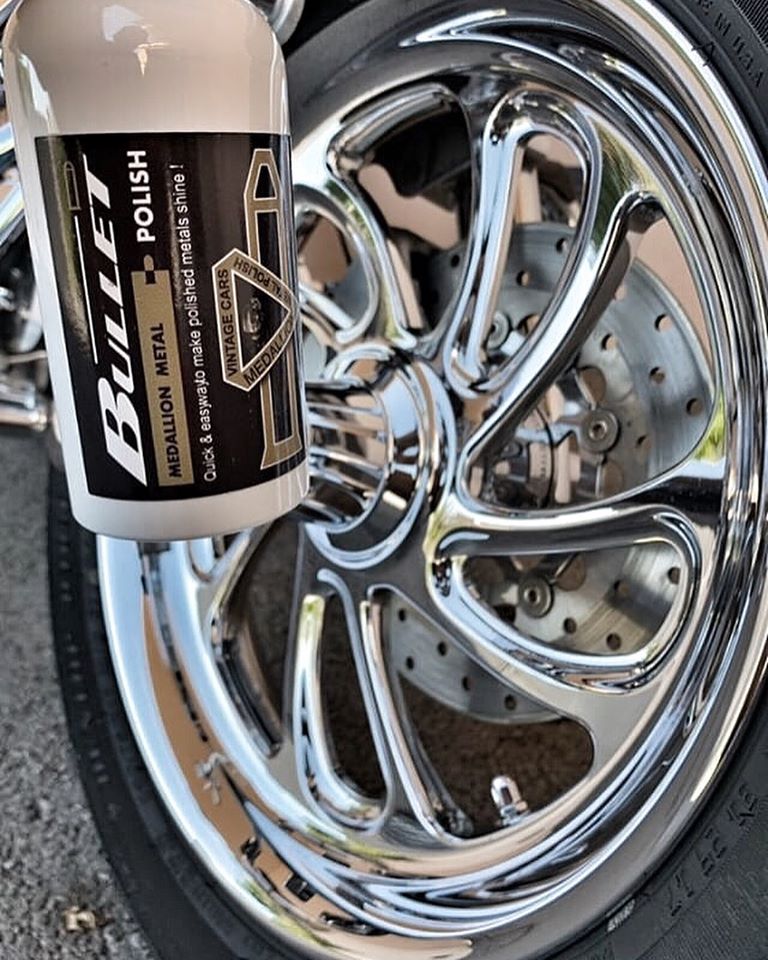 This Vintage & Classic Metal Polish is a quick & easy way to make polished metals shine with a high lustre. Whether it's in the workshop or out at a show.
Medallion Vintage & Classic Metal Polish is brilliant on Aluminium, Brass, Copper, Stainless Steel, Chrome & Titanium and the shine lasts longer than most leading brands on the market today.
This liquid metal polish makes cleaning metal far quicker & easier than using paste metal polishes or other liquid metal cleaners.
Medallion Vintage & Classic Metal Polish is brilliant on:
Aluminium,
Brass,
Copper,
Stainless Steel,
Chrome 
Titanium.
Gold
Silver
DIRECTIONS FOR USE:
Shake product well before flipping the cap as it settles out.
Put a small amount about the size of a 5p piece onto a sponge applicator or microfibre cloth.
Work well into the surface of the metal being polished. If oxidation is present you will have to work a bit harder. Once you are satisfied with how the work is looking, buff off with a microfibre cloth to a high shine. Repeat process as and when required.
Kit cost & what's in it: COST £12.54 +P&P
1 x 250ml Medallion Metal Polish, 1 40cm x 40cm Microfibre Cloth & yellow foam applicator pad.
For more information visit  https://www.bulletpolish.co.uk