The original Squires Bradburys Milk Bar opened in 1954 within the small town of Sherburn-in-Elmet. It be cam every popular as a Wednesday evening bikers meeting place,however, as visitor numbers grew it moved (no doubt much to the relief of the town's residents) in 2002, to the current Newthorpe location, just a few miles away.
This ever-popular venue attracts bikers from all over the country, including myself.
I attended a couple of annual Laverda International weekend meetings there some years ago, (in the days when I was supple enough to crawl in and out of a tent)and I remember the facilities as being very good, with friendly staff and plenty of good quality food and beer on hand. The café, its car park and surrounding grounds are huge and can accommodate all manner of motorcycle club meetings and motorcar club meetings throughout the year. Squires host many events, club meetings, charity runs, fundraisers, auto jumbles, best bike competitions, shows and even live concerts.
Although extremely popular with bikers on Wednesday evenings and weekends, Squires can also cater for large private functions within their large function room and comfortable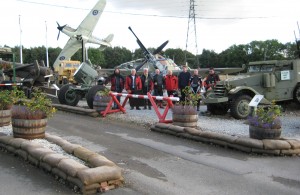 bar area. There have been several famous bands of the sixties and seventies performing at Squires, allowing you to take a journey back in time and the Yorkshire Rock and Bike Show is another famous annual event that Squires hosts.
Squires have excellent facilities and make an ideal base for touring the beautiful Yorkshire countryside. We visited Eden Camp, Military & Social History museum in Malton whilst we were there, also highly recommended – www.edencamp.co.uk .
Club meetings at Squires are very popular as they provide a friendly and accommodating environment for bikers, they have excellent camping facilities for tents and caravans. There is also a retail store (Speedstyle UK) a family run business "run by Bikers for Bikers", details can be found on Squires website.
Purchased by the Bowness family in 2007, Dan Bowness has long supported bikers and their clubs and the VMCC as a whole, and despite being on the opposite side of the country, Dan and Squires very kindly supported an event that we organised in the North West for our VMCC section back in 2011.
We are therefore pleased to include Squires within our website, as a great place for Bikers to gather. Whether you are just out for a ride, or if you are thinking of organising a Club meeting or long weekend, then why not give Dan Bowness or Dave Marsh a call, or just call in to check the place out, we are sure that you wont be disappointed.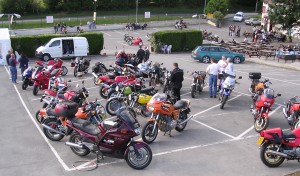 Contact Details:
Squires Cafe Bar, Newthorpe Lane, Newthorpe,
South Milford, Leeds, West Yorkshire, LS25 5LX.
Telephone: 01977 684618

Email:      info@squires-cafe.co.uk
Website: www.squires-cafe.co.uk

Michael W George (& John Abram)