Guy Martin (Wall of Death)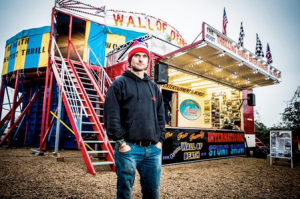 There won't be many of our website visitors that don't know the name Guy Martin, and if they haven't heard of him in the field of motorcycle racing, then they will no doubt have seen this charismatic and entertaining man on TV making good use of his love of all things mechanical and his love of speed – riding or driving anything he can and, of course, his love of a good cup of tea!
I and millions more were glued to our TV sets on Easter Monday 2016 to watch Guys "live" attempt to set a new Wall of Death world speed record in a specially constructed 40 metre
diameter arena of timber lined, upended, shipping containers (the largest Wall of Death ever constructed) built within an ex-RAF hanger just a few miles from Guys home. The limiting factor for any such attempt is human physiology and the risks and effects of G force on the body, which Guy, in his usual style, experimented with beforehand, with the help of an acrobatic aircraft and a stunt pilot and Ken Fox's Wall of Death. Officials later confirmed that Guy would have experienced the same level of stresses that would normally be faced by fighter pilots in combat (and don't they wear pressurised suites?)
The target to beat in this record breaking attempt was 60mph and astride his modified Indian Scout motorcycle (the preferred machine of Wall of Death riders) Guy was able to break this record clocking up a speed of 70.33mph to the joy of all his fans, us included.
But, despite having achieved his goal (and almost blacking out in the process) Guy came back for another attempt, but this time on a vintage Rob North framed 750cc BSA triple that he, his dad Ian, and his long time mechanic, Cammy Whitworth had built and fettled along with support of Les Whiston (see photo above &our article on "Rob North Triples").
To the sheer delight of Guy and all concerned this wonderful home made machine flew around the Wall breaking the record he had set a very short while before.
The triple achieved an incredible 78.15mph providing Guy with a new Guinness World Speed Record for the Wall of Death.In Guys own words "I did over 80 this morning and tonight was 78.In the first run of the second attempt I only did 71 and then I greyed out straight away. I came in and reset myself and did 78." Guy was only supposed to do two runs but he decided to give it a third shot. "I thought if I go again I will go even better but it didn't happen."I think given the chance Guy would have attempted to break the record again that evening, but this was a wonderful achievement that is very unlikely to be surpassed by anyone else in the near future.
Shortly after, in April 2016, John and I were very privileged to be able to meet and talk to one very proud dad (a certain Ian Martin) and to be able to see Guys record breaking machine, right up and close, outside Les Whiston's camper in the paddock of the Stafford Classic Bike Show.
Our sincere congratulations go to Guy, not only for this World Record, but also for all of his other record breaking achievements, his down to earth entertaining manner and wonderful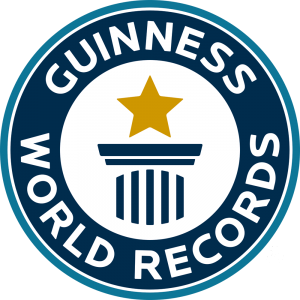 personality, and his superb engineering skills that have made such good TV and kept his fans entertained for many years.
You will find much more written about this legend online & at: www.guymartinracing.co.uk
Michael W George (& John Abram)