Shed & Buried – from HCA Entertainment
Do you have any hidden treasures – motorcycles or mechanical curiosities that might be buried away in a shed or garage somewhere?
If so, Henry Cole and his buddy, Sam Lovegrove would be interested to hear from you as they are currently on the hunt for more locations to come and film for their very popular TV series "Shed and Buried". So, if you think you might have something that fits the bill why not contact the crew at info@hcaentertainment.com (Tel 01367 810 764).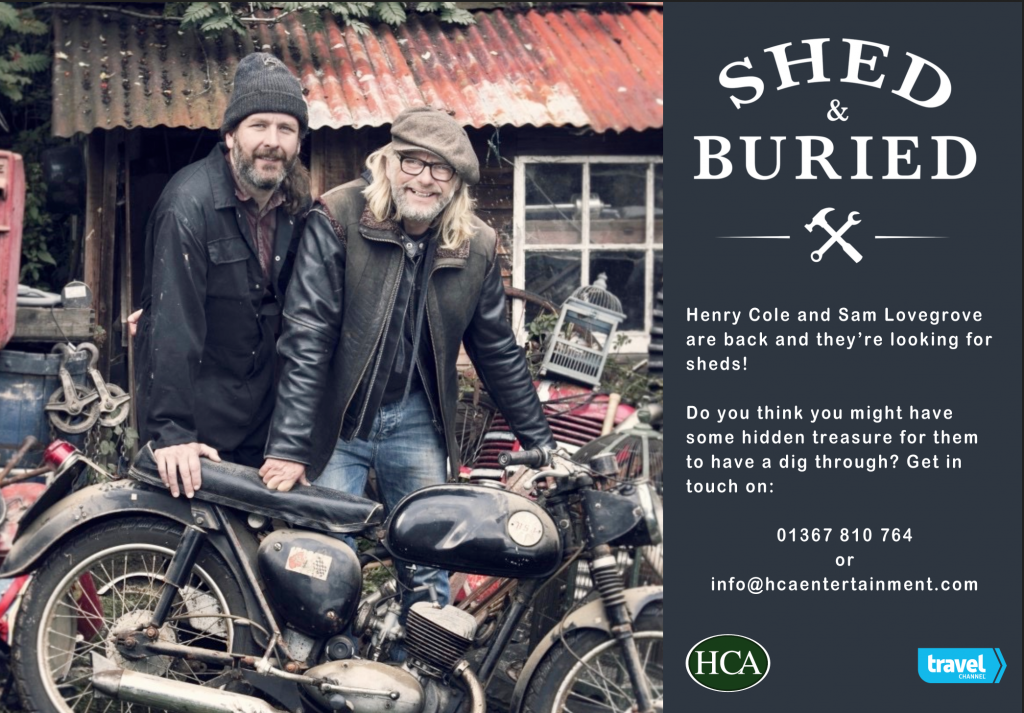 John's Motorcycle News would, of course, appreciate some feedback as to your contact or success within the show and we would obviously be happy to publish a follow up article about your successful screening and TV debut.
That said, many of you will have no doubt enjoyed watching our friend Henry Cole ride all sorts of motorcycles in all sorts of different places, not only in the UK, but all around the world on his travels. Not that we are envious at all, heaven forbid!
Anyway, for those of you who may not be familiar with Henry's motorcycle related TV programmes…..you really should be!
Henry's Company (HCA Entertainment Ltd. www.hcaentertainment.com ) is actually one of the UK's top 100 independent TV production Companies. It focuses on "Factual Entertainment" and has produced many great motorcycle related shows aired on the Travel Channel, like the "Worlds Greatest Motorcycle Rides" (their longest running TV series), "
The Motorbike Show" (highest rating factual series) and "Shed and Buried"(Travel Channel's longest running TV series).
Often seen with Henry in The Motorbike Show, carrying out the motorcycle restorations is another nice and knowledgeable guy, Pete Thorne of Aspire Classic Restorations. We met Pete on a couple of occasions during the course of our travels, the last time being when he was running a restoration workshop at one of Mortons famous Stafford Bike Shows. Pete can be contacted by visiting www.aspirerestorations.co.uk .
We can also tell you that on the chopping board at the moment are a new series for Channel 4, called "Find it, Fix it, Flog it" which we have no doubt will attract a wide audience and be equally as successful as all of the other productions that have come from Henry's Company.
Henry, Hamish and the crew are working flat out with not enough hours in the day for their filming, as we clearly witnessed last time we met up with Henry at the 2016 Manx. He was as busy as ever in and around the paddock working in conjunction with Dick Shepherd and the beautiful collection of just some of Dick's Triumphs that he had taken over to the Island.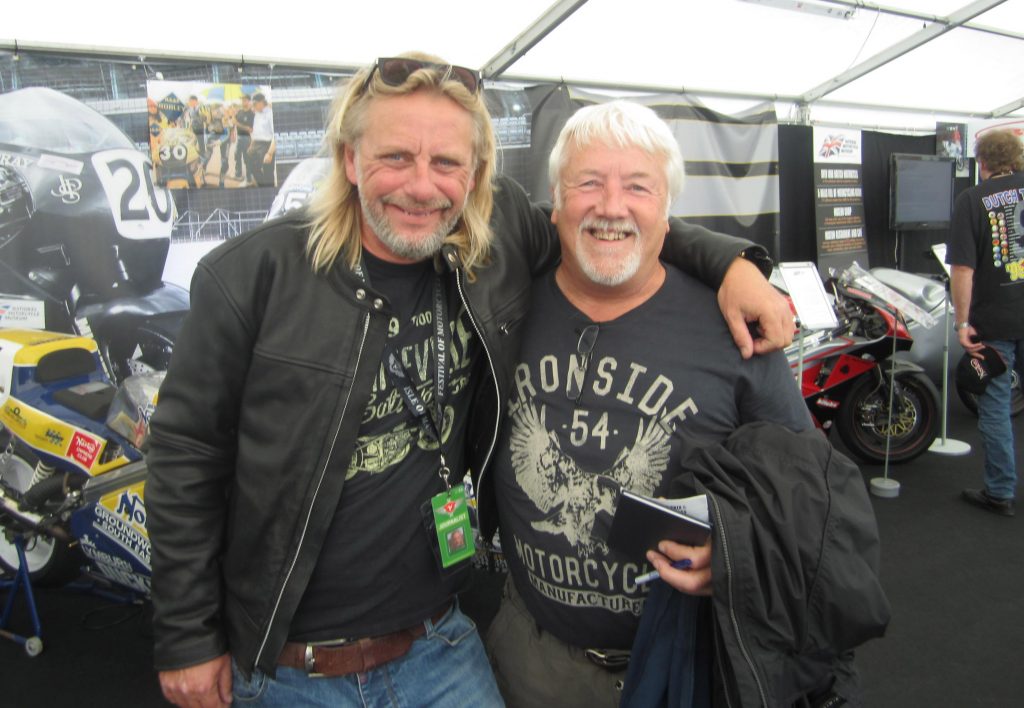 Recently aired on TV in the UK and one not to be missed was a two part series from the HCA stables, namely "Steve McQueen: Motorcycle Movie Star".
Henry and the crew of Henry Cole TV went on a road trip to California to uncover the often surprising life of his personal hero, the "King of Cool" himself, Steve McQueen.
Wonderfully edited using archive film and interviews with some of Steve's personal friends and life long fans, Henry tries to uncover just what made the man such a legend.
Tremendously compelling viewing making you understand the problems Steve encountered in his early years, his great love of motorcycles (that meant more to him than his acting) and his friendships along the way, in particular with that of Bud Ekins.
One of McQueen's most memorable films is undoubtedly"The Great Escape" with the famous jump over the barbed wire border fence on a stolen German bike. However it is no great secret that, the bike was in actual fact not a German bike, but a British Triumph 650cc twin TR6 and that, although Steve performed many stunts himself, it was reputed to be his close friend, Bud Ekins that actually made the jump. Although speculation still exists that that it was actually Steve, perhaps we shall never know? Henry thoroughly enjoyed the making of this documentary, got to interview Steve's son, Chad and even got to ride Steve's bikes, it really is great viewing.
You can catch up with Henry Cole TV at www.henrycole.tv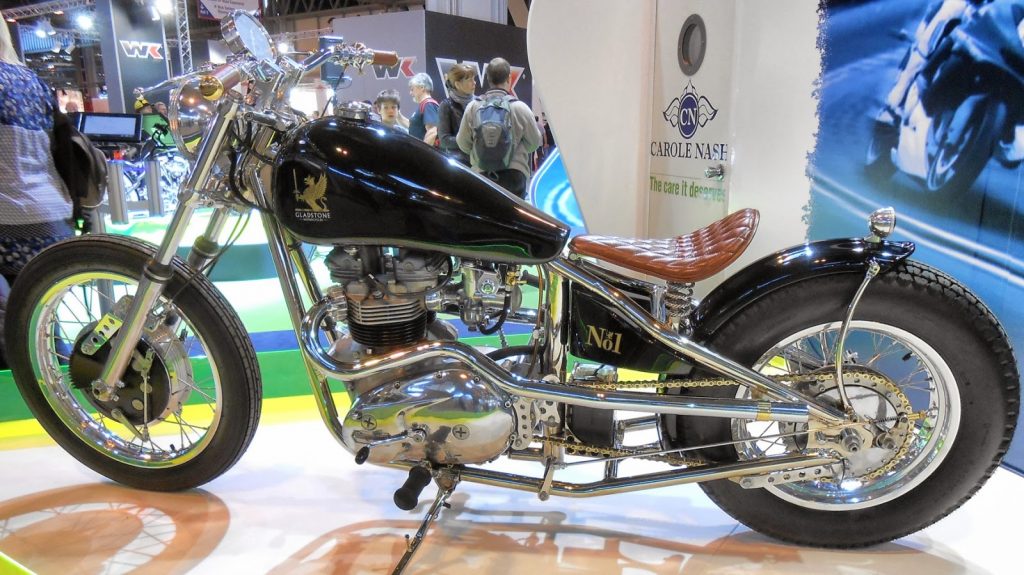 Henry is also the CEO of Gladstone Motorcycles the first British motorcycle brand to come to the market since 1984. They design and build limited production runs of the finest handmade British motorcycles.
To find out more about the motorcycles and the interesting origin of the chosen name of "Gladstone" (ancestor and Prime Minister and/or Henry's Uncle Dick? from his home town of Liverpool), why not visit www.gladstonemotorcycles.co.uk
We have met Henry on several occasions, in the Isle of Man and at many shows in the UK, he really is a nice bloke working with a great team, producing some fantastic programmes and we are pleased to have Henry and his crew as "Friends of Johns Motorcycle News".
If you think that you have something of interest that may have been lying buried in your outhouse, shed or garage, why not get in touch info@hcaentertainment.com (Tel 01367 810 764). and you may become the subject of one of Henry's new shows!

Michael W George (& John Abram)