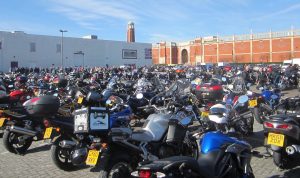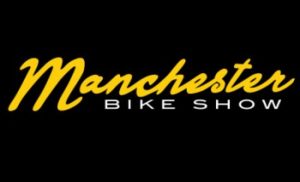 Saturday 25th March 2017 started off bright and early with our good friend Gilly (John Gilmore) of BBC Radio Lancs letting his listeners know all about the Manchester Bike Show and our planned visit, (with a mention for his good friend Les Trotter) and a mention of the next big event in the offing that we will be going to, the Stafford Bike Show. As always our thanks go to Gilly and his producer, Garry for their continued support of motorcycle enthusiasts.
Anyway, despite being so close geographically, this was actually our first visit to the Manchester Bike Show, which (as can be seen from the photo) proved to be extremely popular with the queues to get into Event City (just by the Trafford Centre) snaking out for what seemed like miles. But it was a lovely day, everyone was in good humour and we were proud to say that it was very orderly and we saw no attempt at queue jumping by the well-mannered biker visitors.
Once inside there was plenty to see and do and a real opportunity to get "hands-on"  with a wide variety of bikes of different styles and manufacturers. We met up with many familiar faces and we all had a great time.
So (hoping that we haven't forgotten anybody) we had some great banter with: –
Dave Norcross and the lads from the Cheshire Grass Track Club, (Dave will once again be bringing a display to our Leyland Museum day on 21st July), Les Trotter was just across the way from the Grass track lads, Ben Butterworth of "Bike Move"  impressed us with his super new trailer, Gary (Avon Tyres) & Karen Bretherton (Jaws Motorcycles) had plenty of goods to buy, Philip Youles (Youles Motorcycles of Blackburn and Manchester) had a great display of Triumph motorcycles (I just love the new T120). We hadn't seen Angie and Haydn Williams for a while so it was nice to see them (good luck with the Brewery guys) and Lucien Burkhardt on the Marshals North West  stand.
We chatted to Adam Pope who was busy building an engine on the BHR  display, we had a good laugh and a joke on the BMF  stand with Peter Laidlaw and his team (with camera shy Rachel taking the photo), Alan Pollard (Millenium Motorcycles) was there with a great display of Royal Enfield's and we met two very interesting guys (Matthew & Philippe) from Oziconcept,  with the Rolls Royce of folding trailers (you can read more about Oziconcept  in our article in "Techie Stuff" ) . A special mention for a speedy recovery for our friend Adrian Such who we only just found out has not been so good of late and who was dearly missed by all on the Ducati display, all the best Adrian, hope to see you back riding soon.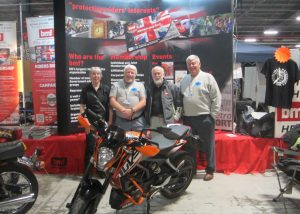 To round off the day we met up with the organizer, Andrew Greenwood and his team, unfortunately Matthew Harvey (Classic Shows) wasn't around, but Claire passed on our best wishes to him and all concerned. Now we mustn't forget to mention the shows "Official Photographer",  a guy called Les? who said if we just refer to him as the "old bloke taking the photos"  people would know whom we meant!
He is a really nice man and a great character, (who offered, without us asking) to send us some photos of the show, looking forward to that, Cheers Les.
On 31st March, true to his word a photo CD arrived in the post, (just with a compliments slip from Les),  full of photos of the event and we still didn't know his surname or contact number! Anyway, our best wishes and thanks have been passed on to him and hopefully he will get to read this, so thanks Les, we hope to meet you again sometime.
Anyway, you will find more details of many of these exhibitors within various sections of our website (Trusted Traders, Event Advertising Flyers etc.). Keep visiting our website regularly for details on forthcoming shows from Andrew and Matthew and many more events to come.
Don't forget to keep an eye out for next years Manchester Bike Show.
Ride safe, Michael (& John)