We have met John on many occasions and found him to be a really genuine guy with no delusions of grandeur and a "down to earth"  approach, always happy to chat, help and advise newcomers to the sport of motorcycle racing, as indeed he did with our friend, Dan Beighton (DB Racing) after his "off"  on the mountain at the 2016 Classic TT.
John was Dan's neighbour in the paddock at Douglas and when Dan returned from Nobles hospital John very kindly came over to see how he was and then spent quite some time with us, giving Dan the benefit of his mountain course experience and, hence, some very valuable advice.
You can read more about John and Dan in our article "DB Racing at the 2016 Manx GP"  in our "News and Interest"  section.
As a young lad that growing up in Morecambe it seems that John always wanted to be a TT rider, he got his first bike at the age of 3 and says that he always knew he wanted to race and that he was "built for speed"  but we bet that he could never have envisaged his future achievements, fame and popularity and/or the number of accolades he would go on to receive.
Nor would that young lad have ever dreamed that one day he would be affectionately known around the world as "The Morecambe Missile"  and "King of the Mountain".
John's motorcycling achievements and TT wins are well known throughout the motorcycling fraternity and he is not far off equaling the TT record wins of this hero, Joey Dunlop, but he has received many other notable awards.
John was awarded the Selgrave Trophy* by the RAC in 2015 and a left hand bend on the Snaefell Mountain Course has been named after him. John was also given the Freedom of the City of Lancaster in 2007and ever a Lancashire man John still lives in Morecambe with his wife (and childhood sweetheart), Becky and their two children.
The Selgrave Trophy* (named in honour of Sir Henry Selgrave) has been awarded since 1930 to the British National who accomplishes the most outstanding demonstration of the possibilities of transport by land, sea, air or water.
An example of other recipients of this award are Malcolm & Donald Campbell, Geoff Duke, Sir Stirling Moss, Jackie Stewart, Barry Sheene, Mike Hailwood, Joey Dunlop (posthumous) & John Surtees, to name but a few!
Acknowledging John's success the award reads "An outstanding contribution to motorcycle road and circuit racing, including setting the outright lap record at the 2015 Isle of Man TT. He is the greatest living exponent of the TT, with 23 victories to his name"
Launch day for John's book happened to be Thursday 4th May 2017, a special day for John and a special day for lots of Star Wars fans as well (known to some as "Jedi day"  for it's corny greeting – "May the fourth be with you" )!
John, being a true Lancashire man rightly chose to launch his book, on air, with the help of our friend John Gilmore (aka Gilly)  from BBC Radio Lancashire's studio in Blackburn.
The radio show was a great success and our John (Abram) rode over to Blackburn on his Triumph Legend to meet John McGuinness and Gilly for a chat after the show. Obviously John McGuinness couldn't resist the temptation of climbing on board Johns bike, so it was really a case of one human Legend riding one mechanical Legend, what a tremendous combination of two famous Legends between two stars!
Gilly took time out to leave the studio so that the three John's could have a photo shoot outside the studio with John (Abram's) Triumph Legend motorcycle.
McGuinness's book was ghost written by another John, John Hogan (a best selling author and Editor of SuperBike magazine) who approached him when he was doing world Endurance in Quatar. Although an author this was the first autobiography that Hogan (there are far too many Johns now, so we need to use surnames ) has written and the two guys got on really well.
His autobiography, "John McGuinness, Built for Speed"  is the story of his life, from humble beginnings, working as a bricklayer and cockle fisherman to becoming one of the most successful Isle of Man TT Champions in history, and the first person to break through the 130mph barrier.
In the radio interview McGuinness talks about looking up to his hero, Joey Dunlop and the fact that he was Joey's last ever teammate in 2000, shortly before Joey's tragic death in Estonia on 2nd July 2000 at the age of 48. McGuinness spoke admiringly about Joey's achievements, including his MBE for services to sport and his OBE for his humanitarian work for children in orphanages in Romania.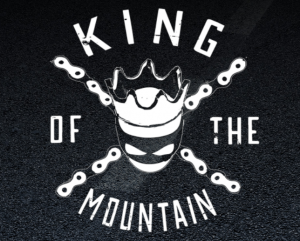 Jokingly, McGuinness "King of the Mountain"  and the "Morecambe Missile"  refers to his own MBE award as standing for that of "Motor Bike Expert" !
He touches upon his loyalty to people who supported him, his 5-year deal with Honda and the new lighter, faster, fly by wire, Fireblade, as well as his new teammate, Guy Martin.
A great funny man, famous for his exploits as a record breaker, entertainer and TV personality, as well as lorry mechanic and a great motorcycle racer as well.
There are loads more that we could write about, but we don't want to give too much away, so we reckon that what you really need to do, is go out and get McGuinness's book for a really good read.
McGuinness gives so much to his fans and to motorcycling as a whole, so as always, it is our great pleasure to be able to give something back in promoting his book "Built for Speed".
We have worked closely with BBC Radio Lancashire (Gilly and Garry) and in conjunction with Elaine Silverwood (Silverwood Events) in publicising the Blackburn event – "In Conversation with John McGuinness".
The event was scheduled to take place on the evening of Tuesday 16th May and we were delighted to be involved in promoting this, as one of the many book signing's to come.
Unfortunately, during the time of writing this article we received the bad news that John was involved in a major incident during the final qualifying session for the Superbikes at the International North West 200 Road Race in Northern Ireland.
Evidently he came off his Honda CBR1000RR Fireblade at a high speed corner, around the Primrose Hill section, 20 minutes into qualifying the session. The race was immediately red-flagged and John was attended to course-side by medics. Once stable and conscious, John was then taken by ambulance to hospital for further assessment with his wife Becky at his side.
The latest news that we had was that he had been taken to the Royal Victoria hospital in Belfast where they were to operate on a fracture of his right leg and that he may have also suffered some back injuries.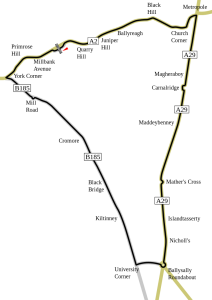 We all know the risks these riders take and so, as bad as it was, we are very thankful that it wasn't any worse.
We all have our fingers crossed for a speedy recovery back to good health for our hero, but obviously, this will have a serious effect on all of his plans, including the forthcoming TT.
As a result of John's accident the Blackburn book signing event organised by Elaine Silverwood of Silverwood Events in conjunction Gilly from BBC Radio Lancashire will NOT now take place and the organisers have made arrangements for ticket refunds to be issued.
Hopefully, this event can be re-scheduled sometime in the near future and we will keep everyone informed of any new dates as soon as we receive them.
We appreciate just how disappointing this is to all concerned and to John's fans (us included) who were really looking forward to the evening and to meeting John once again, however we are all extremely thankful that John's injuries are not any worse than they are.
The most important thing for now is that John is receiving all of the expert medical treatment that he requires and that he is stable after his surgery and that he is no doubt really looking forward to getting back to the comfort of his own home with his wife, Becky and the rest of his family around him.
In the meantime, we wish John all the very best and we are sure that he would be absolutely delighted (and it may help speed up his recovery) if he knew that, although they might have missed his book launch, his fans were supporting him in every way that they could.
So why not order his book and read all about this legend of a man who has given so very much to motorcycle racing,
John's book can be bought online, details below:-
To order "John McGuinness, Built for Speed" :-
To visit John McGuinness's website :-
We are sure that John McGuinness would join us in thanking all the people at BBC Radio Lancashire and Silverwood Events for all of the hard work that went into organising the Blackburn event and trust that this may be re-scheduled for a mutually convenient future date.
When this happens, rest assured that we will update this article with details.

Michael W George (& John Abram)