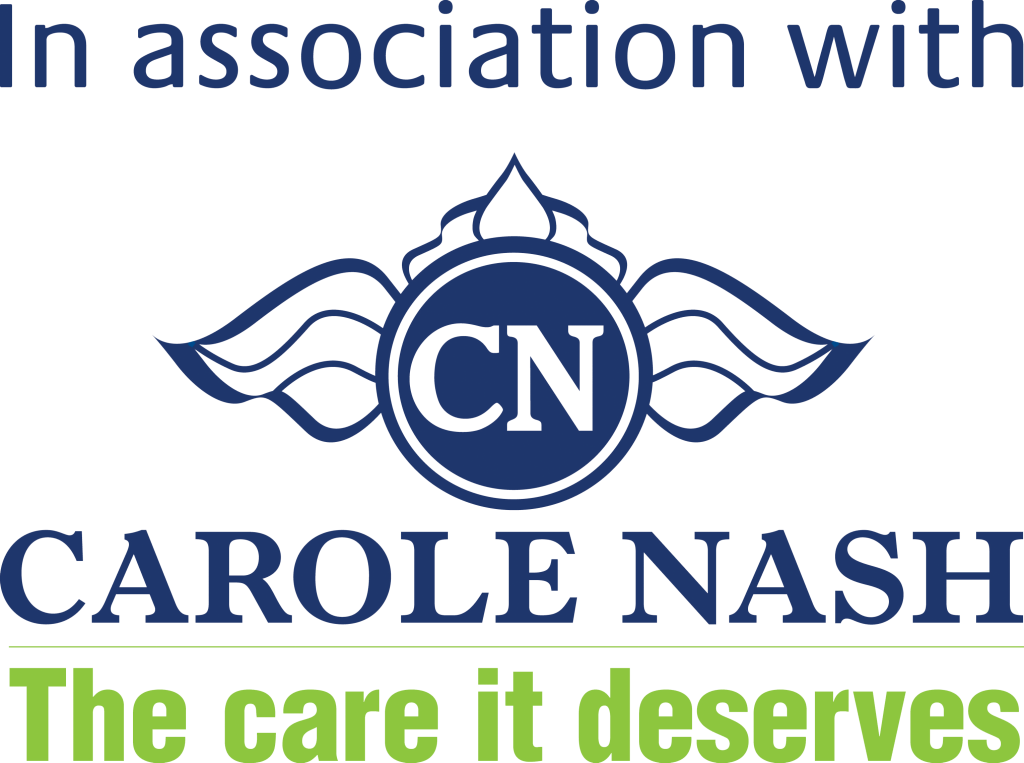 NEWSFLASH – Next Show 22-23rd April'17
This ever popular show started early for us, as we had arranged for BBC Radio Lancashire to come along and broadcast Gillys radio show live from the show ground on the Friday afternoon.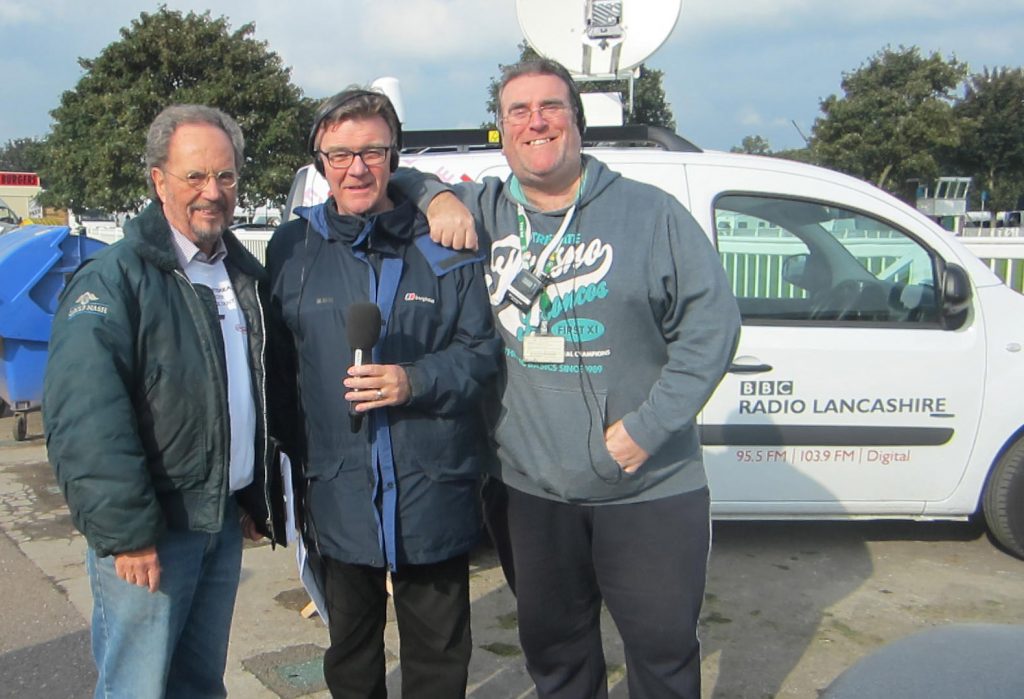 We had no shortage of guests lined up and the show went extremely well with a host of interesting interviews. The BBC also recorded additional interviews for future broadcasts, one very interesting one with Ken Fox (Wall of Death). Their BBC Producer, Garry and I returned later on to record the bikes and he was absolutely blown away with the experience. However, you can read more about that in our separate article about the Wall of Death within our "News & Interest" section.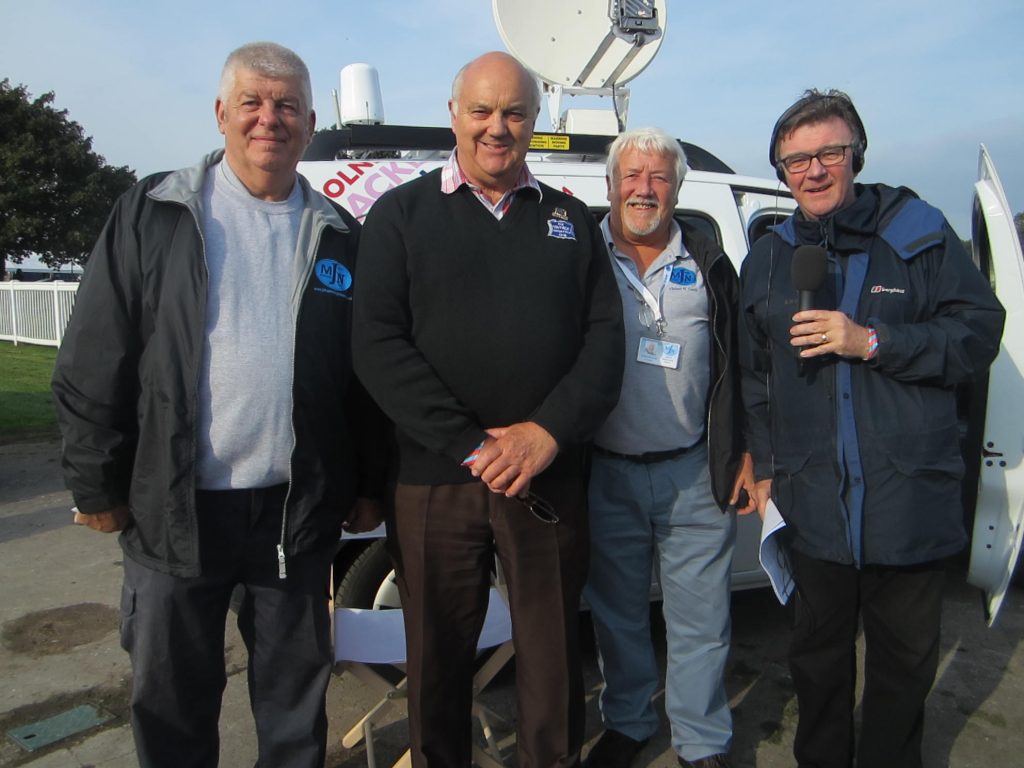 The live radio interviews included Alan Whitehead (original Founder of the show), Tim Britton (of Dirt Bike fame), Ben Walker of Bonhams, (who kindly presented Gilly and Garry with a current Bonhams catalogue), James Hewing, Director of the National Motorcycle Museum (who got lots of great plugs in for the Museum), Sammy Miller (of the famous Sammy Miller Motorcycle Museum), Rodney Hann (President of the VMCC), regular Traders, Ged (from Skye Classics) and Marie (from Vintage Sign Designs), Abbey (from Carole Nash), Nick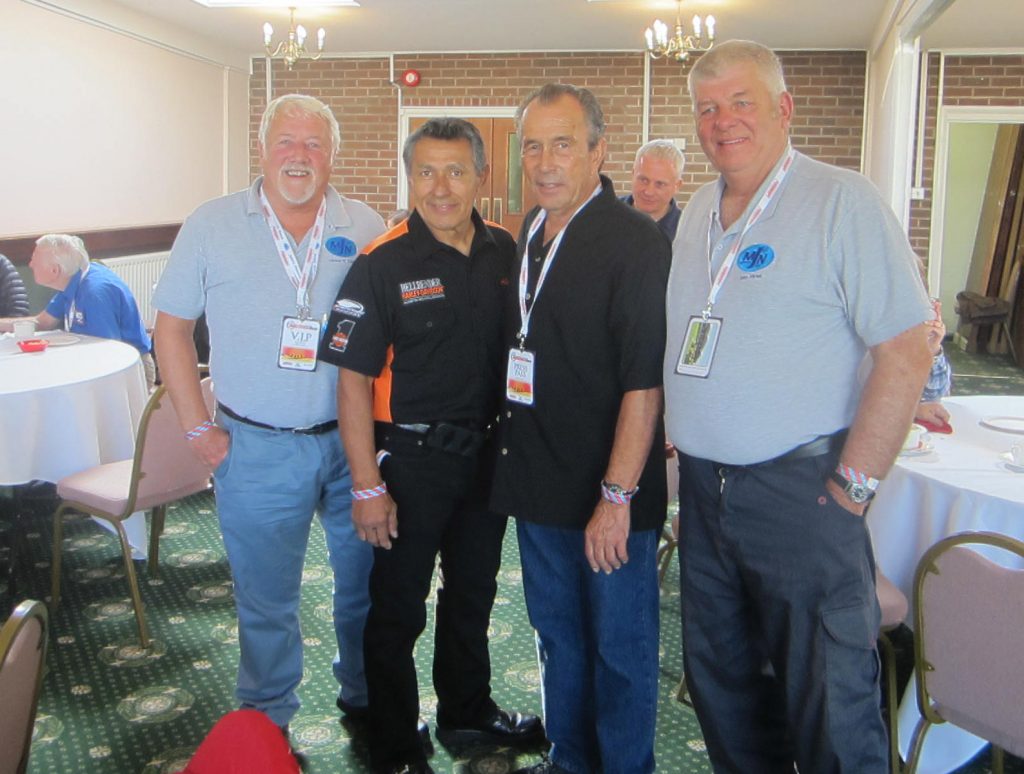 Mowbray (Mortons Event Organiser) and our good friend Graham Hardy (our George Formby tribute who even brought along is Ukulele to give our BBC radio listeners a rendition of "at the TT Races").
Mortons American celebrity guests from "On any Sunday", Gene Romero and Dave Aldana were also on hand with Jack Harrison(PR & Communications Executive for Mortons) to entertain our listeners on Gillys BBC Radio show.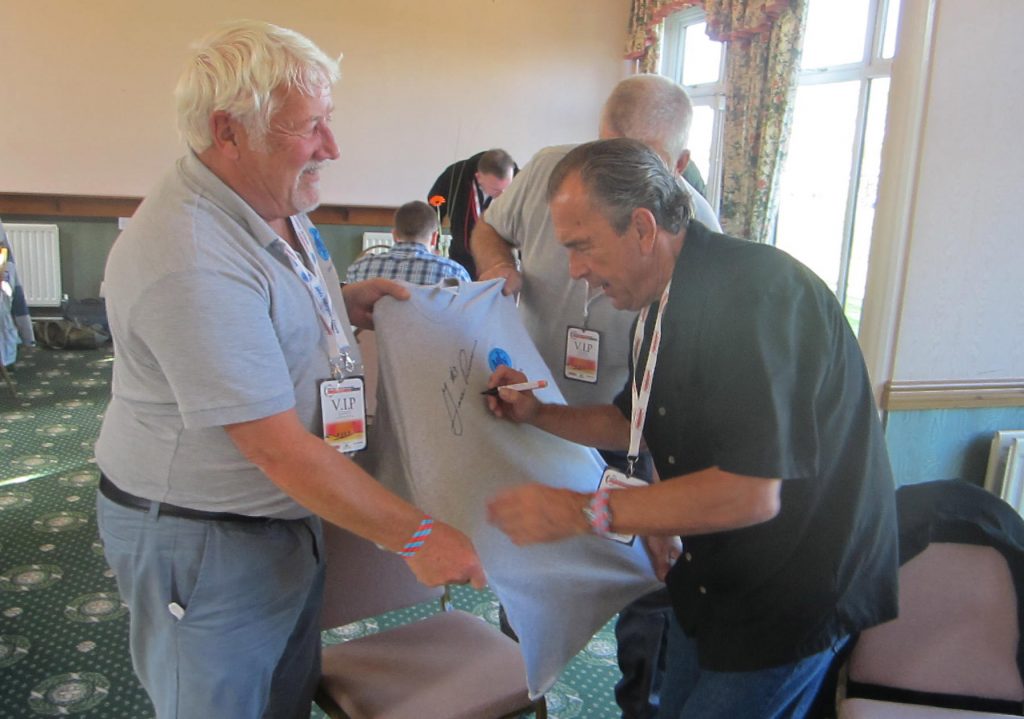 Sadly, the other two American guests from On any Sunday, MertLawwill and Don Emde had not been well enough to travel over and so we wish them well and a speedy recovery. What a hectic afternoon, but very much enjoyed by all concerned.
Saturday was just as enjoyable and extremely busy, we had the opportunity to chat with Alex & Linda George and then Gene and Dave joined us over lunch and they very kindly signed a couple of our own "T" Shirts which we will use to raise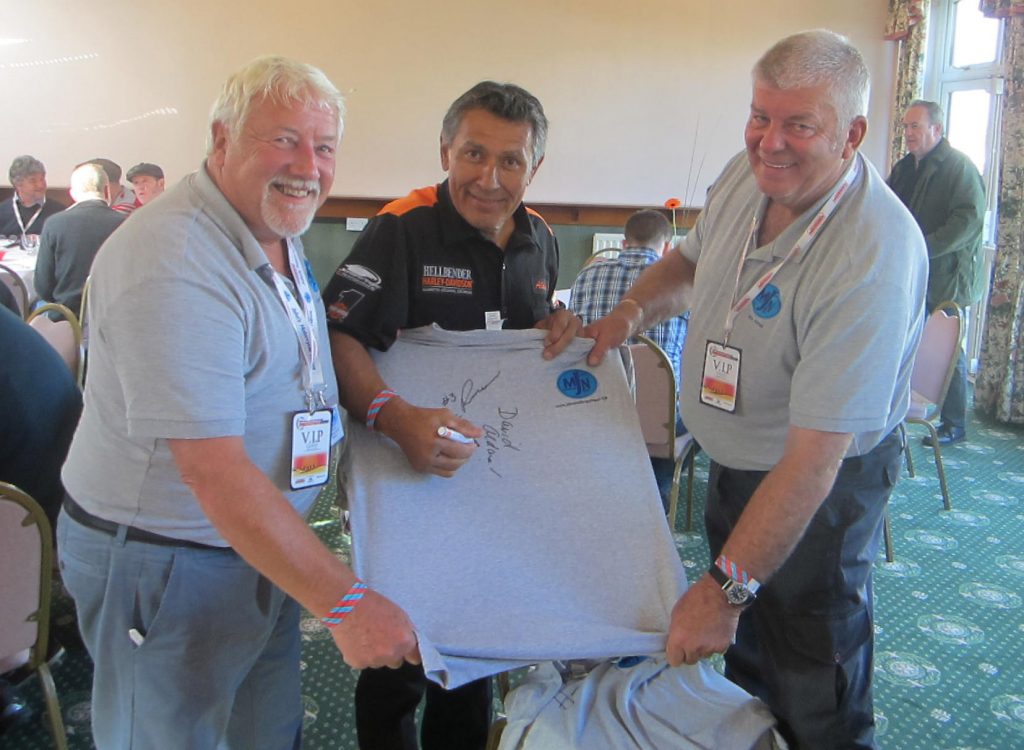 funds for charity some time in the future. Unfortunately, our good friend Colin Seeley could not attend (due to circumstances beyond his control), but John and Rosie Cooper were on hand to talk old times with the lads from USA.
We were also fortunate enough to meet Dougie Lampkin, who had not long before become the very first person to wheelie around the Isle of Man's famous 37.7-mile course, a truly incredible achievement. For more information visit www.dougielampkin.co.uk
With Steve Plater acting as compare these good humoured guys from over the pond kept everyone entertained throughout the weekend and although Gene and Dave were in great demand and never stopped signing autographs all day long, they did find time to visit the Peter James Insurance stand though, (where John's "John Cooper" triple was on display) for a photo shoot with us and the bike.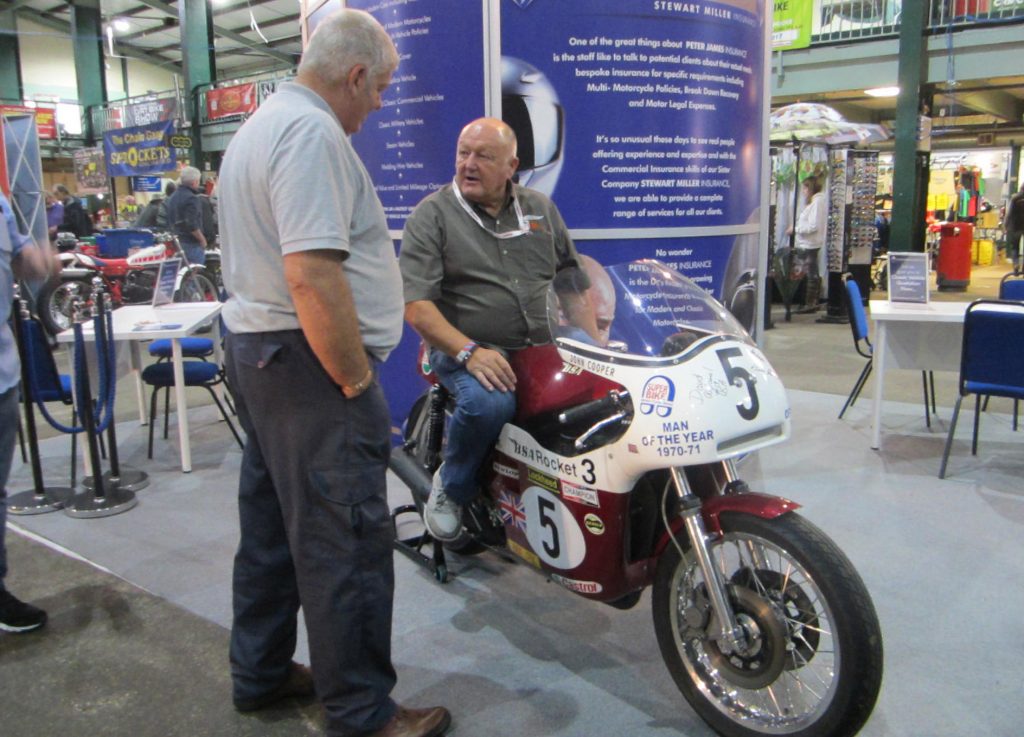 The lads not only tried the bike out for size, but also personally signed the bike's fairing.
Malcolm Wheeler (who also, incidentally couldn't resist getting his leg over Johns bike) was obviously disappointed that Mert and Don could not be with us, but Gene and Dave certainly made up for their absence and the good news was that we heard that both Mert and Don were fortunately well on the road to recovery.
Gene Romero and Dave Aldana's appearance really was a absolutely huge success, although it's a wonder that the lads didn't end up with writers cramp, as the queues to talk to them and get their autographs seemed never ending, (not surprising really, as these guys had such great stories to tell), they both have great personalities great sense of humour, and are just so accommodating and polite.
This year Mortons had another added attraction not far from the paddock- a huge marquee dedicated to Suzuki motorcycles. Here you could find all things Suzuki, including displays by the Suzuki Owners Club, the Kettle Club, Air Cooled Suzuki (including Katana), GT/XT Owners Club, Team Classic Suzuki, Robinsons Foundry, Crooks Suzuki and Redcar Motorcycles. In the Suzuki GB area, Barry Sheene's 1976 and 1977 World Championship winning bikes had been brought over from his family home in Australia to be on display alongside the recently rebuilt and refurbished GSX-R750F and TL1000S.
Our friends, Darin, Rob and Caren of "Endurance Legends" were actually set up alongside the Suzuki marquee and had a great footfall of visitors, all looking forward to their "Endurance Legends" event at Donington, which will take place on 6 & 7th May 2017.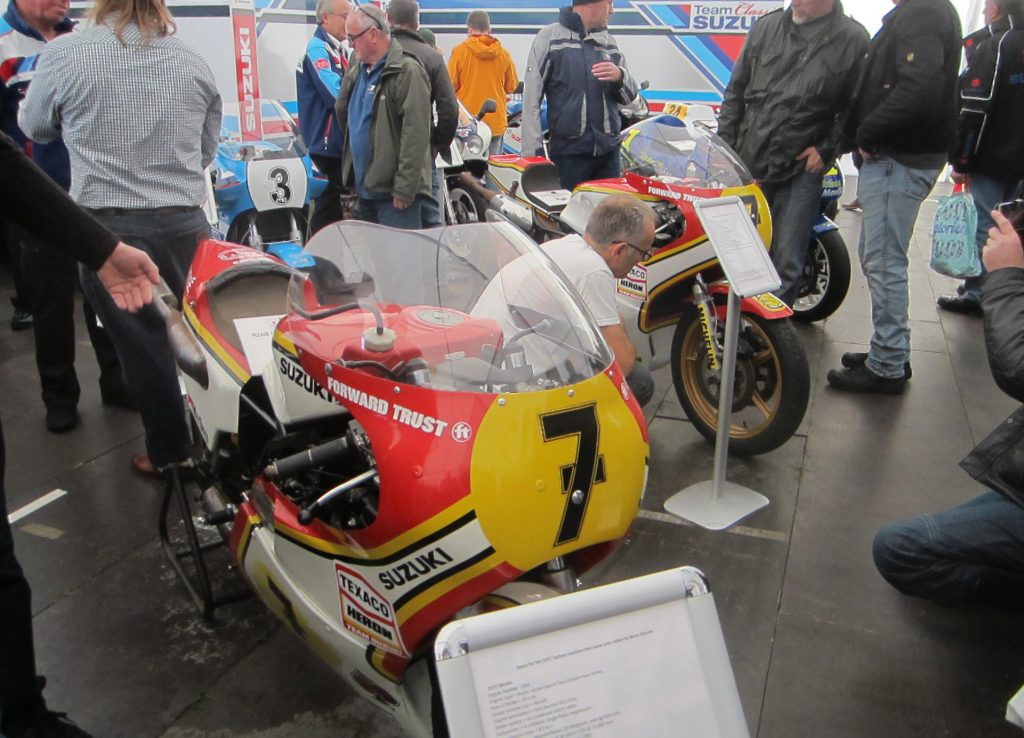 We will keep you updated as to this event, which promises to be a really fantastic weekend, see our "Calendar of Events" and/or our "Event Advertising Flyer" section for more details, or visit www.endurancelegends.co.uk
We also met up with Geoff and Dave Cox of ERIKS who are supporting Endurance Legends and really looking forward to holding their Corporate Event there at Donington during the Endurance Legends weekend over 6th& 7th May 2017.
We showed Ken Fox a preview of our article on the Wall of Death and John and I were treated to a full show, which was truly fantastic, we even had the opportunity of entering the Wall thereafter for a photo shoot with Ken and his family. To read more about this take a look at our article "Ken Fox's Wall of Death" within our "News and Interest" section, www.wallofdeath.info/home.
Although a bit nippy at times, the weather was kind to us once again, on the Friday and Saturday, and the venue was just as popular and busy as ever with thousands of visitors coming through the gates all day and everyone having a fantastic time, traders, visitors and exhibitors alike.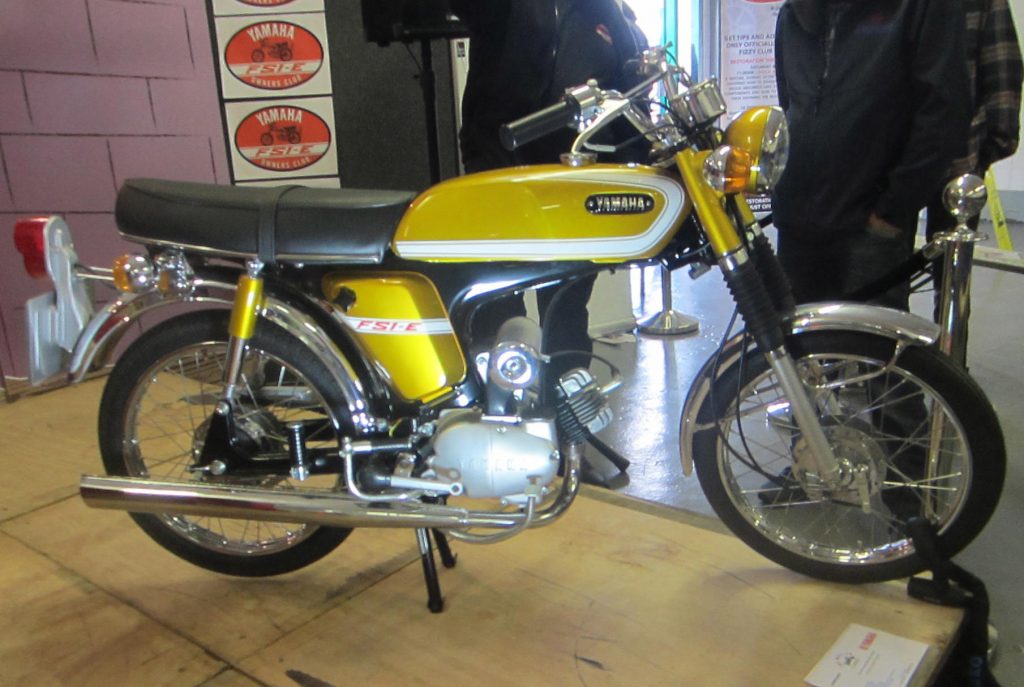 Once again the Classic Racer GP Paddock roared to the sound of famous race bikes and a display of Rob North Triumph and B.S.A Triples thanks to Joe Johnson and friends, whilst just across from them the Classic Dirt Bike Experience hosted Trials demonstrations courtesy of the Owd Codgers, www.owdcodgersmcc.co.uk
Inside the Live Restoration Theatre we met Per Brandt (Chairman of the Yamaha FS1-E Owners Club, www.fs1eoc.co.uk)where he had been stripping shock absorbers and showing visitors restorations of Fizzy machines, with an example of a well and truly rust perforated yellow FS1-E and its fully restored counterpart. Per also has a restoration Company "Two Wheeled Classics" they are Kawasaki and Yamaha Specialists who stock loads of spare and are located in Nantwich, twc@btinternet.com.
As usual there was plenty of static displays of some really beautiful motorcycles from both private and club entries for visitors to feast their eyes upon and drool over! With their enthusiastic owners, many of these motorcycles looked far better than the ever did when they left the factory as brand new bikes.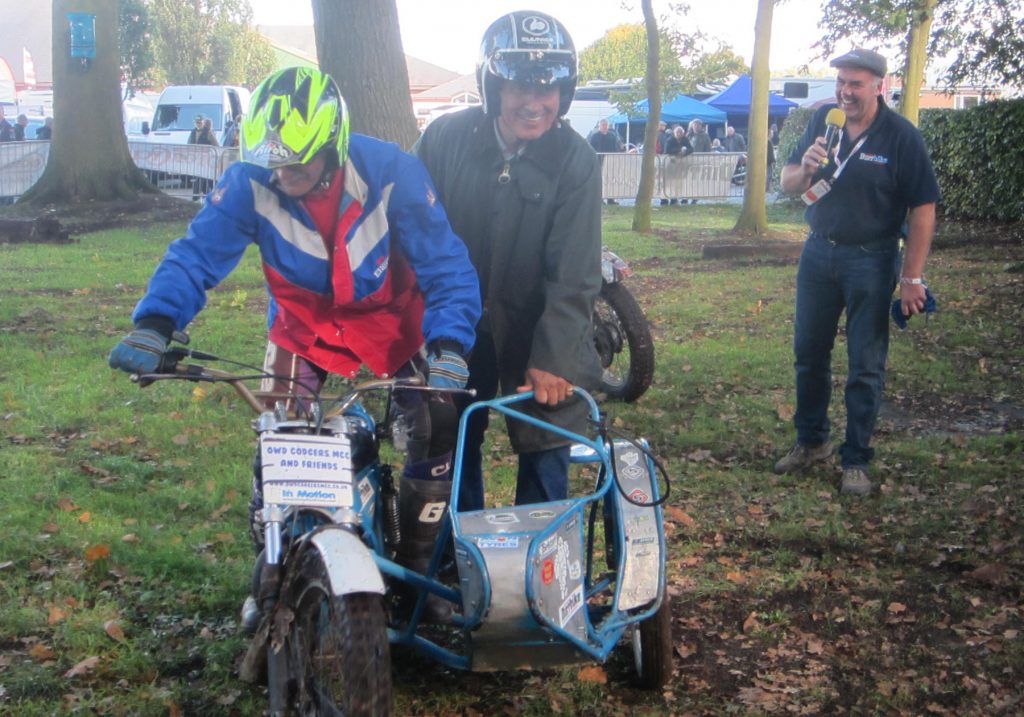 We could not help but notice one absolute work of art in the form of a Lambretta scooter brought over by its owners Nick and Helen from Peel in the Isle of Man.We won't spoil the surprise by publishing the photos that we took, suffice to say that we have invited Nick and Helen to send us over a brief article about the bikes history, its intricate rebuild and its truly outstanding artwork, which we can then feature separately.
Sunday was initially off to a bad start with heavy rain in the morning, but it did not deter the crowds and it soon passed to leave the Gods being kind to us with a really nice, much warmer afternoon.
The ever-popular lads from over the pond were working flat out once again entertaining the shows thousands of visitors and after lunch Tim Britton managed to get our friend and very good sport, Dave Aldana to mount one of the Owd Codgers sidecar's for a demonstration around their trials enclosures.
A similar offer was made to Gene who, in a rich American accent, replied, using one of his favourite phrases, "I can't hear you…..you're breaking up!"
In actual fact the lads had run out of time and had to be back on the podium in the main hallfor more PR and autograph signings, alongside Steve McQueen's"Husky", his 1971 Husqvarna 400 Cross. These Swedish motorcycles featured heavily in the film "On any Sunday".
It has to be said that these lads never stopped and were absolutely brilliant, enjoyed by all who met them and they genuinely seemed to be having a great deal of fun themselves.
Bonhams motorcycle auction was a popular as ever, with busy viewings beforehand and such a marvellous variety of machines being available. There were spares, basket cases, projects and motorcycles from old to relatively new, with a price and a machine to suit virtually everyone.With £1.6m of bike sales and headline press releases of machines like the extremely rare 1924 Croft-Cameron selling at £203,100 one could be forgiven for thinking that such auctions are for the super rich only. This is far from the truth as there are often bike projects selling for less than £1K and some very tidy machines selling for around the £2Kto £3K mark.
Bonhams can cater for all and it must also be remembered that the motorcycles that they sell have to come from somewhere, often private collections and also, unfortunately, deceased estates.
So rather than see a friend, a relative or a loved one under sell a motorcycle, it is always worth contacting Bonhams for a fair assessment and an achievable selling price.
You can contact Bonhams on Tel. 0208 963 2817 (General Enquiries) or Email to motorcycles@bonhams.com for more contact options, please see our article "Bonhams at Stafford" within our "Events and Shows" section.
As usual the VMCC produced another great display of machines (including a rather unique 3-wheeler) and our Isle of Man Section were there promoting the Island and its facilities, including the fabulous Isle of Man Motor Museum (see our separate article within our "Places to Visit" section) as well as having a couple of Dick Shepherds great bikes on display. Tony East was greatly missed and we all wish him a speedy recovery.
There were many well-deserved awards to be given out later on Sunday afternoon and here, once again Gene and Dave continued to entertain and hand out the awards. There were far too many for us to mention here, but the Laverda Club won best Motorcycle display for their stand with a rather unique "barn find"display, as well as some pristine Laverda's- well done Ted and the lads.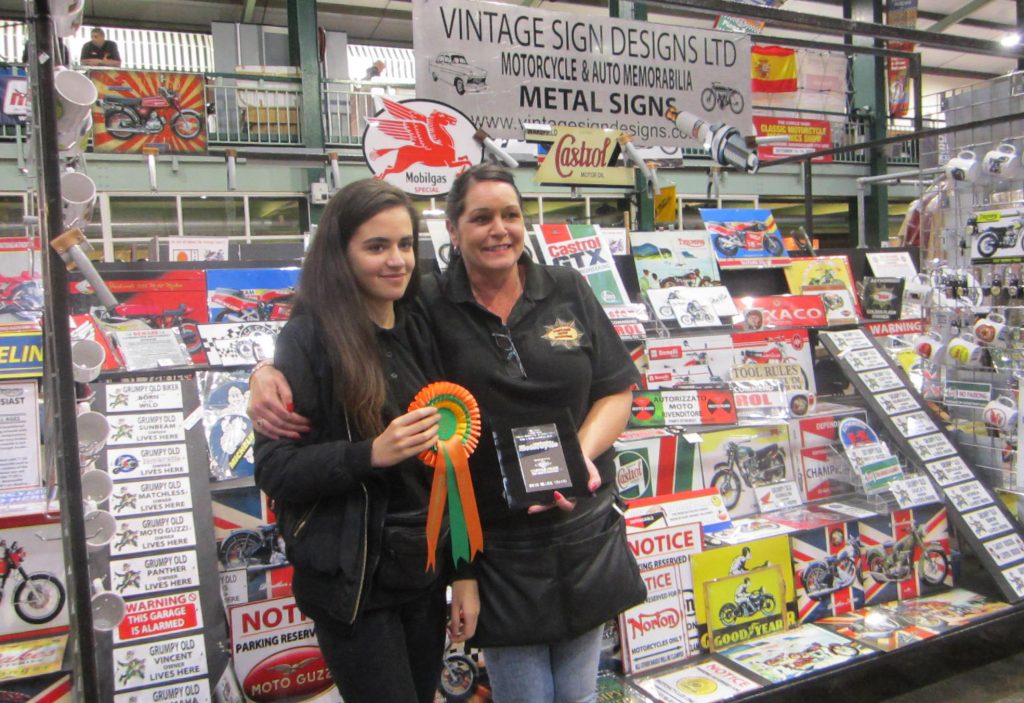 Also, Phil and Marie were delighted as their Vintage Sign Designs stand won the best Traders display, www.vintagesigndesigns.co.uk
It is nigh on impossible to give everyone a mention (which is why you need to go along and experience the show first hand), so apologies if you feel left out, but our congratulations must go to everyone who worked so hard for any one of these numerous and well deserved awards and especially to the American lads for working so very hard over the weekend.
We would like to take this opportunity to sincerely thank Gene and Dave for all that they did at the show and we would also like to pass on our best wishes to Mert and Don, who we hope get to read this. Sorry we missed you guys, hope you have a speedy recovery and get back over the pond to visit us Brits sometime in the future.
 Stafford is undoubtedly the place to be if you are looking for advice and spare parts, both new and old, here is where you will find a tremendous collection of Traders and Auto Jumble stalls, that should be able to fulfil all of your needs for parts, spares, tools, accessories, cleaning products, memorabilia and much, much more.
The driving force behind the successful Stafford Shows (and many more) is the ever-expanding Mortons Media Group, who announced this year (2016) their acquisition of the Kempton Park Bike Jumbles and Motorcycle Shows, which will be headed up by Andy Kitchen of Mortons events division. Thereby adding another seven one-day events to their packed calendar, which already includes both of the Stafford Shows, the Telford Off-Road Show and the "NormousNewarkAutojumbles".
So now all you need to do now is make a diary note for the next Stafford Bike show in April 2017, this will be the 37th Carol Nash International Motorcycle Show to be held on Sat 22nd& Sunday 23rd April 2017.
There are, of course, more shows in-between which can be seen on our Calendar of Events and within our"Event Advertising Flyer" section. Further information on all these shows can be found at www.classicbikeshows.com and on other Mortons publications at www.mortonsmediagroup.com
To book tickets please call the Ticket Hotline on 01507 529529

Michael W George (& John Abram)