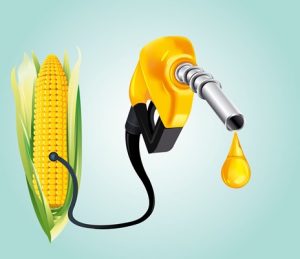 Ethanol and its Impact on Fuel Systems
Below we have reproduced an article submitted to us by a long-term member of the VMCC, Director and founder of Lynbrook Insurance Services and one of our good friends, namely Martin Pagett. After receiving this we researched several additives and have included our findings. In addition, another of our colleagues and VMCC member, Iain Houghton, has also submitted details of his experience with Ethanol in modern day fuel, a copy of which you will find at the end of this article.
The subject of Ethanol in fuel and its effect upon our Classic and even some relatively modern machines (including petrol powered garden and construction engine machines and marine engines as well) is of great concern to us all. Martin has done a lot of hard work investigating the subject of the effects of Ethanol in fuel and has given many talks about the same to several organisations and Clubs.
The UK public has been given very little information about Ethanol and its potentially damaging effect on fuel systems, most have no idea that our modern fuel can "go off", it goes stale and quite simply does not last, which obviously creates more of a problem in Classic vehicles that may not be run on a regular basis. We have seen no real visible highlights of Ethanol content at the UK's fuel pumps and quite simply most people just haven't a clue as to what they are actually putting into their fuel tanks and/or the effect it may have!
Ethanol and its Impact (by Martin Pagett)
Be aware that if you are unfamiliar with ethanol, and its properties, in time you will be. Having researched this substance thoroughly (and given talks on it to various motor clubs, including some sections of the VMCC and BMW Clubs), I feel reasonably competent to spell out some of the issues.
It is a chemical created from a variety of growing crops, including grain. The UK, under EU directives, are obliged to incorporate it in our petrol to an AVERAGE extent of 5%. If we were to produce the crops required to achieve this, then over 60% of our arable land would be required. Most vehicles can cope with it, though many older ones may run into difficulties. In fairness, the chemicals, which are embodied in modern fuels, are quite different from what we used 30 years or so ago, and some of these can aggravate running difficulties, including premature fuel vaporisation.
So, looking at the most pernicious chemicals, (ethanol), what it is UNSUITABLE with –
METALS – Zinc and galvanised materials; Magnesium alloys; Brass; Copper; Terne plate (lead/tin coated steel); Aluminium; Zamak,
ELASTOMERS – Viton Buna-N (seals only); Neoprene (seals only); Urethane rubber; Acrylonitrile-butadiene (ABS) hoses; Polybutene terephthalate.
POLYMERS – Polyurethane; Polythylene terephthalate (PET); Alcohol based polymers (e.g. pipe dope); polyvinylchloride (PVC); Nylon 6 & 66; Nitrile rubber (NBR)(Buna-N) with low acrylonitrile content (hoses, seals, grommets); Glassfibre-reinforced polyester and epoxy resins; Shellac.
OTHERS – Cork; Natural rubber; Petseal tank sealant.
This information is from the Department for Transport 1 and the FBHVC 2
Further "qualities" are that petrol with ethanol in it is an effective paint stripper – it destroyed my petrol tank and I saw a K1100RS following a re-spray have the paint change colour with just a quick petrol overspill at the filler despite an instant mop up. It is also hygroscopic meaning that it extracts moisture from the atmosphere. I saw the effect of that when I laid up one of my bikes last Autumn and overlooked topping the tank up over the winter to full (always either completely drain your tank or fill it completely when leaving your bike or car unused for more than a month or so). It would not start this Spring, and I drained an eggcup of water from the float chamber and tank. The petrol was unfit for further use either (so what do you do with that…..?)
Now be aware that the EU directive expects the ethanol content to increase to 10% before long. If you travel in France, you will see this on offer at the fuel stations with a price reduction of a few cents. Do not be encouraged to use it. Of interest, Germany is at the forefront of encouraging the purchase of 10% fuel. They have found that more motorists than they expected are avoiding this – including their Police Forces!!
So what can you do? The first thing is to coat your petrol tanks with an approved product. I used Frost 3 because they source most of what they sell from the USA, which has been suffering the problems longer than us, so it is presumed that products from the USA are likely to be the most appropriate. Next, use a product, which is designed to prolong the life of fuel for a year or more – if you intend not using it for some time. I find I can go 2 years before I have to use it up. Finally, to counteract the hygroscopic aspects, I add StarTron 4 available from many ships chandlers (try Force 4 Chandlery- 0845 1300 710 5). It is the cheapest per gallon compared to others, and comes from the USA. There are other products claiming the same protection – you take your choice. I am only stating what I use, and not otherwise recommending them.
Finally, is there any petrol that excludes ethanol? Unfortunately, that varies dependent on where you live and whether there is a processing plant nearby. It is particularly difficult to avoid the stuff if you live near Hull or in the South West, such as Devon. The companies refuse to be specific, but all 95-octane fuel contains it, and most higher-octane fuels too. However you may manage ethanol free petrol with the 97 octane grades from BP and ESSO. That is about it.
I hope I am not alarming you overly, but I have written to many motoring clubs asking that they acquaint their members of these issues, and asking that they bombard their MP's with letters objecting to it. I have had lengthy correspondence with Ministers on the same subject, but now totally exhausted I am of the opinion that one person alone cannot change the directives in place. So please learn to live with it – and hope that there is always 5% ethanol content fuel available. Or buy an electric scooter "like what" the Chinese use….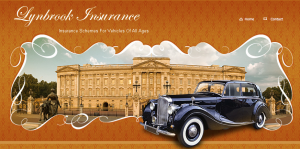 Martin E Pagett ACII, FInstSMM, CertPFS
(Director, Lynbrook Insurance Services)                     
Catering for all of your Classic Insurance  requirements:-  
                                                                                  
Lynbrook Insurance Library House New Road, Brentwood, Essex, CM14 4GD,  Tel:   0345 1304662 & 01277 206285, Email: lynbrook@ers.com
John's Motorcycle News – Supplementary Notes to the above
1. See ww.gov.uk/government/organisations/department-for-transport
2. FBHVC – This is the Federation of British Historic Vehicle Clubs www.fbhvc.co.uk they have a detailed report (available to the visiting public) within their "Fuel Information" section which includes endorsements for fuel additives for Millers Oils, Frost and Flexolite. We have included details of these Companies and their products within this article.
NB: The addition of the FBHVC logo and website details is purely to promote the good work that they do and should NOT be misinterpreted as our being members of the same.
3. This is what we (John's Motorcycle News) found online at www.frost.co.uk/por15-car-bike-motorcyle-fuel-tank-repair-sealer
POR15 Fuel Car / Bike (Motorcycle) Tank Repair Sealer (Different Sizes)
The POR-15 Petrol Tank Sealer is the finest tank sealer you will ever use and the only tank sealer you will recommend.
There are three sizes available.
4. This is what we (John's Motorcycle News) have found online about Star Tron Enzyme Fuel Treatment, at www.starbrite.com/startron
Description
Star Tron Enzyme Fuel Treatment is a multifunctional fuel additive which uses a unique enzyme technology that allows all engines to start easily and run smoothly, even when using ethanol-blended fuel or after sitting idle for months. Star Tron allows fuel to burn more completely, which results in maximum performance, fuel efficiency and reliable operation. Star Tron will stabilize fuel for up to two years, preventing the formation of gums and other solids that clog carburettors and fuel injectors. Star Tron helps prevent phase separation by dispersing water throughout fuel as submicron-sized droplets that can be safely eliminated while the engine operates. Star Tron Small Engine formula is ideal for use in all petrol engines including; boats, cars, trucks, motorcycles, small equipment as well as engines that use pre-mix fuel.
5. Force4Chandlery's new telephone number is 0345 130 0710, HOWEVER when we contacted them they could not positively confirm that the product that they currently sell WILL be suitable for Classic Cars and Bikes. We therefore contacted their supplier – Marathon Leisure (Marine wholesale Distributers) 02392 637711 who were most helpful and promised to investigate the product that would be most suitable for Classic Bikes and Cars (presumably the Star Tron product that we have identified above) with their contacts in Starbrite, Florida USA and ask them to provide additional information direct to John's Motorcycle News. We have corresponded with Star Brite over many weeks and suggest that you PLEASE READ THE STAR TRON SECTION BELOW.
We are most grateful to Martin for all of his investigations and hard work on the subject of Ethanol and for submitting this article to us for publication. We understand from Martin that Star Tron (who are very well know in the USA and UK ships chandlers), already has a proven track record but unfortunately (for whatever reasons) their products were never actually submitted to the FBHVC (of which Martin is a Corporate Member).
Although not officially recommending Star Tron (that decision is clearly up to the individual) Martin along with other VMCC (Vintage Motor Cycle Club), JDC (Jaguar Drivers Club) and MGOC (MG Owners Club) members can state that they have been using Star Tron for several years and have been happy with the results.
The FIVE ETHANOL STABILITY ADDITIVES that were endorsed by The FBHVC (Federation of British Historic Vehicle Clubs) some years ago, are as follows:-
Three Products from MILLERS OILS – VSPe POWER PLUS, VSPe and EPS  (www.millersoils.co.uk)
1) VSPe POWER PLUS (with Octane Booster) Description:-
A replacement for the popular VSP from Millers Oils. VSPe Power Plus is an all in one fuel additive for classic / historic vehicles with engines which were designed to run on 4 star leaded fuel. It has additives, which are designed to combat the 3 main problems, which occur when running older engines on unleaded fuel.
Lead Replacement – To prevent valve seat recession
Octane Booster – To raise the fuel octane number by 2 (20 points) to prevent detonation.
Ethanol Protection – To prevent rubber fuel lines from perishing through being attacked by the ethanol found in unleaded fuel.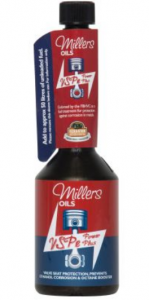 VSPe Power Plus also has additives to prevent fuel system corrosion and has an anti – carburettor-icing formula.
One 250ml bottle treats 50 litres of fuel.
The larger 500ml bottle treats up to 500 Litres of fuel.
The multi shot bottle delivers the additive in doses of 50ml, which treats 50 litres of fuel so no need for measuring jugs or guess work. (See Notes below)
2) VSPe Description:– (NB: Ceased production in March 2014)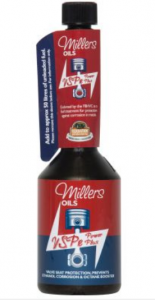 A fuel treatment providing ethanol protection and a lead replacement additive to prevent valve seat recession which can occur when using unleaded petrol. Note: – Does NOT contain any octane improver. Recommended for all classic engines previously requiring leaded fuel now running on unleaded fuel and where an octane improver is not required.
PLEASE NOTE:- This product may still be available from some sources, BUT Millers Oils tell us that this product ceased production in March 2014. IMPORTANT – See NOTES below on shelf life.
3) EPS Description:-
A fuel additive for classic/historic vehicles with engines which were designed to run on 4 star leaded fuel but have been converted to use unleaded fuel. Although your engine will be protected, most classic cars have rubber fuel lines and other rubber components in the fuel system, which can be degraded by the Ethanol present in unleaded fuel.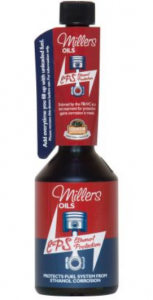 EPS combats these Ethanol effects to protect your fuel lines and any other rubber components in the fuel system. It also helps prevent corrosion on other non-rubber components in the fuel system.
One 250ml bottle treats 50 litres of fuel.
NB: Regarding Millers Oils Additives – The above products are very similarly presented and labelled with only the actual wording on the bottles differing.
Colin Beard (Millers Technical Advisor) has informed us that SUCH PRODUCTS DO HAVE A LIMITED SHELF LIFE, which not ALL stockists may be aware of ! (about 2 years), so it is perhaps wise to plan your usage and check out the date of manufacture on the neck of the bottle.
** As shown, their 250ml bottle only treats 50 Ltrs, whereas their 500ml treats 500 Ltrs, Colin informed us that this discrepancy is due to the actual concentration of the additive.
Stockists are:- Opie Oils, Demon Tweeks & Halfords.
We have been in touch with Millers Oils on several occasions and Colin Beard has been most helpful, however we have no personal experience, of using any of the above Millers Oils products.
4) ETHOMIX from FROST (www.frost.co.uk)
ETHOMIX Description:-
Ethomix additive prevents corrosion in the fuel system and internal engine components and neutralizes any acid formation. Essential for nearly all pre 1996 engines including mowers, chain saws, outboards, quads etc.
– Protects against gum and resin build-up and carbon deposits.
– Prevents clogged carburettors, injectors, filters and fuel lines.
– Quickly cleans existing gums, varnishes and carbon deposits.
– Can improve drivability, increase fuel economy, restore power and reduce exhaust
emissions.
– Compatible with 2 and 4 stroke engines.
– Stabilizes Ethanol-blended fuels.
– Bottle treats 250 litres
– Compatible with octane boosters
– Not suitable for diesels
We requested further details about Frost Restoration products and specifically enquired about the shelf life of "Ethomix", however we are still awaiting an answer; John and I have no personal experiences of using Frost Ethomix.
5) ETHANOLMATE from FLEXOLITE (www.flexolite.co.uk)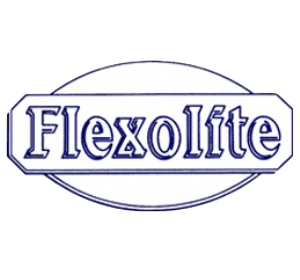 ETHANOLMATE Description :-
Ethanol treatment for your fuel tank.
Developed to counter the effects of ethanol added to fuel and reduce gum build up and acid corrosion in metal fuel line components. It cleans carburettors, filters and fuel lines of existing
deposits. Can improve driveability and increase fuel economy.
Comes in 250ml bottle, which would treat 250 litres of fuel.
We have spoken directly to Sue Wheildon at Flexolite who has been most helpful, she confirms that shelf life of "Ethanolmate" is approximately 2 years (unopened) and that the shelf life after opening would really depend upon conditions of storage.
Flexolite work with many famous Brands, including Alpha Romeo, Austin, AC (Auto Carrier) and MG (Morris Garage).
Ethanolmate can be bought direct from Flexolite sales@flexolite.co.uk Tel. 01722 712829, currently at £15.00 (May 2017), including VAT, post and packing, Flexolite strive to keep postage costs low and to combine postage for multiple items ordered, enquiries for multiple purchases are welcome.
John and I are currently using "Ethanolmate" in one bike each (of different manufacturers) to confirm its long term effectiveness, however we can currently state we know of at least one of our colleagues who has used this product in the longer term and has confirmed to us very satisfactory results.
OTHER ETHANOL STABILITY ADDITIVES (to the best of our knowledge never actually tested by FBHVC)
STAR TRON from Star Brite (as mentioned in Martins article and our notes, above)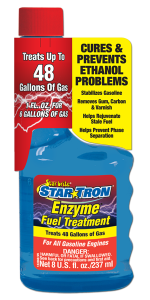 Star Brite recommend using Start Tron just before every fuel tank fill, as such they recommend an INITIAL DOSAGE of 1fl.oz* US (30ml) for every 3* gallons US (11 Ltrs), thereafter at REFILLS the dosage can be reduced to 1fl.oz* US (30ml) for every 6 gallons US (22Ltrs).
Overdosing is in NO way harmful (just more costly!).
The most readily available bottle in the UK at the moment appears to be 8fl.ozs* US (237ml) which treats 48* gallons US (181Ltrs). But don't forget that this is referring to US fluid ounces and US gallons with this product. An American gallon is somewhat less than a UK one, (0.833 of a UK gallon), so 48 gallons US in round figures is 40 gallons UK. There are still many US measured bottles being sold in the UK, but these will be phased out in time.
We have been in communication with Justin Gould (VP of Technology, Star Brite, Ft Lauderdale, USA) who has been most helpful and has furnished us with a great deal of information, including confirmation that Star Tron is the IDEAL additive for Classic Bikes and Cars and that Power Sports is the most important market for Star Tron in the US. Justin confirms that Star Tron 14308EUR is the same as 14308E (only it has more languages on the label), that overdosing is not harmful and that Star Tron readily mixes with other additives already in your tank.
Justin has confirmed that there is no defined Shelf Life for Star Tron (within reason), as it is fuel based and remains extremely stable as long as it is stored out of direct sunlight.
Justin also tells us that US measurements are being replaced in the UK market with metric (ml and Ltrs) and that the following are the formulas available in the UK. ALL use the same enzyme in different concentrations to make it easy to mix in any application from motorbikes to commercial generators and even trains (yes they actually use it in trains!).
The differing concentrations of "Star Tron" are easily identified by the distinctive colour of their bottle caps, these are RED (small engine), BLUE (super concentrated) and WHITE (concentrated).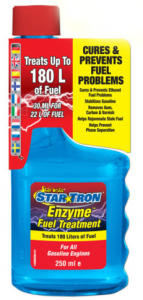 Small Engine Formula (143 – RED CAP)
Product Code 14301 is a handy 30ml "Shooter" bottle that treats 22Ltrs, (5.8 UK gallons) an ideal carrying size for motorbikes with no mess.
Product Code 14308 is a 250ml bottle that treats 180 Litres (39.6 UK gallons) of fuel.
Super Concentrated Formula (145 – BLUE CAP)
Product Code 14501 is a handy 30ml "Shooter" bottle that treats 90Ltrs (19.8 UK gallons)
Concentrated Formula (930 – WHITE CAP) – for larger applications, backroom mechanics and marine applications (the larger 500ml size has NOT been included within the Tabulated Summary further into this article)
Product Code 93008 is a 250ml bottle that treats 500Ltrs (110 UK gallons), which replaces the 237ml bottle illustrated, that treats 484Ltrs (128 US gallons as illustrated) equivalent to 106.5 UK gallons.
Product Code 93016 is a larger 500ml bottle that treats 1,000Ltrs (220 UK gallons), which replaces the 473ml bottle, that treats 969Ltrs (256 US gallons) equivalent to 213 UK gallons.
Star Brite has been making automotive and marine appearance chemicals, fuel additives and oils since 1973, which you can check out at www.starbrite.com/sample-en/company-history (as well as the Star Brite Cheerleaders!).
This product is available in several sizes in the US, but a lot of UK suppliers currently still market the 8fl.oz (237ml) bottle. Star Tron also provide fuel additives for DIESEL engines & Marine applications.
If you are looking for product reviews/recommendations, Amazon.com (US) have the most customer reviews, which can be viewed at www.amazon.com/Star-Tron-Enzyme-Fuel-Treatment/dp/B00D3IEIY0 further product information can be found at http://mystarbrite.com/public/pdf/startron_europe/ENGLISH-LIT022EURV1.pdf and https://www.youtube.com/watch?v=wxA9ZzihnSw
Martin has used Star Tron along with other VMCC (Vintage Motor Cycle Club), JDC (Jaguar Drivers Club) and MGOC (MG Owners Club) members for several years now and they have been happy with the results.
John and I are allocating several bikes each (of different manufacturers) to specifically treat with Star Tron to confirm its long term effectiveness, however we can currently state, with confidence, that we know of many of our colleagues who have used this product in the longer term and have confirmed to us satisfactory results.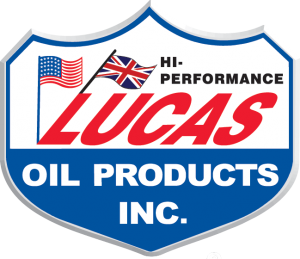 SAFEGUARD™ from LUCAS OIL PRODUCTS (www.lucasoil.co.uk )
 Description:-
Lucas Safeguard™ Ethanol Fuel Conditioner and Stabiliser was developed to specifically address issues associated with using ethanol based fuels. This applies to E-10, E-15, E-85, pure ethanol and any mixtures in between, including gasoline.
This product is completely soluble in all ethanol fuels and will NOT harm filters. It contains effective additives to prevent rust and corrosion associated with the use of ethanol fuels.
Safeguard™ cleans injectors, valve seats, combustion chambers and other critical fuel components. It contains effective oxidation inhibitors to stabalise fuel and prevent varnish and gum formation in ethanol and gasoline. It works to combat deposits and protects your engine oil lubricants from the harmful effects of alcohol combustion.
Safeguard™ is recommended for use in automobiles and marine applications, the 16fl.oz* US (473ml) bottle treats up to 80* Gallons US (66.6 UK Gallons) or 302 Litres.
We are told by the manufacturers that the shelf life of this additive is approximatley 5 years.
Additional Information direct from Lucas Oil
Lucas Oil UK has been kind enough to send us some additional information which is reproduced below:-
Ethanol Buster for Inside Protection
 An increasing number of garages are reporting issues as a result of ethanol damage to fuel systems in cars and motorcycles. Lucas Oil is mounting an awareness campaign to help mechanics and car owners appreciate the potential for damage.
"Ethanol is increasingly added to petrol as part of the battle against emissions. It's seen as an increasingly vital fuel additive because it improves the flow and the burn," says managing director Les Downey. "Although ethanol helps to reduce exhaust emissions, one important side effect is the devastating impact on certain types of fuel hoses. It aggressively corrodes the hose material." Consequently, hoses appear to perish from the inside out.
Lucas Oil Safeguard Ethanol Fuel Conditioner is one of the few additives available that can combat the problems.
"It is already a major selling item in the classic car market, where there is a tradition of laying the vehicle up for the winter, but regular use is essential to control the problem. We are also keen to get the message across to owners of classic motorcycles, too," he adds.
Lucas Oil's Solution to Ethanol Issues
US supplier Lucas Oil is providing workshops and motorcyclists with a defence for motorcycle engines against damaged caused by ethanol, which is increasingly added to fuel.
"The American Motorcycle Association has already shown that the US Environmental Protection Agency had acknowledged the adverse affects of ethanol on motorcycle engines over the long term," says Les Downey, managing director of US supplier Lucas Oil Products (UK). "Unchecked, ethanol damages components such as fuel hoses and filters from the inside."
Ethanol also absorbs moisture from the air, leading to a build up of water in the fuel tank.
Safeguard Ethanol Fuel Conditioner, from Lucas Oil, counteracts the affects of ethanol. Added to the tank, it protects fuel hoses and filters, while cleaning injectors, valve seats, combustion chambers and other critical fuel components. It prevents varnish and gum formation, too.
Regular treatment neutralises the problem.
SAFEGUARD™ IS NOT RECOMMENDED FOR DIESELS APPLICATIONS.
John and I are currently treating some of our own bikes with Lucas Safeguard™ and as this is one of the products that several of our colleagues have used in the long term, reporting satisfactory results, we feel that we can confidentally endorse its long term effectiveness.
Disclaimer:-
The above are a small sample of Ethanol Fuel Treatment products on the market and everyone is advised to seek their own suitable additive. We have produced the above table from information readily available on the Internet (and also where we have received it direct from the manufacturers/suppliers).
We present it for guidance only, compiled to the best of our abilities. We accept no responsibility for any inaccuracies and suggest that everyone make their own mind up as to the product most suitable for their needs. Product prices are purely for guidance only and prices were taken as snapshot off the Internet from various UK sites, the likes of Amazon, Ebay, Opie Oils and/or the manufacturers websites (as of May 2017) all prices shown take into account VAT and delivery.
Handy Tip
Most additives have measures available on the bottle, but it is not always convenient to carry a 16fl oz (473ml) or 250ml bottle on your journeys.
We have used small screw top plastic bottles available from our local pharmacy, which can be a good source of suitable pocket/tool bag size containers (you can also order them off the Internet). All you need to do is work out the amount of additive (ml) required for your tank against the capacity of the bottle, its not rocket science, the amounts aren't critical and overdosing doesn't appear to do any harm.
So providing you keep adding these products to your fuel you should experience a lot less problems than those of your colleagues who don't use them!
Small plastic bottles from your pharmacy usually come with capacities of 35ml, 50ml and 70ml, which are ideal sizes for carrying with you and can serve to accommodate several tank fills, we have found the "child proof" tops the best. Beware of some of the smaller sized bottles as they can have much narrower necks and, hence can be are more difficult to decant.
If you don't wish to carry a larger bottle or decant into smaller bottles, then you may wish to use Star Brite's, Star Tron fuel additive which can be purchased in small, handy 30ml "shooter" bottles, which are also offered at two different levels of concentration.
To treat a 3.5 Gallon (16 Ltrs) motorcycle Tank at the average additive rate of 1.0 to 1.6ml per Litre (depending upon the product) works out at 16ml to 26ml per FULL tank, once the Additive of your choice is in your fuel system it shouldn't be too hard to calculate how much of the 35ml, 50ml or 75ml bottle you need to pour in when topping up.
To be honest, although we have published exact recommended doses in ml, in our own humble opinion we feel that if you just keep adding an "estimated" quantity of your own particular chosen additive to your fuel on a regular basis, you should experience far less problems than those riders who don't.
IN SUMMARY REGARDING ETHANOL IN YOUR FUEL SYSTEMS
Basically, to do nothing at all with your valuable Classic machines is probably asking for trouble, as from the evidence provided it is clear that the fuel that we are being sold nowadays in the UK (unlike that of some years ago) over a period of time can easily go "stale", degrade fuel tanks and fuel lines and clog up carburettors.
It is anticipated that the fuel sold to the public in the UK will contain higher quantities of Ethanol as time goes by, which (from all of the research carried out) unless used in a car/bike specifically designed to cope with it, can inevitably cause trouble to many fuel systems, at great expense to any owner of a Classic machine.
Much has been written and debated on this subject (with many articles appearing in publications and magazines, like that of the VMCC Journal etc). It certainly appears that far less is known by the public in the UK about Ethanol than the public in the US, where argument is rife about the effects not only on engines, but also on the effect on the worlds food supplies.
At least people are being made aware of the problems and, unlike in the UK the American gas stations do at least draw your attention to the differences in the fuels and their Ethanol content, as can be seen
from a couple of the pictures on this page.
Iain Houghton has written about his own personal experiences and his investigations into the effects of Ethanol with fuel tank linings and he has kindly sent us his own personal findings, which we have published below.
(NB: I have since informed Iain that Lucas Safeguard is readily available). The Briggs and Stratton "Fuel Fit" additive that Iain mentions, seems to be predominantly used in the area of garden machinery, petrol mowers, trimmers etc. but may very well be another alternative additive to be considered.
One of the things that concern us with our investigations and our findings is the information about "shelf life", which we were blissfully unaware of beforehand. Also the fact that the majority of these products (except Millers Oils) do not appear to have a manufacture and/or use by date stamped on the bottles, so there is no real way of
knowing how long the products have been sitting in the warehouse and/or the retailers when you buy them.
For this reason given the usage and low mileage that most Classic machines encounter it is probably wise to only buy quantities that you envisage using within the anticipated shelf life of your chosen product.
Looking into the effects of modern Ethanol fuel has been a learning curve for us as well and although we are not offering specific advice, we do hope that this article will go a little way to helping you understand the effects that the Ethanol content in fuel may have on your Classic machines and the steps and the products available that you can use to try and combat these harmful effects.
During the course of researching and writing this article we learned something new and important ourselves.
Apart from the potential "shelf life"   limitations (of some products), we, like many of our colleagues, had been treating these Ethanol additives as something that you added to your tank at the end of the riding season to bikes that were going to be laid up over winter, but we are now convinced that regular treatment is most certainly the best approach!
Where possible if you can, consider the application of fuel tank liners (a subject that is touched upon in Iain Houghton's article) and seek out replacement "Ethanol proof"  fuel hoses, floats and float valves for your bikes, as these will obviously also help in the fight against Ethanol.
We do, however, wonder when the general public in the UK will be seeing warnings about Ethanol in fuel and/or informative notices on the fuel pumps?
Iain Houghton has very kindly allowed us to reproduce details of his own personal experience and problems that he has encountered since the introduction of Ethanol within fuel in the UK. His findings make interesting reading, see below:-
Michael W George (& John Abram)  
ETHANOL RESISTANT TANK LINERS

(submitted by Iain Houghton)
Like many classic vehicle owners I have encountered a number of problems since the introduction of 5% ethanol in petrol at the forecourt in 2010.
The first item to suffer the affects of ethanol attack was the fiberglass petrol tank fitted to my 1965 Royal Enfield 250. The petrol tank was lined with Petseal in 1998 and had been in regular use since then with no problems.
In September 2010 I noticed a paint/glue like smell when I went to check up on the Royal Enfield, I opened the filler cap on the petrol tank to discover the Petseal liner had come away in big pieces.
I was informed this was due to ethanol attacking the materials used in the make up of the Petseal tank liner.
What to do next?
After doing a bit of digging on the Internet I found 3 products for lining petrol tanks that were ethanol resistant.
Caswell GT 1750: tested up to 20% Ethanol resistance and suitable for Fiberglass Petrol Tanks.
Slosh: Tested up to 30% Ethanol reisistance and suitable for Steel Petrol Tanks.
Sureseal: 100% Ethanol resistance and suitable for Fibreglass and Steel Petrol Tanks
The Caswell product was used to line the fiberglass petrol tank on my Royal Enfield in April 2011 and lasted till September 2014, sadly the seams on the petrol tank had swelled due to the effects of ethanol once again. My only option was to scrap the fiberglass tank and get an Alloy petrol tank made to order, at a cost of £1053 incl. painting and transfers.
The Slosh product was used in my BSA Bantam steel tank and has given no problems since being lined in April 2011.
The Sureseal product was used in April 2011 to line the Francis Barnett steel tank, but sadly failed after 6 weeks use!
I relined the Francis Barnett steel tank with Slosh in June 2011 and it has been fine to date.
Out of the 3 products used the Slosh tank liner was the easiest to use, it did not require pre mixing or an external heat source to set and to date (May 2017) both steel petrol tanks are still OK.
The only other things I had to do to combat the effects of ethanol was to replace the floats and float needles in the Amal carbs fitted to each of these motorcycles with ethanol proof ones.
However a new petrol tap on the Enfield tank failed after 4 weeks use, it was replaced free of charge with a ethanol proof one courtesy of Hitchcocks Motorcycles who supplied the new Alloy petrol tank.
I have also used Ethanol Stabilizer products to counter the effects ethanol when my motorcycles are laid up in the winter months, the products used are:
Millers VSP, FBHV endorsed.
Lucas (USA) oils Safeguard (no longer available).
(NB: We have since informed Iain that Lucas Safeguard is readily available).
Briggs & Stratton Fuel Fit (used to replace the Lucas product).
These 3 products have helped to keep the effects of ethanol at bay to date.
To Sum Up:
I hope the above is useful to other Classic Vehicle owners.
Sadly we are paying a lot of money for the second rate product that is now sold as petrol in the UK.
Cheers
Iain Houghton