BBC Radio Lancashire, News & Outside Broadcasts
Our association with BBC Radio Lancashire began back in 2012 when we first met radio presenter John Gillmore, (better known to his listeners as "Gilly"). We met at the Southport Flower Show (see our separate article in "Events and Shows", here) when John had organised our North West VMCC section's display of classic motorcycles, and when Gilly was conducting live interviews of the various displays for his BBC Radio Lancashire programme.
Gilly was somewhat surprised to find classic motorcycles within the flora and garden displays, but more so, he was impre ssed with the organisation of the display and the range of classic bikes presented to the visitors. He interviewed several of us at the time, but mainly, John Abram, (as the chief instigator of the display). This was a whole new experience for us, but something that John, in particular, has since taken to "like a duck to water"
Although also interviewed by Radio Merseyside we struck up a good rapport with Gilly and his crew which has continued since and thus we have remained good friends. Indeed, it was so successful that Gilly and his faithful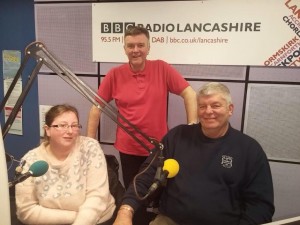 crew (Garry) were back again for the show the following year, when the North West VMCC excelled ourselves with additional floral displays around another wonderful collection of classic motorcycles.
It was during this 2013 show that Gilly asked John if he would like to travel over to the BBC Radio Lancs studio in Blackburn to be on his afternoon show to talk about vintage and classic motorcycles. A date was agreed and, in consideration of the fact that the interviews go out "on air – live, with no room for mistakes" (as once said you can't take anything back!), it was with a degree of trepidation that the first of many successful broadcasts began.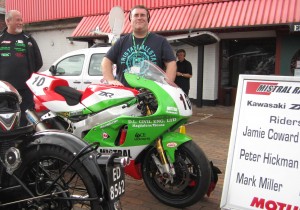 We have had several funny moments on air, one of which comes to mind is when Gilly was asking John what sort of age can you keep riding to and his reply was " as long as you can keep getting your leg over (with a pause)… the bike!" Gilly's face was a picture because he knew by the smile on Johns face the sort of answer he would give! John has taken several "guest speakers" along to join him, including  myself, and other VMCC members, Roland Ashworth and Christine Wright. Roland and John actually rode over on their Norton Commando's and Gilly interviewed them outside to provide his listeners with live sounds of these wonderful machines and Christine provided Gilly's listeners with an interesting insight into bike riding from a woman's point of view.
In addition to our broadcasting slots we have also arranged outside broadcasts where Gilly and Garry have had great fun interviewing bikers and recording some wonderful sounds for their listeners. There will, obviously, be more to come from us and BBC Radio Lancs team as we have several more outside broadcasts and interviews planned for the year ahead. We are therefore very pleased to be able to promote and include Gilly's great show and to be able to include BBC Radio Lancs within our "Friends of JMN" section.
Why not tune in to BBC Radio Lancs and have a listen to Gilly's show on DAB or 95.5 & 103.9FM?
Contact details are: –
BBC Radio Lancashire, 20-26 Darwen Street, Blackburn, Lancashire, BB2 2EA
Tel. 01254 583583
Email: radiolancashire@bbc.co.uk
Website: www.bbc.co.uk (/radiolancashire)
J M N