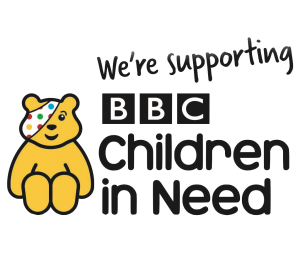 Our good friends from BBC Radio Lancashire recently helped raise a tremendous amount of money for Children in Need. Presenters Graham Liver and John (Gilly) Gillmore pedaled over 100 miles in a week in their PudseyMobile , which was described by Gilly as "one of those bikes that a family would hire from a holiday camp, and hard work to ride".
The lads started the challenge on the morning of Friday 10th November 2017 in Lancaster riding across the County with Pudsey, visiting schools and businesses on the way and finished on Friday 17th November at the famous Blackpool Tower.
The route took them from Lancaster to Morecombe, Kirkham, Preston, Leyland, Chorley, Blackburn, Accrington, Burnley, Brierfield, Nelson, Colne, Padiham, Whalley, Clitheroe, Lytham St. Annes, Blackpool, Cleveleys, Fleetwood and finally to Blackpool Tower. Gilly told us that the ride had taken him to places that he had never been to before and that one of the real highlights for him was actually riding the PudseyMobile  through a ford in Burnley, though thankfully it was not too deep!
Graham Liver said that this year he had enlisted the help of one of Britain's most athletic radio presenters and that he just hoped that Gilly's military-style training
regime wouldn't be too much for him!"
Gilly said that over the years he had done some ridiculous things for charity but being on the PudseyMobile  was possibly the strangest yet.
Gilly commented that "as well as setting a world record for BBC Children in Need, I've long supported Graham's many challenges and I enjoyed teaming up with him and raising as much money as possible for such a great cause".
BBC Children in Need's Chief Executive, Simon Antrobus said: "BBC Children in Need is currently supporting 43 projects across Lancashire, to the value of £3.2million, which are helping to change the lives of disadvantaged children and young people right across the county.
"BBC Radio Lancashire always find creative ways of raising money, and it's great to see that this year is no different! The money that they raise will go on to make a real difference to young lives."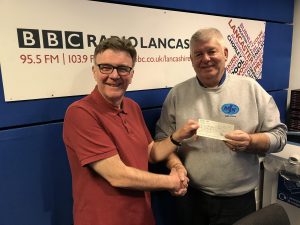 John's Motorcycle News is pleased to have had a long and successful association with BBC Radio Lancashire, an association that has been extremely beneficial to both parties.
John and I have worked together with Gilly and his producer Garry on many an occasion to highlight events, shows and places of interest, as well as raising funds for many good causes on the way.
We have supported many Charities and good causes over many years ourselves (as you can see from our "Charity Work"  section) and so it was with great pleasure that we were happy to make a donation towards Children in Need recently via Gilly, during one of his regular afternoon broadcasts (in which John often makes a guest appearance to talk about all things motorcycle related).
Our cheque was presented by John to Gilly in BBC Radio Lancashire's studio, during the programme to add to the total raised by the valiant efforts of Graham, Gilly and all at BBC Radio Lancashire. At the time of writing we think that the figure raised so far was well in excess of £40,000, but there were funds still coming in, so the total figure is likely to be somewhat higher!
Well done Graham & Gilly, indeed well done to all at BBC Radio Lancashire.
I'm also pretty sure that if there had been a second PudseyMobile  available our John would have, no doubt, offered to ride alongside the lads (but I think that it would have had to have had an engine) !
Why not tune in to BBC Radio Lancs and have a listen to Gilly's show on DAB or 95.5 & 103.9FM?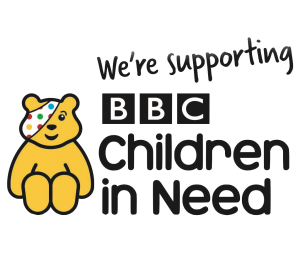 Contact details are: –
BBC Radio Lancashire,
20-26 Darwen Street,
Blackburn,
Lancashire,
BB2 2EA

Tel. 01254 583583
Email:      radiolancashire@bbc.co.uk
Website: www.bbc.co.uk (/radiolancashire)
We would all like to say a great big "thank you" to everyone who supported Graham, Gilly and all at BBC Radio Lancashire in their fund raising efforts for "Children in Need".
Ride Safe
Michael W George (& John Abram)