Vapour Blasting, Ultrasonic Cleaning & Aluminium Fin Repairs
Vapour Blasting is an ideal process for restoring the finish on aluminium parts such as cylinder heads, crankcases and wheel hubs.
Ultrasonic Cleaning is a non-abrasive method of removing dirt and old fuel residue that can block the internals of a carburettor.
Aluminium Fin Repairs can, quite simply, transform the look of a bike whose head or barrels have broken fins as a result of a spill or a heavy-handed enthusiast and restore the correct airflow and cooling.
A combination of the above three methods can serve to be a critical part of motorcycles restoration and can greatly enhance the
performance and the look of a restored motorcycle. CRC Restoration Services are based in Rainford, Merseyside and can offer these wide ranges of services to aid the motorcycle restorer.
Their services include Vapour Blasting, Ultrasonic Cleaning, Carburettor Refurbishment, Aluminium and Stainless Steel TIG welding, Brake Caliper and Master Cylinder rebuilds.
We have used Ian's services at CRC on more than one occasion to refurbish crankcases and engine parts and also to clean carburettors and have been very pleased with the results, some of which are shown in the photos. Ian at CRC can also carry out full or part restorations of Japanese motorcycles as well as the restoration services already mentioned, he prides himself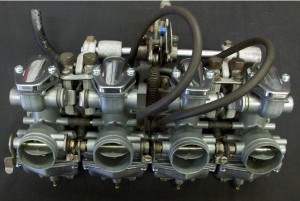 in producing quality work with a quick turnaround at very competitive prices.
Here are a few more examples of "before" and "after" photographs of motorcycle engine heads on the left and fire-damaged carbs from a Honda CB550 on the right, all of which have been truly transformed by CRC's services.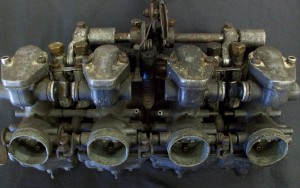 Ian also specialises in aluminium fin repairs, as can also be seen in the photo below.
We trust that this will provide an insight as to what can be achieved within motorcycle restorations and recommend that you give Ian a call at CRC Restoration Services.
Contact Details:-
CRC Restoration Services
Unit 2, Enterprise Business Park, Sandwash Close,
Rainford, St. Helens, Merseyside, WA11 8LY
Tel:     01744 883451
Email: ian.crc@hotmail.co.uk
Web:  www.crcrestorations.co.uk
 Michael W George