Ken Fox's"Wall of Death"
The majority of our visitors will have no doubt heard of the "Wall of Death" and the incredible riders who make something so very hard look so very easy.
The Fox family has been touring the country and entertaining in one way or another since the 1920's and their Wall of Death is now a regular attraction at many shows, including Mortons Stafford Bike Shows.
During our visit to the show in October 2016 we had the opportunity of meeting the Wall of Death's owner, Ken Fox and his family.
The Wall of Death originally started life in Skegness, thanks to two great showmen, Billy Butlin and Pat Collins, but went into decline with the advent of War. Ken wanted to encourage its popularity and so he learned to ride the wall with Crispey's Wall of Death in Skegness before building his own wall in 1995.
It was actually built in a massive shipyard (Cammell Lairds) in New Brighton and this mammoth task was completed within just 20 weeks. After being built up for trials in New Brighton the Wall made its first official travelling debut at the 1995 Rempstone Steam Rally, the rest is just history.
Ken was instrumental in coaching Guy Martin in his famous 2016 ride around a specially built wall of death reputed to be the largest in the world. You can read more about this within our separate article, "Guys Wall of Death".
If you have experienced the Wall of Death first hand as a spectator, viewing it from the top of its rim, then you are very unlikely to ever forget it. The wall is made of Oregon pine; it is 32 foot in diameter and 20 foot high. The noise, speed, smell and the very proximity of the bikes ridden to the top of the wall, often within 6 inches of the audience, is something never to be forgotten.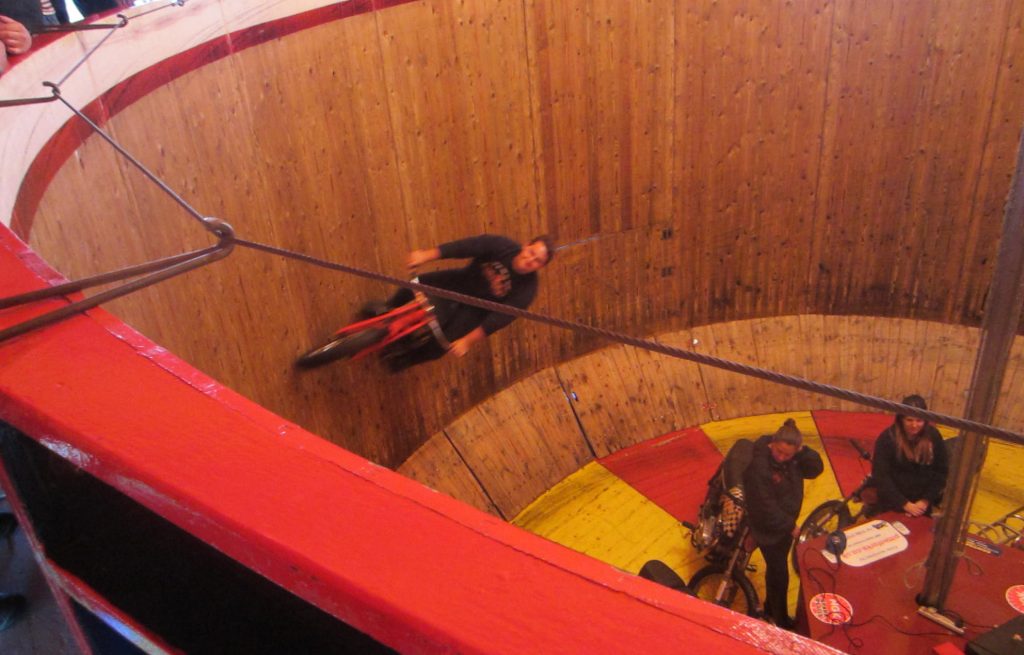 We have watched Ken's shows within the wall of death several times in the past and been truly amazed at the skills of these fearless riders.
In October 2016 we had "Gilly" (John Gilmore) of BBC Radio Lancashire presenting his live afternoon show from the Stafford County showground during the Stafford Motorcycle Mechanics Show. Gilly had taken the opportunity to record an interview with Ken earlier on in the day with the hope of recording the incredible sounds of the open piped bikes racing around inside the huge wooden drum sometime later.
The afternoon was extremely busy with the live interviews that we had arranged, but Garry (Radio Lancs Producer) and I managed to sneak away for a private display that Ken had arranged to enable us to record these wonderful sounds. One of Ken's sons, Alex simply jumped on an Indian motorcycle and shot around the wall, reaching the top in no time at all, he then repeated this wonderful display one of the Hondas and boy oh boy, I have never heard (the usually quiet)Honda sound as good as that!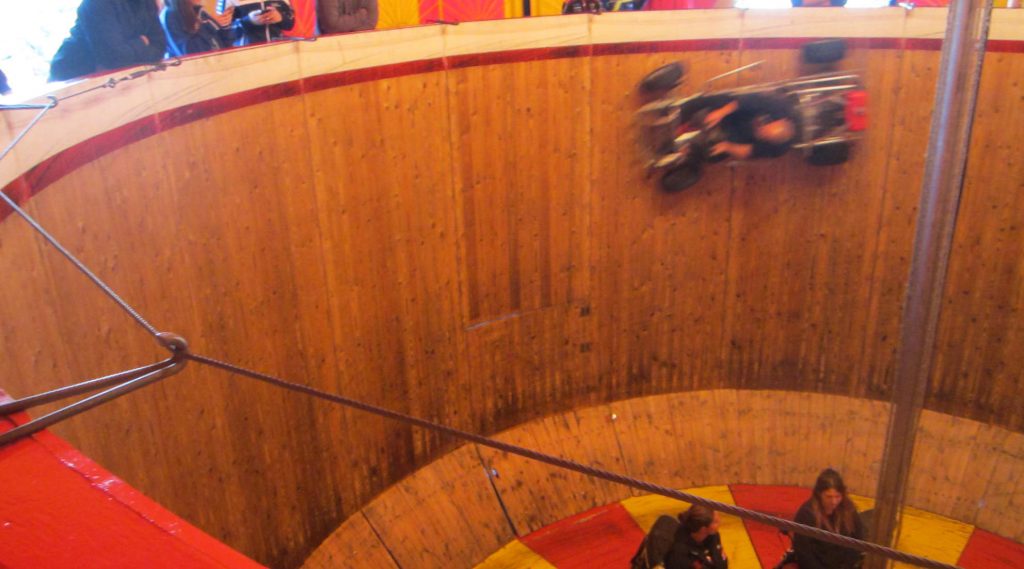 Alex just made it look so incredibly easy as he headed towards us at the top of the rim and proceeded to ride back up and down in complete control, at one stage even letting go of the handlebars! The sound was truly unbelievable, Garry was absolutely blown away and couldn't believe what he had just seen and experienced.
Garry videoed the runs with the intention of using the sound tracks to compliment Gilly's earlier interview with Ken to further delight BBC Radio Lancashire's listeners.
Quite honestly, Garry just couldn't stop talking about it, all the way back to the Satellite van, he was still in awe of what he had seen even up until the point when he and Gilly where leaving the show to drive home. He kept saying things like "did I really see that?" and asking,"what have I just seen?"
Talk about leaving an impression, as Kens says "its really is something that you never forget"!
Kens son, Alex, had toldus earlier that this huge wooden structure, weighs about 17 tons is transported from one venue to the next, it can take about 1½ to 2 days to build if the structure is located externally, however somewhat less than this if they don't have wind and rain to worry about.
Dismantling is a lot faster and the structure can be taken down in a matter of hours. They actually now have two Wall of Death outfits going around the country, with Kens eldest son, Luke managing the other.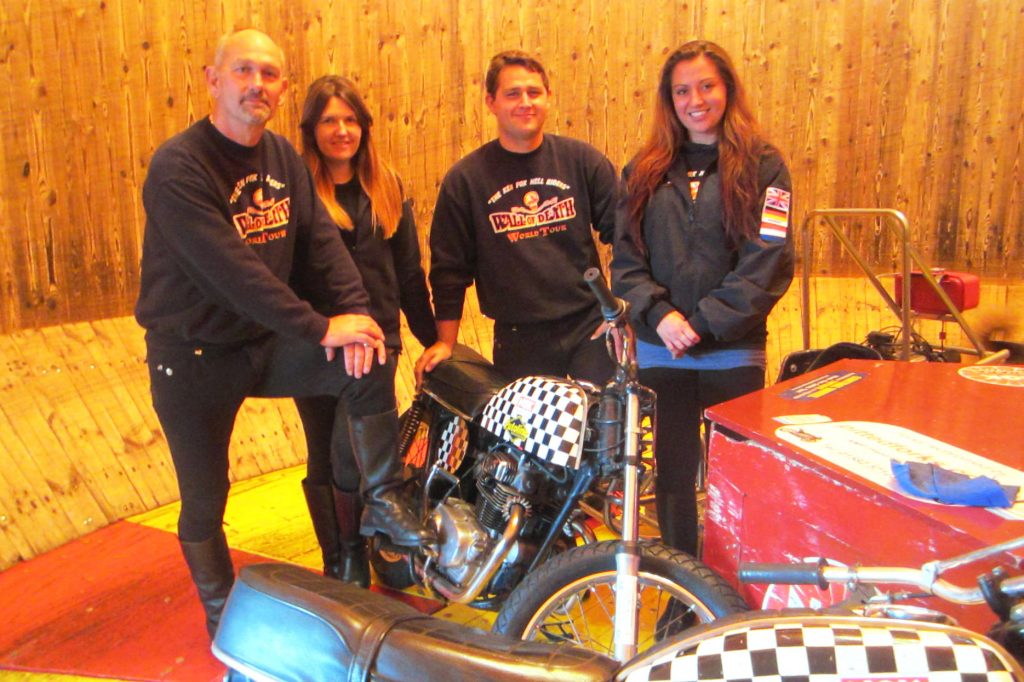 Alex told us that the bikes that they use are 1920's Indian Scouts, usually about 3 bikes per Wall and 2 for spares. They also use mid 1970's Hondas and even, quite unbelievably, have a go-cart that they ride around the Wall in, as well.
Unfortunately poor Garry was not around the next day to see all of this during the full show, which was really fantastic. Alex's riding was tremendous, then the girls, Abi and Jaimi gave a fabulous performance, riding on two bikes at the same time and after that Ken rode the go-cart right up to the rim, which was really a sight to be seen.
John and I were also afforded the opportunity to enter the Wall and try one of the Indian bikes out for size (purely stationary of course), although I did suggest that John might like to sit on Ken's handlebars as he rode around the Wall, but strangely enough, both declined!Sorry Garry, we know you would have loved such an opportunity – you'll just have to drool!
Incidentally, Kens asks that if you do have any Indian motorcycle spares lying around in your shed or garage that are surplus to requirements, that he and the family will be very pleased to hear from you.
One of the more unusual things that we heard from Ken was confirmation that a couple had actually requested to be married within the Wall of Death!
So, if you are that couple and are out there reading this – please do send us a photo!
Ken, Julie and the family are really genuine nice people and we must thank them for their valuable time. They have a truly tremendous show that is great value for money and one not to be missed. We are very pleased to be associated with them and welcome them as "Friends of John's Motorcycle News"
To find out more about this tremendous spectacle and/or if you have an upcoming event that may benefit from such a great attraction, please visit their website, follow them on Facebook or contact Ken and his family.
Contact
Tel.    07970 674824
Email: kenfoxtroupe@aol.com
Web: www.wallofdeath.info/home
Facebook www.facebook.com/originalwallofdeath/
Michael W George (& John Abram)