1st March 2015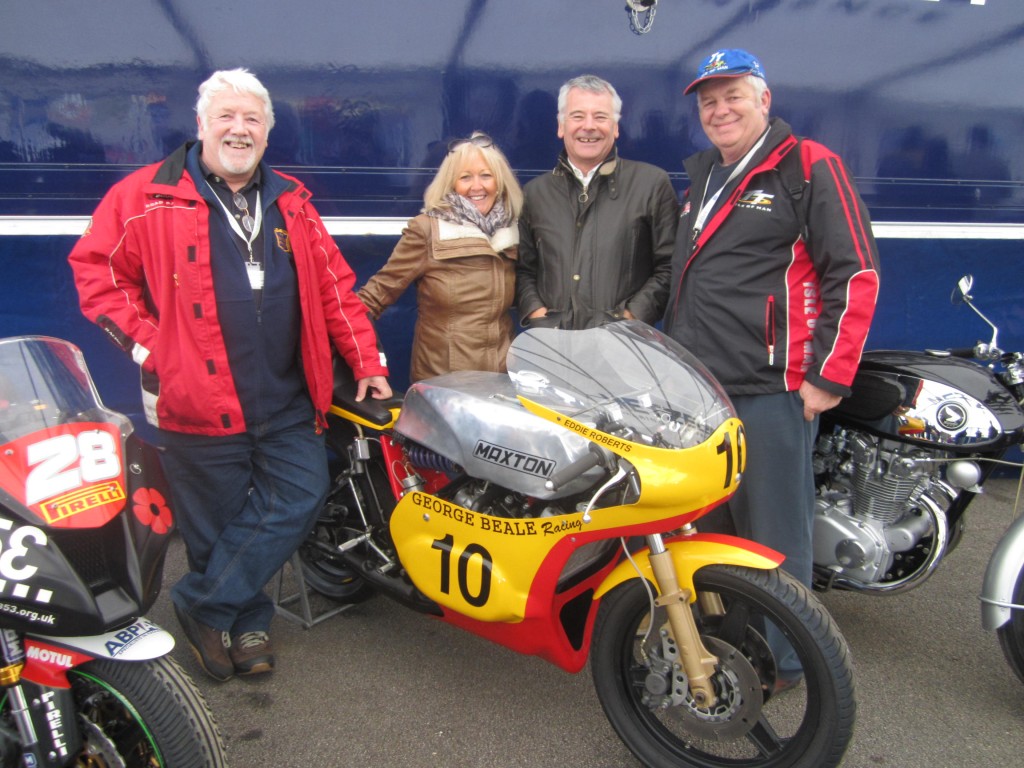 After a successful Mallory Bike Bonanza in 2014 Michael & John were invited back to the 2015 Mallory Park Race Circuits' Open Day by their friends in the Real Motorsport team and despite the inclement cold and windy weather, met up again with some great and enthusiastic people, all of whom are looking forward to the next Mallory Park Bike Bonanza, a superb long weekend motorcycle event scheduled for 10th to 12th July 2015.
There were some fabulous vehicles and motorcycles on display, along with a plethora of traders and exhibitors, once again supporting several worthwhile charities and good causes.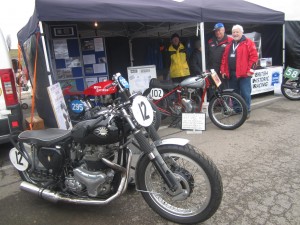 Eddie Roberts had brought along some of his own excellent machines, including a stunning, prize winning 1960 Honda "black bomber" seen in the background of this photo taken of Michael and John with Cindy, Eddie and his bikes.
BHR (British Historic Racing) were also there for the open day with a Royal Enfield that they offer a test ride on. For those of you who don't know BHR is an integral part of the VMCC that holds Road Race meetings across the country for VMCC members and invited clubs. They were scheduled to be at Mallory on 27th March and 11-12th April.
To learn more about this exciting part of the VMCC why not visit britishhistoricracing.co.uk and find out about their other forthcoming events and their Japanese machine eligibility.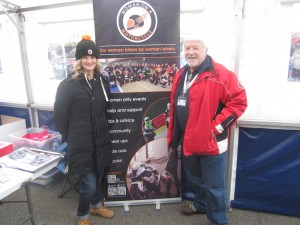 One of the other famous names that we met at Mallory during the open day was Maria Costello MBE. She is a lovely down to earth young lady who is doing so much for other like-minded ladies who have a shared interest in motorcycles and Maria has been absolutely outstanding in the world of motorcycle racing. If I were to list all of her achievements it could take up a whole journal (hence the reason she was awarded an MBE).
Suffice to say that I would strongly recommend that to learn more, you visit Maria's website at costelloracing.com and perhaps have the pleasure of meeting her in person, yourself, at some time in the future.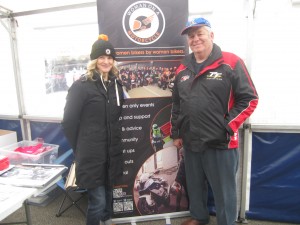 All in all, a great Open day and another great Bike Bonanza to look forward to at Mallory Park Race Circuit, so get your diaries out and pencil in the Mallory Bike Bonanza for 10-12th July 2015.
John McGuiness will headline this year's event with a host of other racing legends, details of which can be found in our separate article about the 2015 Bonanza.
For more information and/or to book yourself a place at this or other Mallory Racing Circuit events please visit malloryparkcircuit.com/events/
Tel: 01455 502214
email: natalie@realmotorsport.co.uk
Michael W George (& John Abram)