With a name like "John's Motorcycle News"  we obviously have a lot of articles about motorcycles, but we haven't forgotten the many lads and lasses that ride around on scooters. Indeed, I actually learned to ride on a gravel track at the back of the Albany Cinema, on my mates Vespa 90!
Years before that in the 1950's a maroon hand-painted Vespa 90 was our families only means of transport (apart from a red Ribble  or green Corpy  bus) and there was many a Saturday that I would be found riding pillion, hanging onto my Dads mackintosh belt in my shorts and school cap, whilst my Dad somehow managed to actually ride wearing a trilby! Neither of us ever dreamed of wearing a crash helmet, speeds were much slower and traffic much lighter and helmets were seldom seen, nor required (until 1973), nor were they affordable!
So, when we were recently approached by a budding author, who asked if we could publish an article that he had written about Piaggio, we thought – well why not. The author is Matt Daysh, part of the Marketing Team of RideTo  www.rideto.com  a relatively new venture set up to help newcomers and those that want to get back on two wheels, currently they are based in London but with aspirations to spread nationwide, we wish the lads every success.
Anyway, although not exactly sure about the "world domination"  bit (forgive us Matt but it does sound a bit James Bondish!) here is Matt's article with a little bit of our own personal touch thrown in.
Piaggio Vespa – From humble beginnings to world domination (by Matt Daysh).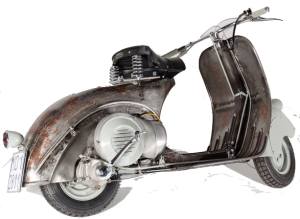 The scooter world was left stunned on 25th March 2017 as one of the first of Piaggio's Vespa's ever made, sold at auction for almost £160,000! This topped off an immense era for the company, as 2016 also marked the 70th anniversary of Italy's most beloved scooter.
 From humble beginnings in a country torn apart by war, to the single largest manufacturer of two wheeled vehicles; the recent sale of one of the first hand made Vespa's puts a full stop on a crazy chapter for Piaggio Vespa. Here at RideTo we're quite the fans of this unique Italian scooter, so here's our short homage to it's journey so far..
Piaggio has managed to establish itself as one of the most famous and beloved scooters in the world. It's not just a symbol of Italy but also of Asia and Europe. But perhaps more importantly, a symbol of freedom! The Vespa has become a monumental part of motorcycle and popular culture to this day.
As with a lot of major vehicle companies, Piaggio began life serving the country for one purpose – war. Piaggio was one of the largest producers of Italian warplanes. However, the end of World War 2 and Italy's serious devastation due to bombing meant Enrico Piaggio had to look to other avenues for his engineering creativity. Many of Italy's factories had largely been destroyed and transportation for the masses was at a serious shortage.
Enrico recognised this and in 1946, decided to leave Piaggio's wings behind and begin the ascent into motorcycle greatness. The creation of the Piaggio Vespa was to become a new symbol for Italy, one not of war or struggle under an oppressive dictatorship, but of hope and freedom. The Vespa was a chance for a country to leave behind the past and take off in a new era of style, nonconformity and independence.  
At this stage John's Motorcycle News felt it relevant to mention the importance of the work of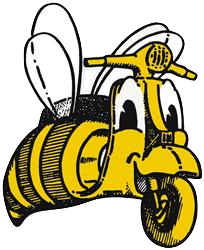 Corradino D'Asconio  (An aeronautical engineer who designed the first scooter for Ferdinandino Innocenti for Lambretta but fell out with him and took his designs over to Enrico Piaggio.
Upon seeing the MP6 scooter for the first time, Enrico Piaggio exclaimed: "Sembra una vespa!" ("it resembles a wasp!") Piaggio had effectively named his new scooter on the spot as a "Vespa"  which is both Latin and Italian for WASP !
This concept was embraced by the young generation and Vespa managed to propel itself from just another scooter, to an iconic, artistic symbol of fashion and beauty. There is one quintessential example of this, which has come to public attention in the last few years.
For those Vespa enthusiasts out there, you will know there is one Vespa which has been famously and carefully restored in recent times.
This is the Vespa, which was customised by one of the most prominent surrealist artists of all time, Salvador Dali. Salvador Dali's fashion and style is archetypal of Vespa itself and in 1962 he met two art students heading for Athens on a Vespa and decided to sign their scooter in true Dali style.
In recent times Vespa has managed to sustain this image and it is now stronger than ever. The release of the exclusive Vespa 946 Emporio Armani Edition scooter has again pushed Vespa forward directly into the fashion industry. It might not be the bike for all of us (me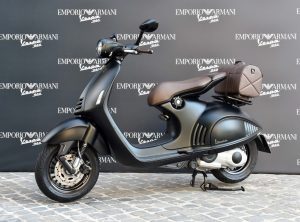 included) but it does show the wider influence Piaggio still has on popular culture today.
As they say, they don't follow fashion, they create it!
The recent auction was a spectacle to marvel at, which is undeniable. However it's fair to say it doesn't symbolise a lot of what Vespa is truly about. Vespa has always marketed itself as a scooter meant for the people, for everyone. It brings people together by the fact that it's an affordable mode of transport.
 For the last 70 years Vespa has given freedom not just to Italians, but to young and old alike who otherwise couldn't afford to travel. Vespa have acknowledged this diligence and sensitivity by creating an all red version of the classic model. This was done in collaboration with Bill Gates and the RED foundation. The sales of these models will go towards initiatives fighting AIDS, tuberculosis and malaria.
The future is certainly bright for Piaggio. Technology has given people the opportunity to customise anything on their bikes online, before ordering. The revival of vintage culture and bikes in recent times has also allowed the Vespa to really take a flash back to their roots. Just take a walk through the streets of Soho, London and you'll see how popular these scooters still are today.
I think the recent major auction of one of the first Vespa's and the 70th anniversary marks more than the wealth and success the Piaggio Vespa has enjoyed.
It marks the fact that many generations, ages and backgrounds have now had the chance to travel the globe and appreciate true freedom through the Italian Wasp. It isn't a scooter only for the young; it's a piece of art we can all enjoy.
As Vespa say – everyone is young when riding a Vespa!
(Written and submitted by Matt Daysh)
Our thanks to Matt for the above article and a quick trip down memory lane for me to a time when a Biker wouldn't be seen dead with a guy riding a scooter (especially if it was covered in tons of chrome mirrors and fur), to a time of "mods"  and "rockers"  and the many conflicts that they had hit the news and gave all riders a bad name.
A totally different outlook between mods and rockers (greasers) existed; they wore totally different clothing (parkas v leathers) and they rode totally different machines. There was seldom
a crash helmet in sight, as the wearing of crash helmets did not actually become law until 1973 and subsequently safety was not paramount.
We even rode around on square profile tyres that left hardly any rubber in contact with the road when cornering. No wonder many a biker went down the road on their backside in the winter!
Thankfully there are no longer clashes between riders and some motorcycles have even morphed into modern "sit-in" extremely economical all-weather type scooters, which are really a cross between a motorcycle and a scooter.
Indeed, we know of several Classic Bikers who have opted for such a "sit-in" machine due to its overall economy, efficiency, reliability, their comfortable ride and their weather proofing.
Beautifully restored scooters regularly appear alongside motorcycles at many bike shows across the country and in October 2016 we had the opportunity to inspect close up a restored Lambretta that a couple from the Isle of Man had spent an absolute fortune on.
It's artwork was beyond belief and quite honestly the photos don't really do it justice, not only was the outside adorned with superb artwork relevant to the Island, the Mountain course and all of the
famous people who have raced there, but this artwork also extended to within the inside of the side panels and the underneath of the machine (viewed through the strategically placed mirrors
beneath).
There are many Scooter Clubs listed within our "List of Motorcycle Clubs" and we shall be happy to include others if you are a member of a scooter club and wish us to.
As previously stated RideTo are an innovative website that helps connect motorcycle training schools with online customers to make the process of booking motorcycle training easier and more accessible to new riders in London and Matt Daysh (the author) is part of their Marketing Team.
We have to say that at this stage we have no real first hand experience with RideTo, however we wish the lads every success for their sheer enthusiasm and marketing approach.
If/when they expand outside of London and we receive good reports and referrals about their services we shall be happy to include them within our "Trusted Traders" .
In the meantime we are happy to include RideTo  within our "Friends of JMN"  section with a direct link to their website www.rideto.com
Michael W George (& John Abram)