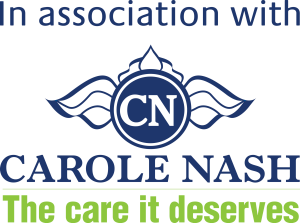 This ever popular 37th Carole Nash International Classic Motorcycle Show show started early for us, we arrived on the Friday morning as we had once again arranged for BBC Radio Lancashire to return to the Stafford County Showground to broadcast "Gillys Classic Motorcycle Afternoon"  live  radio show.
As usual we had no shortage of guests lined up and the show went extremely well with a host of interesting interviews, although, as the Friday is
traders set-up day, (with a heck of a lot going on), as would be expected – not necessarily in the order of which we had planned!
Radio guests included Jack Harrison (Mortons) talking about Mortons, the setup, the show and the forthcoming October show, Dave Norcott (talking about Grass & Long Track Bikes and Speedway), Les Trotter (Ex-Racer & friend of Gilly from his radio days) chatted about his podium finishes, his race bikes and the Stafford show, Phil Beck (Peter James Insurance) enlightening us about (steam rollers!) and tailor made motorcycle insurance issues.
David Bloor (Triumph & Rocket 3 Owners Club) talked about the Club and its bikes, Malc Wheeler (Ex-Racer & Mortons Editor) enjoying his [Semi?] retirement talked about the origins and growth of the show and his role in arranging Guests of Honour, James Hewing (National Motorcycle Museum Director) gave Gilly's listeners an insight into the superb Solihull motorcycle museum and its conference centre facilities. Ben Walker (Bonhams) provided an interesting insight into the worldwide auction process and exciting "barn finds"  such as the rather unique "White Shadow"  (more of which can be read towards the end of this article). Ben also, very kindly presented Gilly and Garry with an auction catalogue each.
Marie Tighe (Vintage Sign Designs) talked about their ever popular motorcycle related enamel signs and their new line in flexible banners, Nick Mowbray (Mortons) talked about his role in organising such a huge event and then of course there was always a bit of banter from our good selves as well.
Gilly and Garry had a great day, being invited to preview the machines in Bonhams saleroom before the broadcast (to drool over the bikes that Garry would like to be able to afford and those that he might be able to afford – but daren't take home)! As you can see, Gilly also had his eyes on a rather nice Harley Davidson in Bonhams.
The lads were hard at work presenting the "live"  radio show, on what was, a rather overcast, windy and rather chilly afternoon. They did, however, manage to grab a little time to experience the transformation from empty halls to the hustle and bustle of stalls being erected and the introduction of a vast array of machines, many shining brighter than they ever did when they were new and leaving the factory. All in all a very enjoyable day for everyone.
Saturday saw the invasion of the public in their tens of thousands and this is really when all the serious trading begins. There is just so much to see and do at this show and literally something for everyone. John had his Triumph "Slippery Sam"  on display on the VMCC's stand and his BSA Rocket 3 just opposite on Peter James's Insurance stand, both located within the main hall.
There had been a lot of careful planning by many bike clubs who presented some wonderful displays, far too many to mention individually, but the one that really caught our eye was the group of members of the Rudge Enthusiasts Club www.rudge.co.uk in their period dress, for which they actually, well deservedly, won the "Best Club Display Stand"  award. A special mention must also be given to our good friend, Charlie Williams (you can find him in the white overalls and cap in both of the Rudge Enthusiasts Club photos) and for those of you that don't know Charlie, he is a 9 times IOM TT winner (now retired from racing), an all round bike enthusiast and to cap it all – one hell of a nice bloke!
Charlie https://www.facebook.com/charlie.williams.716195 is one of the main organisers and co-rider with Zach Burns in "The Long Way Up 2017" which is a Rudge 1,000 mile Charity ride from Lands End to John O'Groats planned to take place on 14th to 18th June 2017.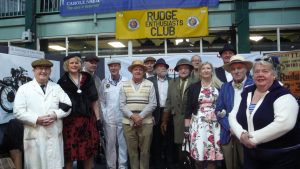 Zach is a Firefighter Apprentice with the Cheshire Fire and Rescue Service and a self confessed Rudge anorak!
The guys are raising funds for The TT Riders Association www.ttra.co.uk (helping riders and their families suffering hardship, of which Alex George is currently President). They are also raising funds for Classroom in the Clouds www.classroomsintheclouds.org (building schools in Napal).
Alex and Linda George are frequently seen at these events and shows and it was great to meet up with them again at Stafford during this April 2017 event. For more details of the Rudge Ride, see the Flyer in our "Event Advertising Flyers"  section and in our "Calendar of Events"  to donate towards this worthwhile cause please visit  www.justgiving.com/crowdfunding/rudgeride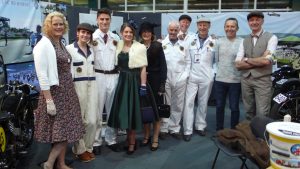 The Gods were kind to us on Saturday, it proved to be a very nice sunny day and so as well as brisk trade within the halls there was also a lot of outside activity keeping the traders and auto jumblers happy.
This years guest of honour at the show was Troy Bayliss, www.facebook.com/Troy.Bayliss.21 (three times World Superbike & MotoGP Champion, riding Ducati's) who had traveled over from his homeland in New South Wales, Australia and after being introduced by Steve Plater, he entertained the many visitors who congregated around the trophy stand in the main hall on both Saturday and Sunday, announcing the National Motorcycle Museum's Raffle Prize draw and presenting the many awards on the Sunday afternoon.
We met Troy several times throughout the weekend and found him to be a really nice down to earth guy. Sunday also turned out to be a really sunny and warm day with………. no rain at all over the weekend!
Another regular at the show and a real motorcycle enthusiast that we have known for many years, is Gordon May, famous for his books about his overland travels to many different countries, on older British machines that can in no way possibly offer the level of sophistication and comfort that the modern touring bikes can offer.
Gordon is a great guy, always very helpful, extremely well travelled and always happy to visit many different venues and clubs to talk about his motorcycling adventures. At the show this year he had a super display with the actual ex-British Army 350cc Matchless G3L motorcycle that he rode 11,000 miles from Manchester to Ho Chi Minh City in Vietnam!
We took the opportunity of having a photo shoot with Gordon at his display prior to the opening to the pubic on the Sunday (as Gordon was virtually glued to his book stand thereafter)!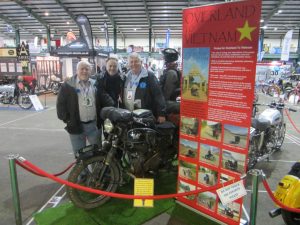 This is not the first time that Gordon has undertaken such a motorcycling adventure, in 2008 he rode his 1953 Royal Enfield Bullet 8,400 miles from Manchester to the Royal Enfield factory in Chennai in Southern India!
His next trip was even more adventurous as he rode from a 1952 BSA Bantam from Manchester to Egypt, crossing Tunisia, Libya Jordan and Syria in the process.
Gordon has recorded all of his fascinating adventures in several books, "Overland to India", "Overland to Egypt" and his latest publication, "Overland to Vietnam". For those of us not so brave or adventurous, you can read all about the trials and tribulations recorded within these fascinating publications. As far as we know the bikes were shipped back by sea, thus no doubt allowing Gordon a really well deserved rest.
More information can be seen by visiting www.overlandtovietnam.com
Sunday was another lovely sunny day bringing the punters out to see what was on offer and as previously stated, this show always provides plenty for all tastes, bikes, spares, tools, autojumble and the many valuable services required to restore and rebuild bikes, with hundreds of stalls both indoors and outdoors.
There were also attractions that offer visitors the chance to experience what it is actually like to ride a race bike in a simulator, or if you just want to look rather than participate, you can marvel at Ken Fox's gravity defying Wall of Death – you can read more about this in our article within our News and Interest section.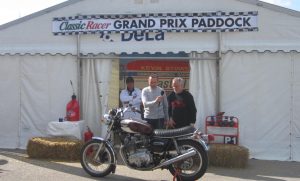 Steve Plater was once again busy as our MC in the Race Paddock and on the lovely sunny Sunday afternoon he was interviewing owners and introducing a variety of unique machines for the visitors to hear.
The paddock was filled with these machines unique and distinctive sounds, both two and four stroke machines roared into life for the onlookers (earplugs having been very kindly offered in this high noise area beforehand). It was good to hear the friendly banter (and mickey taking) between all concerned, (from the likes of Phil Morris and Lloyd Dickinson), with the finale provided by Joe Johnson and the lads (Brian, Jeff, Keith, George etc.) all enthusiastic owners of Triumph and BSA Triples.
We were especially delighted to hear the unique sound of George Pooley's brilliantly engineered Triumph Quadrant! A Triumph quadrant ? we can hear you say, for many reading this may never have even heard of this particular Triumph. Well for more information we suggest you read our article "George Pooley's Hand Built Specials" in our "Techie Stuff" section.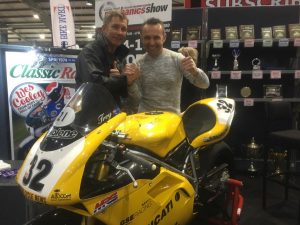 Poor old Steve then had to dash off from the Race Paddock straight over to the Awards stage in the Main Hall to introduce Troy to once again to make draw and name the winners of the National Motorcycle Museum Bike Raffle (and yet again despite buying many tickets, neither John nor I won a thing!). Then the lads continued to present the numerous show awards and trophy's for the many different categories of bikes, displays etc.
Sunday is also the day that the buyers (private & dealer alike) have been waiting for, having had the chance to inspect all of the machines in the Bonhams saleroom, this was now their opportunity to bid for the parts and/or machine of their dreams. The showroom was really humming and, as usual bids were not only coming from the floor, but also from the Internet and from telephone bids.
A wonderful array of rare parts and machines went through he block and under the hammer, for an equally amazing range of prices, from less than £100, to items within hundreds of pounds and then to items of tens of thousands of pounds, neigh, hundreds of thousands of pounds.
There is always something at Bonhams for everyone and also the special finds that stand out from the crowd, one of the most amazing purchases was for Lot number 172, a 1949, 998cc Vincent "White Shadow"  originally thought to be a black shadow, when frame and engine numbers were checked out it seemed that this black painted crankcase machine was indeed a much rarer white shadow. Estimated to sell at around £60,000 this machine finally sold for a whopping £163,900 (including premium).
It was great to meet up with all of the Bonhams staff again, (October seemed like only yesterday) and we truly appreciated the kind words and compliments about our website from Malcolm Barber and his staff. Bonhams cater for all and it must also be remembered that the motorcycles that they sell have to come from somewhere, often private collections and also, unfortunately, deceased estates. So rather than see a friend, a relative or a loved one "under sell"  a motorcycle, it is always worth contacting Bonhams for a fair assessment and an achievable selling price.
You can contact Bonhams on Tel. 0208 963 2817 (General Enquiries) or Email to motorcycles@bonhams.com for more contact options, please see our article "Bonhams at Stafford"  within this "Events and Shows"  section.
It is always nigh on impossible to give everyone a mention (which is why you need to go along and experience the show first hand), so apologies if you feel left out, but our congratulations must go to everyone who worked so hard to make this show the success that it always is.
Stafford is undoubtedly the place to be if you are looking for advice and spare parts, both new and old, here is where you will find a tremendous collection of Traders and Auto Jumble stalls, that should be able to fulfil all of your needs for parts, spares, tools, accessories, cleaning products, memorabilia and much, much more.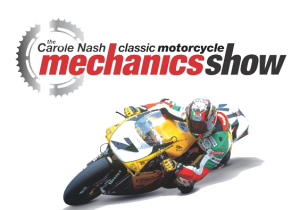 The driving force behind the successful Stafford Shows (and many more) is the ever-expanding Mortons Media Group.
So now all you need to do now is make a diary note for the next Stafford Bike show, this will be the 24th Carol Nash Classic Motorcycle Mechanics Show to be held on Sat 15th & Sunday 16th October 2017.
There are, of course, more shows in-between which can be seen on our Calendar of Events and within our "Event Advertising Flyer" section. Further information on all these shows can be found at www.classicbikeshows.com and on other Mortons publications at www.mortonsmediagroup.com
To book tickets please call the Ticket Hotline on 01507 529 529
Michael W George (& John Abram)