Our Lady of Lourdes School Visit
In May 2014 Paula Almond contacted me with a rather unusual request. As
part of the children's educational program with regard to the Centenary of WW1, she asked if we could possibly take a period motorcycle along to Our Lady of Lourdes Roman Catholic Primary School in Birkdale to show it to the children and answer any questions that they may have. One of our local VMCC members, Bill, has a couple of 1915 motorcycles, one of which is fitted with an army stretcher sidecar, being the type used for transporting the wounded soldiers from the battleground to the field hospital, the other motorcycle is typical of the type used by dispatch riders during the First World War. Bill very kindly volunteered to bring both of these along on the day; we also took several other motorcycles built between the 1920's and the 1950's to show the children.
What a hectic and fun day this was for everyone, in all best part of 500 plus children came out into the playground in various large groups. Several of us introduced ourselves and told the children about the various motorcycles that we had brought along to the school for them to see. The children then had an opportunity to ask us questions (although we did warn them not to ask Bill if he had owned his 1915 bikes from new!). They had all brought along sketch pads to draw our bikes, so we thought that it would be
a good idea if we had a competition to allow their teachers to pick out the best drawings and then those budding artists could come forward to sit on our bikes, blow the horns and have their photos taken (and blow the horns they really did!).
To add to the fun we let the children of each group choose one of their teachers to wear Bills old army coat and be transported around the playground on the stretcher bike, (lying on the stretcher), the cheers and shouts got louder and louder and the children were absolutely delighted. Thereafter we started each bike for a small demonstration riding around the playground so that the children could experience the sights, sounds and smells of these wonderful old machines.
At lunchtime we were treated to something that we hadn't experienced for many, many years… a school dinner!– we sat amongst the children trying to hear what they were saying above the unbelievable noise level of a school dinning room, trying to answer their constant questions. One lad who was sat opposite me who, (after carefully surveying my plate), wanted to know why I had more potatoes than he did! To which I answered that I had more to fill!
All the children were extremely well behaved and very polite and we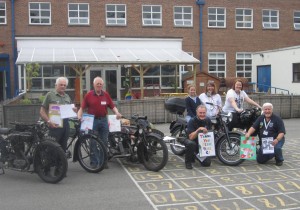 really appreciated the effort that they all went to in order to show their appreciation of our visit. They made us medals to wear (no doubt for bravery in so few facing so many) which we wore with pride and they presented us with numerous large "thank you" cards and folders containing their sketches, which we were absolutely delighted with and took to our next Club meeting to show the rest of our members.
A big "thank you" to all the teaching staff and assistants, to Headteacher, Mrs Hilsdon and Mrs Almond, but especially to all of the children, who really did made it all worthwhile.
A fun day was had by all and we hope that our visit served not only to educate, but to illustrate the development of motorcycles over the years and the important role that they played delivering dispatches and retrieving the injured during the Wars and that through their further education these children will develop an understanding of the heavy losses and seriousness of such conflicts.
Michael W George