John & Michael would like to say a great big
"THANK YOU"
The following businesses and the important people within those businesses have helped us, to help other worthwhile causes, by donating some superb prizes intended to be used in our 2016 Mallory Bonanza Charity Raffle, the aim of which was to raise funds for Colin Seeley's Charity, JSPRMT (see our Charity Work pages for details), whilst also highlighting the excellent work done by the motorcycling fraternity (much of which goes unnoticed). We invested a great deal of time and money into setting this up, but, regrettably, (due to circumstances totally beyond our control) we were unable to expedite our plans, much to both Colin and our own disappointment. We did, however manage to hold two auctions to raise funds for both Talan and Colin, thanks to the continued support of Geoff Cox of Eriks, to whom we are all extremely grateful.
2016 was the year that we launched our new website "John's Motorcycle News" at the Stafford Bike Show in April and we have been overwhelmed by the unprecedented amount of support from friends that we have made within many motorcycle related businesses whom we have dealt with over many years.
The support that we have had for our fund raising has been tremendous and we had been gathering in pledged prizes to create a fabulous pot of very respectful raffle prizes from a range of well-known Companies.
We have had some excellent prizes pledged and subsequently donated from the following businesses.
This is our Charity Raffle Sponsorship Roll of Honour
Above are the logos of some of our "Friends of John's Motorcycle News" that have been generous enough to donate valuable prizes. We have also included the logos of two of the Charities that we were helping raise funds for, through the JSRMT, (i.e. Rainbows Hospice and the Derbyshire, Leicestershire and Rutland Air Ambulance).
As well as the donated prizes, we have to thank all of the stars who very kindly signed a couple "John's Motorcycle News" tee shirts, again to be used in our future fund raising for charities. Our good friend Alex George starting the ball rolling with the first signature, followed by many more celebrities who are always happy t
o help us. All of the signatures are much appreciated, although we have to say "Tommy Robb's" signature is a work of art, a real gentleman with lovely handwriting!
We have mentioned Talan Motorsport and The Bike Experience on our website before, but we would really like to express our admiration of Talan Skeels-Piggins, he is an extremely inspirational man who has changed the face of motorcycling for those less fortunate than ourselves, suffering from a disability, through accident illness or injury. He has a great and very enthusiastic team behind him who are passionate about helping the disabled to ride motorcycles.
For more information, please visit:-
http://talanmotorsport.co.uk and http://www.tbex.co.uk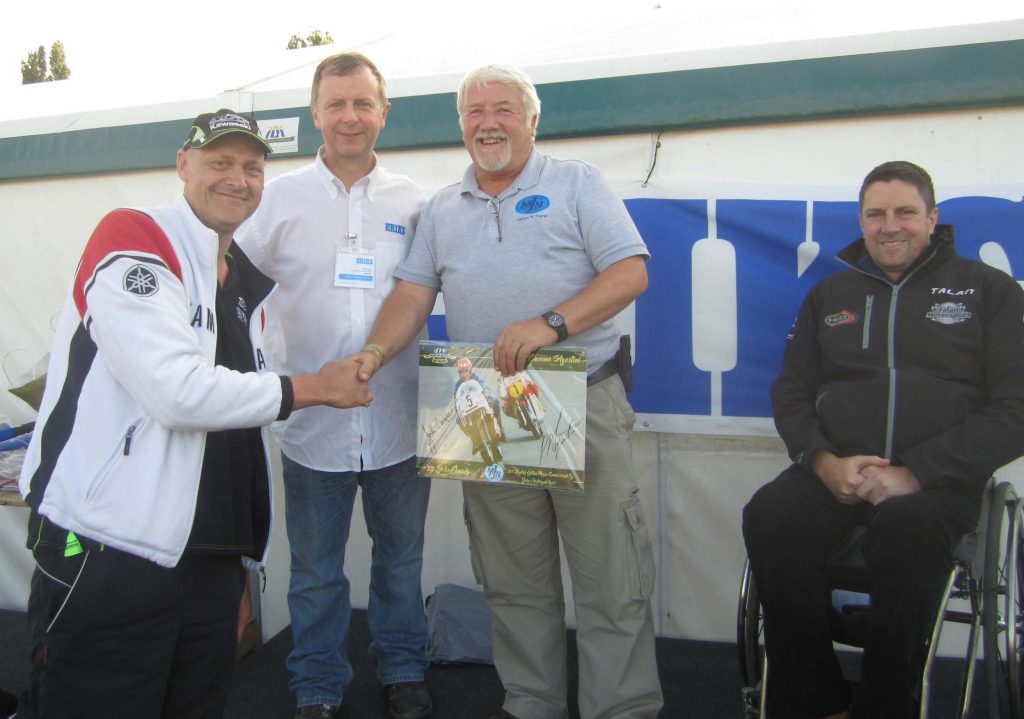 Our best wishes also go to one of Talans team, Dan Beighton dbeighton@btinternet.comfor his forthcoming debut as a Manx GP newcomer in 2016.If you are in the IOM, look out for DB Racing in the paddock, Dan will be racing a green Kawasaki ZX7R. Mick Grant spent quite a bit of time with us at Eriks on Saturday evening and very kindly had a long chat with Dan, giving him some very constructive and sensible advice.
Thanks Mick, always a pleasure to see you and we all wish good luck to Dan. We will be over for the Manx again in August 2016 so hopefully we will get to meet up with Dan once again.
The evening went extremely well at Eriks, Geoff ran a raffle (which was so well supported by his guests that they actually ran out of tickets) and then he very kindly allowed us to auction off some of the prizes that had been donated by our sponsors. The highlight of the evening was a limited edition plaque that John's Motorcycle News had specially commissioned for the event, depicting the famous John Cooper v Giacomo Agostini race in 1971, where Cooper, riding a BSA Rocket 3, beat Ago, riding an MV Augusta by a fraction of a second at the
Mallory Circuit to the delight of a huge crowd of spectators. Several of these original spectators had returned to Mallory and had stopped to view Mike Morris's BSA "John Cooper" Rocket 3, recalling and telling us about their experiences all those years ago.
As well as a very inspirational speech from Talan, John, Michael and Eriks guests were all treated to a great talk from Mick Grant followed by a question session time and later on Trevor Nation entertained us. Mick and Trevor are both really down to earth great guys with years of motorcycle racing experience between them.
The weather was very kind to us and Eriks corporate event was as popular as ever with their customers who all enjoyed the evening (indeed the whole weekend) immensely and as a result, between us, we raised a very respectable amount of money to assist Talan and his team in their sterling work helping the disabled to ride.
On the Sunday morning at Eriks private function we were all treated to a very interesting speech from Colin Seeley in the Mike Hailwood Suite, along with some very passionate words from Colin, that came from the heart, about his fund raising in order to buy medical equipment for many Charities, including Rainbows. Geoff, also, very kindly allowed us to join them to explain our role and to present some of our donated prizes in order to auction them off to raise more money for Colin's JSPRMT Charity. In addition he also presented Colin with a very generous cheque from Eriks to help further boost the coffers.
Geoff, his father Dave (who always helps out) and his son, Charlie, were also lucky enough to be able to ride the circuit, what a fantastic opportunity, to have three generations riding Mallory together, something they all enjoyed, immensely.
At this stage we also need to mention the Owd Codgers who ran a trial with the proceeds going to the Derbyshire, Leciestershire and Rutland Air Ambulance. Although we were unable to attend the trial, we went over beforehand to chat to Geoff Kidd and he explained that as a Club they have no real need to accumulate wealth and are therefore happy to donate all of the proceeds to good causes. A very admirable concept well worth mentioning in dispatches ! Well done Geoff and all of the "Owd Codgers".
If seeking them out at any future event, please don't make the mistake of asking anyone if they know where the Owd Codgers are ! You may not get the answer your had expected!
These guys have been featured within our list of Motorcycle Clubs for some time now, however at the time of writing we were still awaiting with eager anticipation their Club Logo, which will be quite an interesting design, by all accounts.
Heading back to the paddock, Dick Shepherd was extremely hospitable to us all and kind enough to allow Colin and Eva to set up their stall from his massive canopied display area, wherein some of the most beautiful Classic Triumph twin, opened meggar'd race machines that you could ever feast your eyes on, were on view for all to see (and for Colin and John Cooper to later take out on the Past Masters parade). Dick probably has the greatest collection of Triumph motorcycles in the world and had brought along just a small sample of these, including a Triumph scrambler ridden by David Beckham in the film "Outlaws".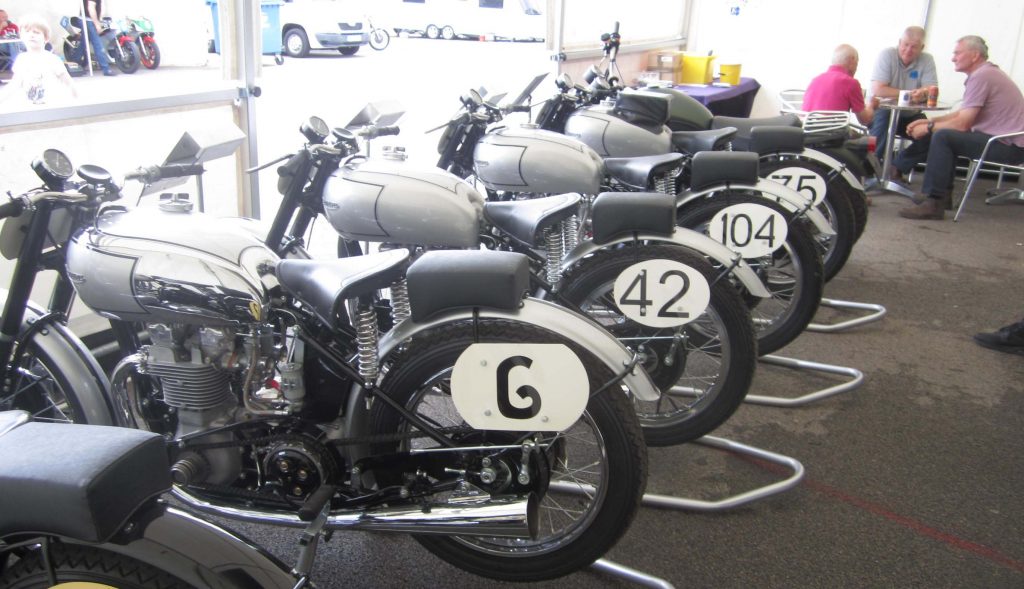 In celebration of the famous Cooper v Agostini race back in 1971, we already had in our possession a re-enactment photo, personally signed by John Cooper and Agostini and so with help from photographer Barry Clay barry@icloud.comand our good friends at Vintage Sign Designs www.vintagesigndesigns.co.ukwe commissioned (as mentioned earlier) a very limited edition and rather unique set of metal plaques to commemorate this famous race and Mallory's 60th anniversary.
We were pleased to be able to present one of these limited edition plaques to the man himself, John Cooper, to our good friends Colin and Eva Seeley(in appreciation of the sterling work that they tirelessly maintain fund raising for charity), to Geoff Cox of Eriks (whose continued hospitality and co-operation have allowed us to maintain our fund raising efforts) and to the Real Motorsport team at Mallory, as a momento.
The remaining two available plaques were auctioned off, as intended, which really did help us raise a considerable amount of money towards Talan and Colins good causes.
That said, we still have a residue of donated prizes that were intended to be used within our originally proposed Charity Raffle, we have therefore promised Colin that these will be used in the future to further assist in raising funds for the Joan Seeley Pain Relief Memorial Trust the proceeds of which will be forwarded directly to Colin and hence the Trust, which can say with pride that every pound raised is a pound spent, with no deductions.
The sponsors to whom we have spoken to date are happy for us to do this and where a voucher and/or prize may have had an expiry date, those that we have spoken to have been happy to extend this to accommodate future events. All in all, a very rewarding weekend of fund raising, our sincere thanks to all who helped us make it the success that it deserved to be.
Michael W George (& John Abram)