The Manx Aviation & Military Museum, Ronaldsway, Isle of Man
Although not truly motorcycle related we feel sure that this super little museum will appeal to the majority of mechanically minded bikers. Situated at Ronaldsway airport in some of the buildings constructed back in 1944, it provides a great view of passing aircraft and although looking small from the outside, like a "Tardis" it really does seem much bigger from the inside.
The reception area is adorned by a large relief map of the island showing wartime military installations and the exhibition rooms and corridors are full of interesting exhibits, wartime stories and facts, gathered artefacts, memorabilia and recovered parts from aircraft that crashed on the island.
The museum also tells the story of the Manx Regiment, reputedly the British Army's best anti-aircraft unit of World War 2, it displays photographs, uniforms and equipment used by the regiments men, with a star exhibit of a lovingly restored self-propelled Bofors anti-aircraft gun, believed to be one of only four in existence.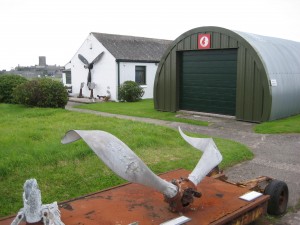 With four airfields and many military installations the island was a hive of activity during WW2 and a surprising number of aircraft crashed on the islands hills during wartime, many parts of which are on display.
There is a beautiful Museum garden with a Canadian Airmen's Memorial at the back of the museum overlooking the main islands runway.
It is dedicated to the 28 Canadian Airmen who died in the IOM in flying accidents between 1941 and 1944. On a nice day it can be a beautiful sunny aspect to sit and compose your thoughts with a snack or cold drink purchased from one of the museums staff, who are all volunteers.
The museum is managed by the Manx Aviation Preservation Society, which is itself an Isle of Man registered Charity (No. 827), entrance is free, but donations are obviously most
welcome.
The museum is usually open from 10.00hrs to 16.30hrs daily from TT Practice week, in May until the end of September and every weekend of the year.
Contact details:
Tel. 01624 829294,
Email: airmuseum@manx.net,
Web: www.maps.org.im
The Aircraft museum is a great place to visit whilst on the island and your donations will help preserve this small, but lovely museum, which is a very important part of this, islands history, we would highly recommend that you visit it.
Michael W George (& John Abram)