July 2017 marked the 3rd year that John and I had organised an afternoon of fun at the Leyland Commercial Vehicle Museum, in conjunction with our good friends Gilly and Garry from BBC Radio Lancashire. Previous Leyland Museum articles can be found within our "Places to Visit"  section. However, our visitors will all no doubt be familiar with the Museum as a great place to visit and as this is now truly an established "Event",  we have published this article within our  "Events and Shows"   section, which seems far more appropriate.
Unfortunately, the weather forecast was pretty grim with very strong winds, heavy rain and the possibility of thunderstorms predicted. So apart from Gilly, Gary and us, we really weren't expecting anyone else to turn up to our "fun afternoon", which, quite honestly we thought might have been a complete and utter washout!
HOWEVER, despite all of this, the afternoon exceeded all of our expectations and everyone had a fabulous time, as you can no doubt see from our photographs.
The Press were in also attendance with their local photographer, Neil Cross, taking photos for the Lancashire Post and subsequently their Editor, Gillian Parkinson, very kindly gave us permission to use Neil's group photograph and the close up of Gilly on Slippery Sam. The Lancashire Post have also been delighted to accept our invitation to join our "Friends of JMN"  section.
I offered to give Neil a hand when he was moving from one shot to the next and picked up one of his cameras and was really surprised at just how heavy it was, but the quality of his photos put my own little Canon Ixus to shame!
Considering the awful prospects for the day, we would sincerely like to thank all of our guests whom, despite the horrendous weather forecasts still came along to support the event, regardless.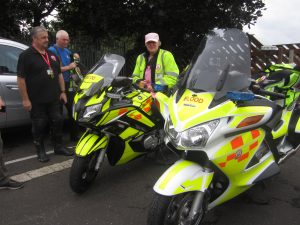 Our sincere thanks therefore go to, the members of the North West Blood Bikes, Dave Norcott for bringing his Speedway Bikes, Ian Harrison for bringing one of his Mistral Race bikes, the members of the IAM, Lancashire Police, the Curvy Riders, all of the public and our friends and colleagues who turned up (albeit some in cars). Our thanks also to the members of the general visiting public, who braved the elements, and those who rode there on their bikes (including me, after such a really bad weather forecast).
Lancashire's ever-popular stars of radio, Gilly (John Gilmore) and his producer Garry (Garry Scott) from BBC Radio Lancashire were as enthusiastic as ever in broadcasting "Gillys Classic Motorcycle Afternoon"  and Gilly Duck also put in an appearance. Everyone enjoyed their visit to the museum for which we must thank Keith Moyes and all of the museum volunteers and staff, including their Chef, Janice, who as you can see, nipped out to have her photo taken on one of the lads Blood bikes, complete with Hi-Viz jacket and pink cap!
So, where do we begin? Well for starters, the Gods were unexpectedly good to us, I managed to dodge the rain on my ride to Leyland and with the exception of, literally a few spots of rain, we all enjoyed a great afternoon, which even turned warmer as the day progressed. John had the gazebo and trailer set up and the lads from the Blood bikes were there well before the show started.
Dave Norcott also arrived early and set up some of his really nice looking Speedway bikes (that ranged over three decades) and as usual these bikes generated a huge amount of interest.
During Gillys interview Dave recalled how his passion for Speedway had developed over the years, how he used to be a mechanic to other riders, retired around 2011 and has been a collector and restorer ever since. Dave mentioned the resurgence of Speedway with the development of the new National Speedway Stadium in Manchester after the demise of Belle Vue and went on to talk about the bikes that he had brought along to show.
As Gilly mentioned they were all very shiny, there was a Polish FIS, which was basically a copy of a 1950's Rotrax JAP (J A Prestwich engined) bike and also a close replica of a 1986 JAWA in Union Jack livery. The latter was a replica, which Dave had built, after having restored the original one for a friend. This was the bike that World Champion, Peter Collins finished his career on. The third bike was a 1961 ESO (a Czechoslovakian manufacturer taken over by JAWA in 1964).
You may or may not know that these Speedway bikes have NO gearboxes and NO brakes and the earlier bikes have no primary chain cases or chain guards and later on Dave recalled (to us, not on air) one rider who leaned down to retrieve something during a race, got his hand too near the open chain and lost a finger! Unbelievably, he finished the race before seeking medical attention and thereafter searched the track for his missing digit ! Not sure if he found it, but these bikes are definitely NOT for me.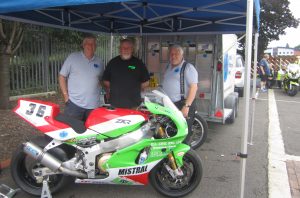 Dave is an active member of the Cheshire and Grasstrack Club and was heading off the following day to their Pre-1975 British Championships at Gawsworth by Macclesfield (see their Flyer in our "Event Advertising Flyers" section) and he also managed to get a plug in "on-air" for the event at the end of his interview with Gilly, nice one Dave.
If you would like to more information on Classic Speedway and Grasstrack bikes and/or events, visit www.classicspeedwayandgrasstrack.com or you can always call Dave on 07966 017444.
Our good friend Ian Harrison of Mistral Racing www.facebook.com/mistralclassic very kindly brought over one of his race bikes to put on display (a modified Kawasaki ZXR750) under our gazebo, and like all of our other guests he had a chat with Gilly on air. Gilly asked Ian just how fast the bike would go, to and was surprised to find that it would do 175mph down the Sulby straight on the Isle of Man's TT course. It's truly frightening and these bike racers minds and reactions work at such fantastic speeds that they have already gone through a section of road/corner in their minds split seconds before they actually physically achieve it.
Although only local (from Croston), it was very kind of Ian to come along to support us, as he had a really busy weekend and had to leave just before the event ended to travel over to Oliver's Mount at Scarborough for the Barry Sheene Race and Rally Festival (including Japanese Bike Rally). Hope all went well for him at
Scarborough.
Anyway, our thanks to Ian and Mistral for their continued support and for sponsoring John's Motorcycle News by sporting our JMN blue logo on his race bikes.
Now here is where we put the men to shame, for those of you lads who were put off by the weather forecast, we have to say that the lady riders from the Curvy Riders Motor Cycle Club braved the anticipated elements and traveled the furthest distance to join us, one lass (Helen) riding all the way over from Huddersfield.
The Curvy Riders is a motorcycle Club for Lady riders only, they have a tremendous UK national membership with 24 sections spread across Scotland, England, Wales and a section in the Isle of Man, for more information why not visit www.curvyriders.co.uk .
Four of these lady riders turned up on bikes, one (who shall remain nameless) came over in her car and another lady arrived on her bike later on in the afternoon. As you can see from the photos, everyone had a real good laugh during the afternoon and the ladies decided to see how many of them they could get
on one bike.
Gilly interviewed the girls for his radio show, speaking to Linda and Jackie who are from the Manchester area, although their section actually covers Lancashire, Cheshire and the Wirral as well. Most of the Curvy Riders sections meet once a month and have plenty of rides out, meeting and talking about bikes, but, mostly its seems about…… cake!
Helen was from the Yorkshire section and probably if we had had a most distance traveled award it would have gone to her. Jackie's husband was into biking and she decided to have a bike of her own rather than ride pillion, so she now has her own 500cc Kawasaki. As you can see Gilly duck didn't escape the lady's attention either!
Anyway, thanks for riding over to join in with the fun, ladies, we hope you all had a safe, uneventful (and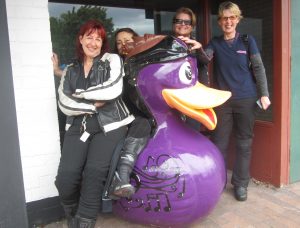 hopefully dry) ride home and we shall look forward to meeting you again sometime in the future.
PC John Moody arrived on his BMW1200RT motorcycle, representing Lancashire Police Bikes. PC Moody told Gilly and his listeners that he had been Police motorcycle riding for many years and had become a Police rider trainer some five years or so ago, working out of Lancashire Constabulary Police Headquarters, Hutton, near Penwortham, Preston.
The full liveried BMW1200RT bike that he had brought along is one of a pool of Police bikes and one of the operational bikes that are used to train Police motorcyclists. They start with a standard course and then can move on to a more advanced, higher level, during which they gain experience in riding in all weathers and practice perfecting the art of convoy riding. They also stress the importance to all riders of the "see and be seen"  principle by wearing Hi-Viz reflective clothing.
PC Moody and Lancashire Police are also involved in BikeSafe, which is a National Police run motorcycle scheme, aimed at working with bikers in a relaxed environment. The idea being to raise awareness and to create a genuine desire for a rider to progress to accredited post test training, this is where IAM can help (more of them later). The Police run BikeSafe workshops cover the many aspect of riding to help identify a riders strengths and weaknesses, this will include an
on-road observed ride with a Police motorcyclist or approved BikeSafe observer, for more details about these schemes please visit www.bikesafe.co.uk
With the emphasis on training and safety we were fortunate enough to have had three of the lads from IAM RoadSmart that came along for the afternoon as our guests. This organisation, the Institute of Advanced Motorists, often work in conjunction with the Police and their BikeSafe schemes in providing additional training and refresher courses for all riders. Gilly interviewed one of the local members/trainers Andy Shotton who had ridden to the event on his very nice Honda Pan European ST1300,
Andy works the Lancashire area and is based in Southport. Andy told Gilly that the IAM is the biggest Road Safety Charity in the country, with over 100,000 members and they run several courses per year for riders to increase their confidence and skills. They highlight the need to be fully alert, ride defensively and (unlike a lot of younger riders observed) wear the correct protective and reflective (Hi-Viz) appropriate clothing. For further information visit www.iamroadsmart.com or for the Lancashire contact Brian Dring (Sefton Group Contact) on 07415 213325, brian@dringy.co.uk who was also at the event and gave us his card.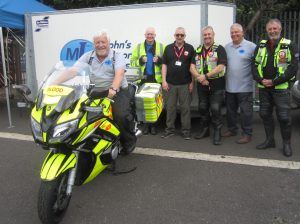 The lads from the North West Blood Bikes (Lancs and Lakes) were the first to arrive and the last to leave, they do a tremendous job and it was our pleasure to ask them to come along and to be able to support them. Gilly interviewed their Chairman and Trustee, Paul Brooks who has been with them since inception in 2012.
The NWBB (North West Blood Bikes) is a non-profit making Charity staffed by volunteers. Paul explained that when they first started they had just 20 riders, but now they have about 350 volunteers, of which about 200 are riders.
They started with about 800 calls per annum, but now have about 37,000, covering an area from Barrow in Furness in the North, down to Wigan in the south of the County, coverage from the east is from around Blackburn to the west coast, Southport and Blackpool, which is quite a considerable area of the country.
As well as blood, they can carry anything needed in an emergency that will fit into their bikes, including important Doctor notes and the like. Some of their members ride their own bikes, however NWBB now have 24 liveried emergency bikes (possibly more than Lancashire Police have themselves) of their own.
Riders of the emergency bikes have to be "advanced riders"  who have successfully completed a "blue light"  training course, as they may be called upon to deliver urgent medical supplies and then require the same authority as an conventional ambulance would have.
The North West Blood Bikes are a registered Charity and they do rely very much upon donations and Gilly, (being well aware of our intentions beforehand), surprised Paul when he allowed us to present the North West Blood Bikes with a cheque for £100 from John's Motorcycle News, live and on-air during his afternoon show and his interview with Paul.
John and I continue to support many good causes and assist in fund raising for Charities, where and when we can. We sincerely hope that we are never in need of the emergency services that these volunteer riders provide, suffice to say that it was our absolute pleasure to be able to make this contribution and help such a very worthwhile cause.
Ian Sherrard of Garstang Autojumbles www.garstangautojumbles.co.uk had also come along for the afternoon and had an opportunity to chat to Gilly, on air about Sherrard Classic Vehicle Events and the Garstang Autojumble itself, which he took over in about 2013. They also chatted about the forthcoming Leighton Hall Hill Climb, www.leightonhallmotorcyclehillclimb.co.uk an ACU backed event on 24th September this year (see our Calendar of Events and
Flyers for details.
The interview was briefly interrupted by a large backfire from a 650 Yamaha, but during their chat Gilly was surprised to hear from Ian that people come from all over the country to this event and that one of the fastest bikes was recorded reaching 100mph on the 220mtr drive!
Gilly had a chat to Deborah, a local lady talking about the Leyland market and finally at the close of his show, he had a chat with Keith Moyes the museums manager, who was delighted with the constant stream of visitors attracted to the museum by the event.
Flashback – This is the part when Gilly  forgot any inhibitions, (and probably temporarily, his show), climbed onto John's Triumph Slippery Sam and no doubt saw the "red mist" coming down over his eyes, as he was transformed from "Radio Star"  into a "TT Racing Superstar"  in a matter of seconds.
Neil took some fabulous photos of Gilly on the bike, John ended up, acting as a photographer's assistant (holding the flash) and I ended up with Gillys headset, listening to BBC Radio Lancs (and momentarily tempted to provide a documentary)! You can really see just how much Gilly was enjoying himself from the close up of him taken by Neil Cross, (the Lancashire Post's photographer) www.lep.co.uk and www.facebook.com/lancashireeveningpost
We are not really sure what would have happened if he had started the bike up, but by the look on his face we may never have seen him or the bike again!
Gilly's face says it all and really did sum it up as the fantastic fun afternoon that it was!
During some of the afternoon, initially, unknown to me Garry was transmitting video to his Facebook live page, so thanks for spreading the word about the event, Garry.
It really was a great afternoon enjoyed by everyone and if the weather had been like that of the day before, I reckon we would have had more visitors than we could cope with.
After the event I left to ride home on my trusty Bonnie, managing to once again dodge the patches of rain, catching a little drizzle around Burscough and remaining dry, that is UNTIL about 2 miles from home, when it absolutely bucketed down, BUT by then I really didn't care, as we had a wonderful day and it was all well worth it!
What can we say – despite the initial really grim outlook this turned out to be a real success and John and I can't thank those who attended enough for supporting the event !
Once again, thank you every one and all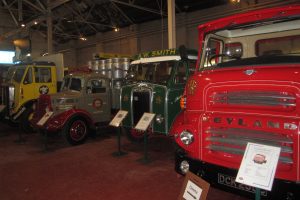 We believe that the museum is shutting down at the end of September 2017 as it is due for a major refurbishment, involving new roofing and lighting, which is scheduled to take place after September.
It is estimated that the work on the museum would take at least 9 months to complete, but like all large projects this could take somewhat longer and a figure of 11 months has also been suggested.
This is a massive exercise, involving the relocating of all of the huge exhibits, which will have to be moved out, to accommodate the extensive amount of work required. So we will have to see what progress is made and what progress 2018 brings, as we may have to celebrate our 2018 fun afternoon elsewhere.
However, we will keep you all posted.
This Museum is the origin of world famous Leyland vehicles, it has some really fantastic exhibits and is truly a "hidden gem" . It is a "must do"  visit, highly recommended to all, contact details are :-
The British Commercial Vehicle Museum,
King Street,
Leyland,
Lancashire,
PR25 2LE
Tel. 01772 451011
Email:   enquiries@britishcommercialvehiclemuseum.com
Web:    http://www.britishcommercialvehiclemuseum.com
It is not very often that people go to the trouble of putting pen to paper in order to thank us for our efforts, so it was very really to have received the following letter of thanks from the Chairman, Founder and Trustee of the North West Blood Bikes (Paul Brooks) within a matter of days of this event.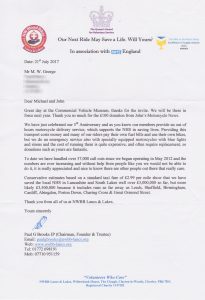 Michael W George (& John Abram)