Leighton Hall Hill Climb, 25th September 2016
Ian Sherrard of Sherrard Classic Vehicle Events Ltd., contacted us in the summer of 2016 and very kindly invited us to come along to the Leighton Hall Hill Climb to experience the event first hand and with a view to promoting the event in future years. Unfortunately Michael was away on holiday, but John went along accompanied by a friend and other VMCC member, Roland Ashworth. The gates opened at 9.00amwith practice runs starting at around 9.30am on Sunday the 25th September 2016.
Leighton Hall in Lancashire www.leightonhall.co.uk is the historic seat of the Gillow family and the hall and grounds cater for many such events, both classic motorcycles and classic cars. The hall is steeped in history and heritage and is the perfect backdrop for this annual event, which welcomes modern as well as vintage machines.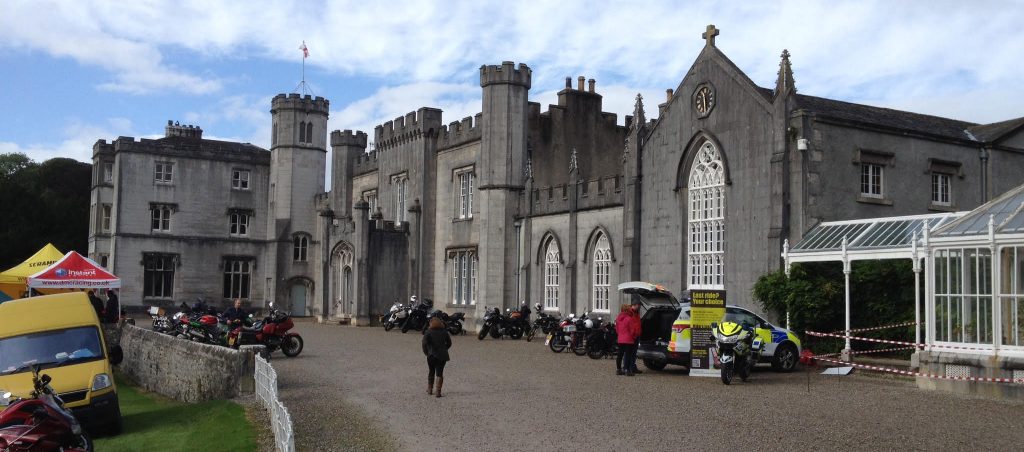 This was the second year that Carnforth's Leighton Hall had invited visitors to enjoy an exhilarating day of racing at its Motorcycle Hill Climb event.
Presenting a real challenge for riders, the track is 220 metres in length, undulating and at an incline with one 50 to 60-degree bend around 50 metres from the start line. This event was open to all solo motorcycles and three wheelers of any cc, with no restrictions on speed and no noise limit, either!
With over 100 riders attending the last motorcycle event here (formerly known then as the Leighton Hall Sprint), this years' event was just as popular. Alongside the racing, visitors could talk to exhibitors about their pride and joy and get up close to some of the beautiful machines.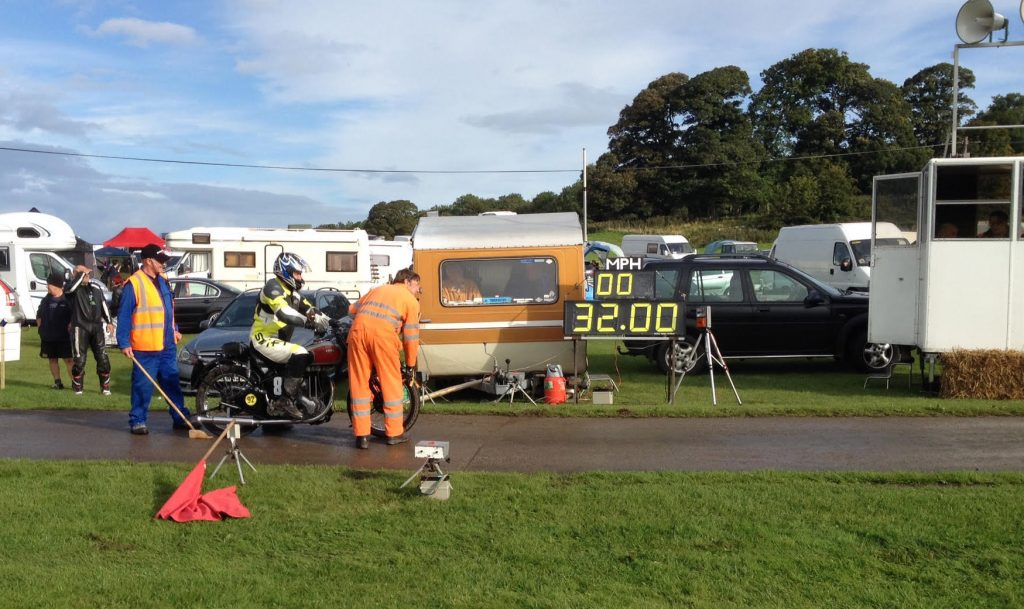 Lovingly restored, a lot of the bikes at the event were true classics and this gave spectators like John and Roland the opportunity to mingle around the paddock talking to the owners and viewing their wonderful machines.
There were plenty of Triumphs, B.S.A's (including Bantams), Tridents, Hondas, Nortons and even a Brough Superior and a host of other machines to whet your appetite.
The much anticipated day of the Hill Climb had arrived but unfortunately the night before had seen quite a lot of rain fall so things were a bit wet on the Sunday morning.
Despite the damp conditions it didn't put a damper on things and John and Roland arrived in plenty of time to see the practice get under way.
Unfortunately the track was rather greasy and this made the bend quite tricky to negotiate, with quite a few bikes struggling to keep a good, positive and accurate riding line throughout the practice session.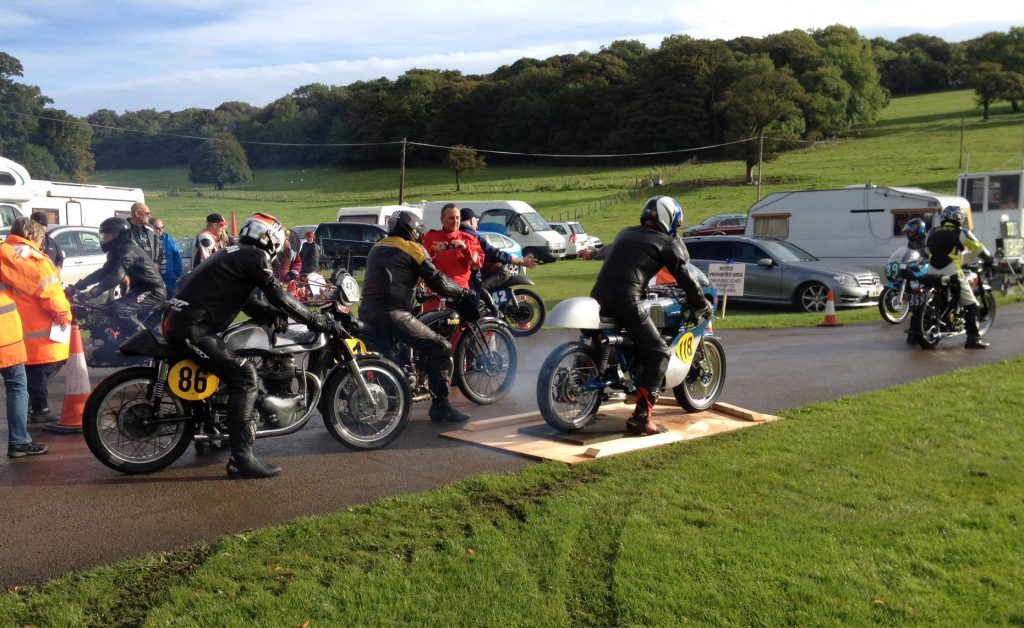 There were a few sporadic showers in the morning but the lads took refuge by wandering over to Leighton Hall's excellent cafe for a brew, where they sat in front of the open log fire chatting to other enthusiastic fans of the hill climb.
After the lunch break the competition got under way with lots of different classes of motorcycles from Classics to Modern. There were purpose built bikes, (purely for hill climbs) as well as standard normal road going bikes. There were some really fast machines and those that just enjoyed a steady pace, all in all there was something for everyone, so this event really is a sport to cater for all.
This year the main events focus was all about Bike Safety and the Lancashire Constabulary Road Policing Unit were present with their display.
They were situated alongside the Morecambe Bay Estuaries Advanced Motorcyclists (MBEAM) who were also promoting Road Safety. The MBEAM are a motorcycle group based in the Morecambe bay area and their President is none other than our good friend and TT legend, the Morecambe Missile, John McGuiness. For more information about the MBEAM please visit www.mbeam.org.uk
Organiser Ian Sherrard was quoted as saying"For me there is nothing more exciting than witnessing the sights, sounds and smells of race day, but it's not just about the racing; there are commentaries throughout the day, autojumble/trade stands and club displays".
John and Rowland had the opportunity of spending time with Ian, who also introduced them to another famous face, that of Leslie Trotter. Les is a familiar face at lots of events and a frequent visitor to the Isle of Man for the races where hehas competed in both the TT and Manx GP. In 1976 Les won the Senior on a Crooks Suzuki at an average speed of 98.47 with the second place man just 1.5 seconds behind him.
There were awards for the class winners, including the Leighton Hall Cup for"the overall fastest time of the day" and visitors got a close-up view of the action, as well as having the chance to see the machines close up in the paddock. Racing started at 1pm and ran up until 5pm, results can be found below.
John and Roland enjoyed the day immensely, the event ran extremely well thanks to a very well organised team and hopefully this event will go from strength to strength.Finally, visitors were treated to a display of new Ducati's from DMC Moto, Preston, more details of which can be found at www.dmcmoto.co.uk.
Sherrard Classic Vehicle Events Ltd., also organise both the Garstang and Penrith car and bike autojumbles, for more details on these see our Calendar of events and/or contact Ian on:-
Ian Sherrard 07836 331324 (daytime) or 01772 323654 (6pm to 8pm)
www.leightonhallmotorcyclehillclimb.co.uk
Make a diary date for next years event – Leighton Hall Motorcycle Hill Climb, Sunday 24th Sept 2017
Garstang Autojumble,
Hamilton House Farm, (on A586, just of the A6)
Garstang,
Preston,
PR3 0TB
Penrith Autojumble,
Penrith Auction Mart,
Skirsgill,
Penrith,
Cumbria,
CA11 0DN
Email: info@garstangautojumbles.co.uk
Web : www.garstangautojumbles.co.uk