Solo Motorcycle Products has been providing roller starters for nearly 20 years now, how time flies! Chris, his wife Fiona and myself, daughter Helen, all work in the firm full time. Fiona can generally be found manning the phones and doing the boring office stuff while Chris and I do the heavy lifting on the shop floor. I do all the welding and fabricating, as well as a bit of CAD when time allows and my husband Edward looks after the website and graphic design, alongside his steelworks job.
It's also me you generally speak to on the social media, I'm sure Dad thinks I'm just scrolling Facebook when I pull my phone out!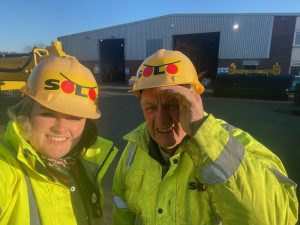 We at Solo design and manufacture our all own products in our workshop in North Lincolnshire, we're proud of our family business and work hard to keep our products the best on the market. All of our designs are aimed at the solo rider or mechanic, enabling them to start their bike, store it securely, work on it at a comfortable height and load it into their van unaided. 
Chris has motorcycling and mechanics in his blood, he has been getting his hands dirty fettling engines since he could hold a spanner and has many a tale of mechanicking at the Isle of Man back in the day, amongst other two wheeled exploits (ask him what the record from Scunthorpe to Olivers Mount is on two wheels!). In the mid-1990s, Chris decided he was going to take the family road racing, going from Cadwell Park and Mallory to Nurburgring and the A1 Ring with a pair of Manx Nortons, before finally ending up stateside for several Grand Prix with AHRMA. We managed to visit 38 states! He's not in the saddle so much now, so devotes his time to Solo as well as our industrial machinery manufacturing. Fiona also passed her motorbike test at the age of 40, she is immensely proud of this! I learned to ride as a child but decided to stay on the end of a spanner instead, after a bit of a career change and joining Solo, I'm now the delighted recipient of every piece of knowledge Dad feels I need to learn, ideally in both metric and imperial.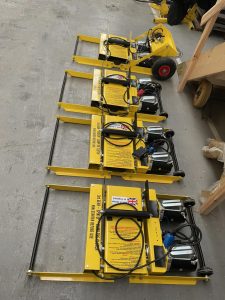 We are always looking to update our products. Our first starters had straight rollers and used a grip tape, we soon realised that coned rollers would help the bike stay centred, and we improved on the grip tape with a special coating instead. We have also increased the model range, which still has the original 12V double motor version, to also include a MotoX starter with ribbed rollers and double the power at 24V, as well as a 24V High Torque starter for the serious mechanic (or someone with a serious pig of a bike to start!).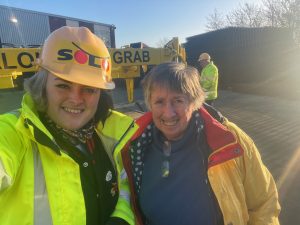 Not only do we manufacture starters but we also have a bike lift with an option of either mains electric or manual winch, this brings the bike to a comfortable working height where you can happily perch on a stool and fettle away, no more sore knees! Our wheel chock is a very popular show item, it's one of the sturdiest wheel chocks on the market and beats the cheap Chinese ones in its quality by miles, in our opinion. The latest product is a bike loading system, designed to end the days of shoving a bike up a plank of wood into the back of your van, give us a ring if you're interested in this one. It's still at prototype stage, so do pop along to one of our shows if you'd like a demo. 
We attend several shows in the UK, through these shows we have many a great many friends in the motorcycling world including Agostini, the late Phil Read and of course John of www.johnsmotorcyclenews.co.uk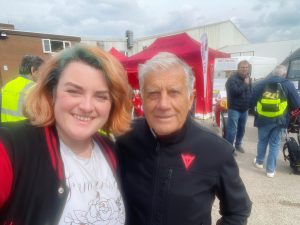 We'd love to show you our products at the shows, or just pass the time talking bikes. If you're passing on the M18 we also welcome workshop visitors and are happy to demo anything you might be interested in. 
https://www.solomotorcycleproducts.com/wordpress/