Hello, my name is Gary Venning.
I designed ChainMate after a bad experience with a new can of chain oil from a good manufacturer. I decided to oil the chain on my newly-purchased Kawasaki Z1000 SX. Placing my pride and joy on a paddock stand, I gave the can a good shake for about a minute, just to make sure it was thoroughly mixed as per the instructions. When I pressed the button, high pressure oil came shooting out of the nozzle and landed all over the back wheel, brake and brake disc.
The only place it did not go was the chain.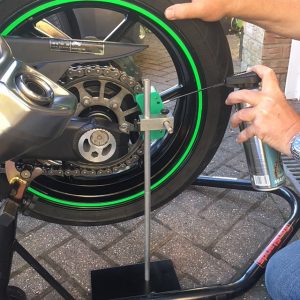 After a fair amount of shouting and swearing, I thought to myself, there must be a product out there that can stop this from happening.
So, as we all do, I searched on the internet looking for the answer. I found the usual automatic chain oilers, but remembering my brother's experience with one of these, I decided this was not the solution. After a sleepless night spent contemplating, I designed the first ChainMate. I drew it up on my CAD system after working out the correct radius and width for my bike. I contacted a friend of mine who owns an engineering workshop and asked if he could make it. A day or so later I had the prototype ChainMate in my hand. I took it home and tried it on the bike.
IT WORKED!
I could finally oil my chain without any fear of the oil spraying over the back wheel again.
The friend who made the prototype asked if I could design one for his Suzuki 1200 Bandit. So, I went away and worked out the sizes and drew it up on the CAD. The next day, I took the drawing into his workshop and he made the second ChainMate.
The third ChainMate came along not long after. The CNC miller at my friend's company was also a biker; however, this biker never oiled his chain. I looked at the chain on his Suzuki 1300 Hayabusa and the lack of maintenance was obvious. So a couple of days later, we had the third ChainMate, and a much nicer looking rear chain on the Hayabusa. It was my wife who suggested that I take the ChainMate to the biker community at large – as they say, you only have a few good ideas in your life, so I'd better pursue this one! I sat down and designed ChainMate in accordance with a larger variety of chain sizes, got myself a website and began selling to frustrated bikers who were experiencing the same oiling issues.
Fast-forward eighteen months and I am continuously designing new products to make motorcycle chain oiling easier and quicker.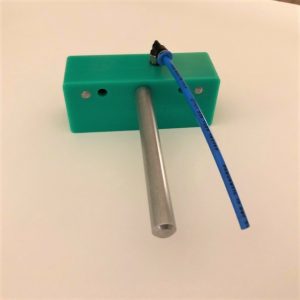 I have added the Stand and the Straight ChainMate, as well as the Classic ChainMate for the older British classic bikes 
I'm also in the process of developing an accessory range that will make ChainMate even simpler to use. I'm passionate about my products and have experiencing overwhelmingly positive feedback from my customers, who have all saved time and money on motorcycle maintenance as a result.
ChainMate is designed and made by bikers, for bikers – all within the UK!