2strokesracing are pleased to announce, that for the 2021 racing season, Leyland based rider, Kate Walker #61 (20) will be in the hot seat, racing in the 600cc, steel frame, Pre injection and Junior Open classes at many of the UK's race tracks.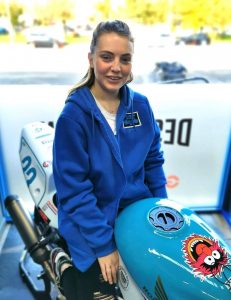 Kate will be riding the 1998 Honda CBR600F3 developed by team owner and rider, Peter Eaton.
Testing and bike setup will happen early in 2021, however, in the mean time, there maybe some changes to the bike, not least changing the number from #33 to Kate's race number of #61.
Speaking about her racing, Kate would like to get into the BSB paddock, initially on a SuperStock 600, and then see where it goes from there. This fits with Pete's initial idea of racing, upgrading, finding a talented rider, and supporting them in getting to the top of the game. Lets hope that Kate gets used to the bike, and rises to the top!
The current sponsors of the race bike have welcomed Kate to the team, with GhostBikes Shop in Preston supplying Kate with a new set of Leathers and boots in readiness for the 2021 season.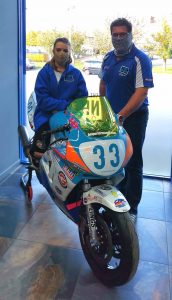 Speaking with CJ at Sealey Tools, they are looking forward to seeing how Kate gets on, and see her on the top step of the Podium. Making Kate the best of the late breakers, HEL Performance have kitted the bike out with their awesome 4pot radial brake setup, and rear thumb brake. Kate is looking forward to trying the thumb brake set up out, to give more control from the line, and mid corner. The engine built for 2020 with support from Hi Level Enterprises Ltd will have a gentle refresh ready for the season ahead.
The team look forward to rolling up at a race track near you; look out for the bike and come and say hello. The kettle is always on !
For their continued support for the 2021 season, the team would like to thank: MRB Transport, HEL Performance, Delkevic UK Ltd, Sealey Tools, Hi Level Enterprises Ltd, P3Tuning Ltd, Plugzz, Crosby Mortgage Solutions, John's Motorcycle News, JT Sprockets, DID Racing Chain, Motul, MOTUL UK, OptiMate UK, Black Trading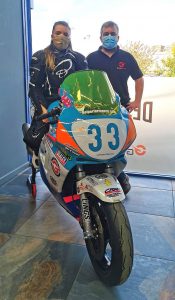 If you would like to get involved and help the team support Kate, please get in contact with Peter Eaton directly; there will be a great deal of expense to get Kate to where she needs to be.
Thank you for taking the time to read this post, and please share it far and wide !
In the images you can see Kate with team owner Peter Eaton and Chris Aldritt, Manager of Ghostbikes in Preston.
(The meeting took place at Ghostbikes before traveling restrictions came into force on Wednesday the 14th of October)