The VMCC 70th Year Anniversary Celebrations with Baton Relay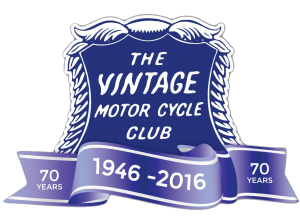 The VMCC is a great Club for anyone interested in preserving and riding motorcycles over 25 years of age and the Club actually celebrates its 70th anniversary in 2016, in the same year that British Historic Racing celebrate their 50th Anniversary.
John and I have been members of the VMCC for many years and we have been actively involved in supporting both our local N W Section and the VMCC Head Office at various events throughout the country.
The Baton Relay will commence at the VMCC's 2016 A.G.M in Gaydon on 3rd April 2016 with the newly elected President handing over the 70th Anniversary Baton to motorcycle riding members from the local Section.
The Baton's journey should provide good publicity for the VMCC with a great opportunity to promote the Club and increase its membership.
The route itself has been prepared by Area Representatives and Sections to cover many parts of the country with many VMCC Sections being involved in its lengthy journey around the country to celebrate and promote the Club.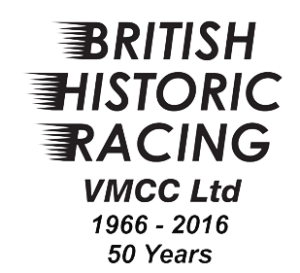 The engraved Baton,with VMCC badge (kindly made by Rod Hann and pictured above), will finally end up back at Allen House, after being a part of the VMCC/BHR three day, 70th& 50thanniversary celebrations at Cadwell Park over the weekend of 24th to 26th June 2016, to see our page in our "Events and Shows" section, click here.
More information for this event can also be found at www.britishhistoricracingclub.co.uk
Afterwards the Baton will be made available for other Section events and 70th anniversary celebrations.
---
Supported and sponsored by Bonhams and Footman James
The Vintage Motor Cycle Club Limited
Allen House *
Wetmore Road
Burton Upon Trent
Staffordshire,
DE14 1TR, UK
The VMCC Headquarters are manned from
9.00 am to 5.30 pm Monday to Thursday, 9.00 to 4.00pm Friday.
Tel. +44 (0)1283 540557  Email: [email protected] Web: www.vmcc.net
J M N