Sorrymate.com is a team of Bikers who specialize purely in Motorcycle Law.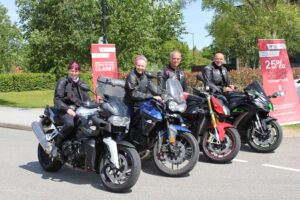 Why choose us?
25% of our clients transferred from their previous solicitors
No win, no fee
From life-changing events to minor injuries
Replacement kit
Using the best barristers & medical professionals in the UK
Repairs & Bike hire
Rehabilitation
Fantastic discounts using SMIDSY card
(Free to register SMIDSY Card Info – SorryMate )
Bikers help Bikers, whether that is at the roadside, shopping for a fair deal, or warning about a bad deal or service. Bikers network to advise on great roads to ride places to visit, and those to avoid. The simple nod or wave as we pass another rider is an acknowledgment of this unspoken contract. Here at Sorrymate.com, we get it. We are all bikers ourselves and our pride comes from helping other Bikers.
After a nonfatal incident comes recovery and this is where we can help to rebuild lives for those riders who are victims of negligence. Our team of Bikers who happen to be lawyers are passionate about Bikes and the Biking Community. We support our clients from the word go with first-class, experienced advice followed by bike recovery, loss, and hire to replacement kit and rehabilitation for mind and body. We use some of the finest medical expertise available to produce the ultimate offerings in terms of service and results. Most of our work is by recommendation and transfers of cases from other law firms.