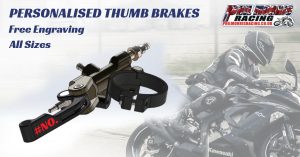 Our good friend Phil Morris from PMR (Phil Morris Racing)  is well known and respected in the Racing Circuit, having been involved in the racing paddock for some 35 years plus.
Phil has developed a superb thumb brake designed to fit on your fork to allow easy application of the rear brake.
This PMR Thumb Brake,  coded TB18GB  was specifically designed for, tested and used in the FIM (Federation Internationale de Motocyclisme) CEV (Campeonato de Espana de Velocidad)  Spanish Championship.
The TB18GB Thumb Brake  provides the benefits of :-
Easy control of the rear rake during race starts
Excellent positioning
Rear suspension control
Faster cornering control
It is available in a wide variety of fork clamp diameters from 46mm to 54mm, in 1mm steps.
You may also choose to personalise the Thumb Brake by choosing from three different paddle sizes, Small, Medium and Long and you can have your #No. engraved for free, or for an additional cost you can also have your name engraved on it.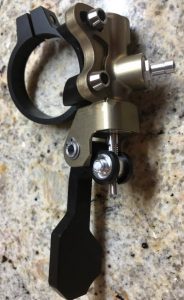 This superbly engineered, high quality piece of kit is supplied complete with fluid line, banjo bolts and reservoir.
We are most impressed with what we have been shown and consider this excellent piece of engineering from PMR really worthy of inclusion within our website.
For more information on prices and delivery, or to order a TB18GB Thumb Brake, please contact Phil, details as follows:-
Phil Morris (Racing) PMR,
Cherry Tree Cottage, Station Road,

Whittington, Oswestry,
Shropshire, SY11 4BT                                                             
Email: [email protected]
Tel:     01691 662 082, Mbl 07802 655 154
Twitter: @philmorrisrace   Facebook : philmorris-racing
Web  : https://www.philmorrisracing.co.uk/product/personalised-tb18gb-thumb-brake
Latest Information from PMR, below:-