Supporting the Disabled through Brighter Future Workshop.

As supporters of many good causes, John and Michael organised a ride out to the Brighter Future Workshop in Skelmersdale, Lancs.
Brighter Future Workshop is an excellent award winning organisation that is dedicated to helping all manner of disabled persons. It is a family run business that provides training and hence valuable opportunities for disabled people to gain a real sense of achievement in the knowledge that they have proved their worth in helping others by restoring disabled equipment to full working order.
We were greatly impressed by the dedication and enthusiasm of all concerned who operate as one big happy family. Many of us rode over to their factory to present a donation to this very worthwhile cause and to let the staff and lads benefit from a new experience to see, hear, feel and smell all manner of motorcycles, manufactured from as long ago as 1915 to present day.
We had fantastic support from our friends and colleagues from the North West Section of the VMCC (and a lovely sunny afternoon to boot!) In excess of two dozen machines, of all ages and sizes descended upon the factory in East Gillibrands, Skelmersdale to the absolute delight of Peter Cousins MBE, his son Peter, Jackie and all of the staff.
With the bikes lined up outside the factory and the lads coming out to mingle in with the bikes and meet our members we can say from the looks on their faces that it was all-worthwhile. To say that they were delighted would be an understatement, we lost count of how many times they thanked us and told us that this day would be talked about forever more. A reporter from the Champion newspaper had come along to take some photos and provide some valuable and much needed publicity for the workshop and many passers by were equally attracted by the display.
Cups of tea were brought out into the sunshine for us enjoy and we were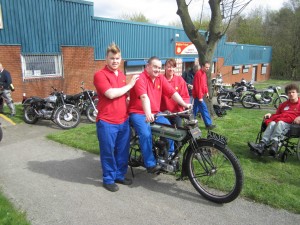 treated to a full tour of their warehouse and factory to experience the transformation from broken and rejected items (a lot of which are shamefully and unnecessarily scrapped by our NHS) to the superb items in their showroom. Their workshop facilities, offices and showroom were spotless and the quality of their work superb.
In summary, we could not even begin to describe what a wonderful experience it was for all concerned, (in particular for our honorary motorcycle riders – Paul on the Bonneville and Ben on the Model H) suffice to say that the photos really do say it all.
J M N