The New Oziconcept Folding Motorbike Trailer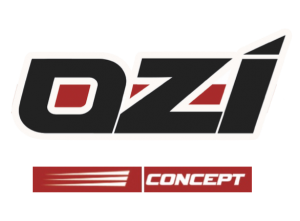 UPDATE December 2017
Our friends at Oziconcept have been in touch to tell us that they have recently updated their website, which is full of new features and information and that they have also now introduced a Heavy Duty version of their folding bike trailer which will carry bikes up to 500kg! You will find more details on their website, www.oziconcept.co.uk
John and I were recently invited (March 2017) to the Manchester Bike Show, organised by Andrew Greenwood (of Classic Shows) and held at Event City, (by the Trafford Centre in Manchester) and by far one of the most interesting and extremely clever pieces of engineering that we have ever seen was this stainless steel constructed folding motorbike trailer from Oziconcept, so much so that we spent quite some time talking to the lads on their display stand.
Philippe and Matthew showed us the construction and the special features that allowed the trailer to be folded away and/or unfolded in a matter of seconds. We were truly amazed at the ease with which this trailer can transform to and from a towable item to a storage item. The trailers concept originates from Australia (hence the name), but after many years "down under"  the decision was made to bring it to Europe where more people are struggling for storage capacity.
Philippe the founder of Oziconcept has redesigned the trailer to comply with European standards and after 2 years of research and development he has obtained the European certification (directive 2007/46 CE).
This trailer is the perfect solution for those with a passion for bikes, whether it be track days, MX, Enduro or moving your classic bike, this space saving trailer is well worth a look! Protected by patents and registered designs this trailer is manufactured in France and based on a full stainless steel chassis, so is built to last. Available in both single and double tracks (although we only viewed the single version), rated to 350kg.
To the best of our knowledge this stainless steel folding motorbike trailer  is the only one in the world which folds and unfolds, literally, in seconds with very little effort. It can be moved around in its folded position to go through narrow doors and then put it back to its upward position and uses only 700mm x 600mm floor area and 1400mm in height. You can store it anywhere, in your shed or garage without taking up valuable space until the next time you need it!
The trailer is packed with features including a double spring compression suspension for great road handling, a "wheel chock"  loading mechanism which captures the front wheel and holds the bike in an upright position, two cross members with D shackles providing multiple tie down points, up to 6 function LED lighting board with wiring harness to suit 13 pin plug with 7 pin adapter, 1 mtr loading ramp, quality AL-KO hitch and bearings and 10" wheels. A manufacturers two year warranty is also provided to give you added peace of mind.
We particularly like the ease with which the cross members and lighting board slot into the trailer, then only requiring one spanner to tighten the parts together. The engineering is superb and you can rest assured that the stainless steel construction will ensure longevity. Although we haven't actually used one of these trailer ourselves we can fully understand the lads claim that due to its sturdy construction, wheel size and innovative suspension these trailers handle much better on the road, not only when loaded, but also when towed without the weight of a bike onboard, and are not prone to bouncing around when empty.
Granted, there are many other trailers on the market at lower prices, but if you are short of storage space and don't particularly want to spend ages struggling to dismantle and/or reassemble your trailer and/or have to re-paint it before it goes rusty, and if you would prefer a Rolls Royce rather than a Mini  then this folding trailer is definitely the one for you.
We were most impressed with what we saw and considered this excellent piece of engineering (in Stainless Steel) really worthy of our recommendation and this businesses addition to our "Friends".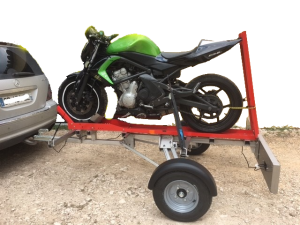 For more information contact:-
Matthew Stevens (UK importer)
Email: [email protected]
Tel:     07889 711533
Web  : www.oziconcept.co.uk
Michael W George (& John Abram)