Shuttleworth Snap (Speed Demon)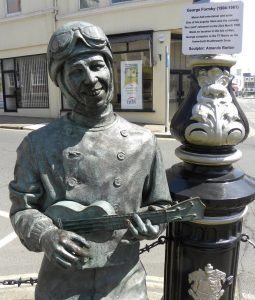 On the corner of Ridgeway Street in Douglas in the Isle of Man stands a statue of a little man wearing a TT racers outfit, playing a Ukulele; typically he looks like he is "leaning on a lamppost at the corner of the street"  presumably in case a certain little lady walks by! The statue was created by a Manx artist, Amanda Barton it is a statue of the famous, George Formby from Wigan, Lancashire.
As well as his wartime entertainment, songs and ukulele playing he also made many hilarious films, one of the most famous was the 1935 film "No limits"  where George Shuttleworth, a chimney sweep from Wigan dreams of racing in the Isle of Man TT and enters his own machine named "The Shuttleworth Snap" !
Filmed in the Isle of Man with the aid of home grown motorcycle riders performing many of the stunts the film became a great success and it is still very popular with bikers to this very day.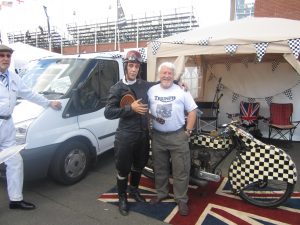 If you have been over to the Isle of Man and/or attended shows across the country (or indeed abroad) you may have laughed at the antics, enjoyed the spectacle and no doubt had your photo taken alongside this modern day George Shuttleworth, he is indeed an amazing character and his famous chequered "Shuttleworth Snap"  vintage motorcycle really does look and sound the part. You may have even been fascinated by his rendition of George Formby's famous songs, whilst he has been "Leaning on a lamppost at the corner of the street"  or when he has been "cleaning windows"!  But, if you haven't seen this tribute to George Formby before, then you really have missed a treat.
I have had more than one photo taken with "Our George"  over the years, like the one here, taken in the paddock area behind the main spectator stands of the famous TT course during one of the past Manx Grand Prix's.
The man behind it all is Graeme Hardy, originally from Melbourne in Derbyshire, (not Wigan), he originally saw the film in the Gaiety Theatre, in Douglas when he was at the TT races many years ago. A biker himself Graeme has raced bikes like Yamaha TZ350, Suzuki 1000 and Honda 900's at both club and national levels, he has also worked as a mechanic for Neil Haslam when racing in the TT and Southern 100.
Graeme had a couple of model T Fords,was involved in filming and had previously traveled the world with a Laurel & Hardy tribute.The idea for resurrecting the Shuttleworth Snap came up in conversation with Lord March at Goodwood back in 2006.
Originally the bikes famous chequered coverings were made of cardboard, but they were soon replaced with fiberglass, Graeme really went to town on the project, which is still constantly evolving with very quaint original details. Check out the bird nesting in the bike, the sleeping cat and and the large "plop"  of oil beneath the bike.Graeme even took ukulele lessons and taught himself George's favourite songs to be able to entertain his audience.
The motorcycle is a 1926 Triumph model P that was sourced in 2005 as a non-runner, but thanks to help from Ian Jennings of Bradford the engine was rebuilt and is now also serviced by him. This is a wonderful tribute that has taken Graeme all over the country and also over to France and Spain, a great act well worth seeing and available to book for shows and private functions.
We are certainly glad that it  "turned out nice again"  for Graeme (and Steve Parrish) at another Stafford Bike Show this time in April 2016, Graeme Hardy is most welcome as a "Friend of Johns Motorcycle News"
IMPORTANT UPDATE – August 2017
We regularly meet up with Graeme at shows and once again we met him in the paddock at Douglas during the 2017 Classic TT and Manx GP and found out from him that his .fslife.co.uk email address had been withdrawn, with very little notice by the parent Company, Orange.
This obviously impacted Graeme's business (he was not alone in this) and meant him scrapping leaflets and publications that displayed his previous email address of graeme@hardy.fslife.co.uk
Unfortunately, anyone who sent Graeme an email (us included) would have had no way of knowing, as they never bounced back.
Graeme wishes to let everyone know that these were circumstances beyond his control, and that his NEW EMAIL ADDRESS is now, as published below.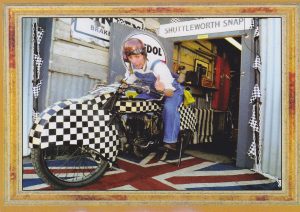 Contact Details:
Tel:      07971 014660
Email: graemehardy8616@gmail.com
Web:  www.georgeformbymotorbike.com
Michael W George (& John Abram)